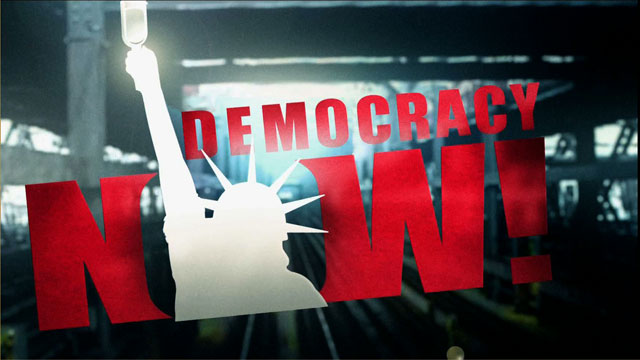 Media Options
---
Guests
Diane Wilson

a fourth-generation fisherwoman from the Texas Gulf Coast, and the author of An Unreasonable Woman: A True Story of Shrimpers, Politicos, Polluters, and the Fight for Seadrift, Texas.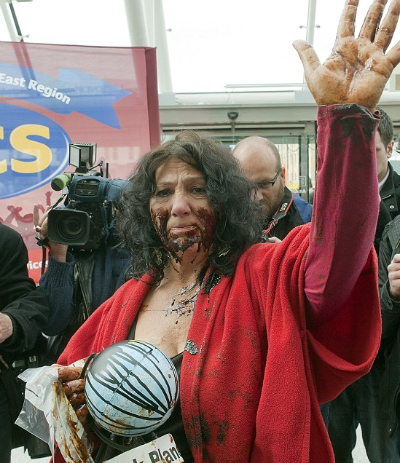 Security officers at BP's shareholder meeting today in London blocked the entrance of a delegation of four fishermen and women from the Louisiana and Texas Gulf Coast area heavily damaged by last year's Deepwater Horizon oil spill. Among them was Diane Wilson, a fourth-generation fisherwoman from the Texas Gulf Coast. She was there to present BP executives with the Ethecon Black Planet award for companies who represent a danger to the planet.
Wilson is a past recipient of the the group's Blue Planet Award and author of Diary of an Eco-Outlaw An Unreasonable Woman Breaks the Law for Mother Earth. She confronted BP's former CEO Tony Hayward when he testified before Congress last June. She told Democracy Now! what happened when she tried to enter the BP meeting.
RENÉE FELTZ: Can you describe what happened? Did you go up to the BP shareholder meeting with the fishermen? And what was their response when you tried to enter?
DIANE WILSON: Well, all five of us were staying together, and we all had proxies. And a proxy is when someone owns stock, a BP share, but they are not going, so they'll allow, you know, another person to attend the general meeting and speak out. And it's a very legitimate way of speaking, and all of us were legally allowed within. And when I walked in — you know, I was separate from the group — the head of security just got right in front of me, and two cops came along, and they said I could not go in. And I said, "I have a proxy," and I showed it to him. And he said, "I don't care. You're not going in." I said, "For what reason?" And he said, "I don't have to have a reason. You're just not going in."
And I refused to leave. I said I was going to go in. And then they pulled in more police, and was blocking every avenue for me even to get inside. And then there was a large — large group of media that happened to catch the cops blocking the way. And so, they were on one side pushing, and the cops were on the other side pushing. And actually, a couple times I got caught in between and nearly fell down.
And believe it or not, I had the Black Planet Award, which is a very cheap little globe, and it's been — it's been painted by the children of Berlin, actually. And I had that with me. When I saw they absolutely were going to do everything they could to block me out, I had a baggy of molasses I had stuck in my bra, believe it or not, and I ripped it out, and I put it on my face, and I put it on my hands. And I said, "This is why they do not want us in here. They want us to go away. They want us to be quiet. They do not want any attention brought on this oil." And so, I probably stood there for, oh, 20 or 30 minutes, and eventually they arrested me. They hauled me off and arrested me.
I was charged with disrupting the peace. And I kept laughing about that, and I said, "Disrupting the peace for BP?" That was pretty outrageous. You know, they had disrupted our lives down there. But just appearing at the door of a BP general assembly, and we're disrupting the peace. And they took me down to the Forest Gate Metropolitan Police. And I must say, the police in London are extremely, extremely nice. They kept wanting to get me coffee. They kept wanting to — they asked if I was feeling all right. They were very, very kind. And I was stuck in a holding cell for — I'd say about 11:30 to about almost 6:00. Then they released me. They said I wasn't charged with a criminal offense and that they had arrested me because — I guess this is something they do to keep you from causing more trouble. So — and they kept me until the entire general assembly meeting was over with and everyone had left. And then, that's when they let me go.
RENÉE FELTZ: And how are you feeling now? What's your state of mind about everything and with BP, and with not being able to get inside to confront them?
DIANE WILSON: Well, I am floored. I cannot believe BP did this. I mean, this is poor public relations. I cannot imagine, on the — almost the anniversary of the — of that, the nation's worst oil spill, that BP, on the anniversary, would treat a delegation from the Gulf Coast this way. I cannot believe it. I cannot even imagine who thought of something like that. And I do know the delegation is extremely angry. It really made quite a number of shareholders and a lot of the groups that were protesting for their own various causes, it made them all very, very angry. I'm still amazed they did that. I really am. I'm kind of shocked.
---