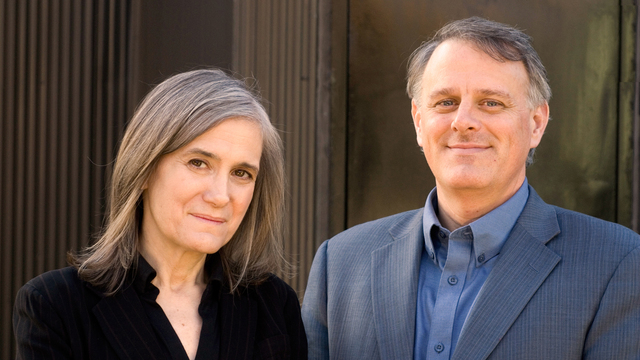 Media Options
By Amy Goodman with Denis Moynihan
Tony Kushner will be receiving an honorary degree from John Jay College of criminal justice in New York City. This shouldn't be big news. Kushner is a renowned playwright who won the Pulitzer Prize for drama, along with an Emmy award and two Tonys. The degree became big news when it was abruptly shelved by the City University of New York board of trustees during its 2 May meeting, after a trustee accused Kushner of being anti-Israel.
A campaign grew almost immediately, first calling on previous recipients of honorary degrees from CUNY colleges (of which John Jay College is one) to return them. Within days, what would have been a quickly forgotten bestowal of an honorary degree erupted into an international scandal. The chair of the board, Benno Schmidt, former president of Yale University, convened an emergency executive session of the board, which voted unanimously to restore the honour to Kushner.
The controversy exposed the extreme polarity that increasingly defines the Israel/Palestine conflict, and the willingness by some to suppress free speech and vigorous dialogue to further rigid, political dogma. The trustee who attacked Kushner, Jeffrey Wiesenfeld, began his tirade at the original board meeting with an attack on Mary Robinson, who was formerly both the president of Ireland and the United Nations high commissioner for human rights. He then went on: "There is a lot of disingenuous and nonintellectual activity directed against the state of Israel on campuses throughout the country, the west generally, and oftentimes the United States, as well."
He presented several quotes that he attributed to Kushner to make his case, ending with, "I don't want to bore you all with the details."
Tony Kushner told me: "[W]hat he's doing is sparing them not boring details, but the full extent of the things that I've said about the state of Israel that would in fact make it clear to the board that I am in no way an enemy of the state of Israel, that I am, in fact, a vocal and ardent supporter of the state of Israel, but I don't believe that criticism of state policy means that one seeks the destruction of a state. I've been very critical of the policies of my own government."
First, a little history on Kushner's work. He won the Pulitzer for his play "Angels in America". The play is subtitled "A Gay Fantasia on National Themes", and addresses the HIV/Aids epidemic and the struggle that many gay and lesbian people endure in the United States. A key character in the play is a fictionalized version of Roy Cohn, a prominent attorney who, early in his career, was a key adviser to Senator Joseph McCarthy. Cohn helped McCarthy with his fanatical pursuit of suspected communists in the US government and beyond. He was considered a lifelong closeted gay man, despite the fact that he helped target people for political persecution for being gay. Cohn died in 1986 of complications due to Aids, although he publicly described his illness as liver cancer. Thus, in a dramatic, real-life turn of events, Kushner, who has written extensively on the witchhunts of the McCarthy era, has now become the object of such a witch hunt himself.
The CUNY Board of Trustees' version of Roy Cohn here is Wiesenfeld, appointed by a former Republican governor of New York, George Pataki.
I interviewed Tony Kushner soon after he got word that his honorary degree had been restored. He said US policy toward the Middle East "based on rightwing fantasies and theocratic fantasies and scripture-based fantasies of what history and on-the-ground reality is telling us, is catastrophic and is going to lead to the destruction of the state of Israel". He went on: "These people are not defending it. They're not supporting it. They're, in fact, causing a distortion of US policy regarding Israel and a distortion of the internal politics of Israel itself, because they exert a tremendous influence in Israel and support rightwing politicians who, I think, have led the country into a very dark and dangerous place."
During the McCarthy era, the US was a dark and dangerous place as well. Now, amid the uprisings in the Arab and Muslim world, the recent rapprochement between Fatah and Hamas, and the likely recognition of Palestinian statehood by the United Nations general assembly, there is no more urgent time for vigorous and informed debate.
The future of peace in the Middle East depends on dissent. Those, like Tony Kushner, with the courage to speak out are the true angels in America.
Denis Moynihan contributed to this column.
Amy Goodman is the host of "Democracy Now!," an independent, daily global TV/radio news hour airing on more than 950 stations in the United States and around the world. She is the author of "Breaking the Sound Barrier," recently released in paperback and now a New York Times best-seller.
© 2011 Amy Goodman
---