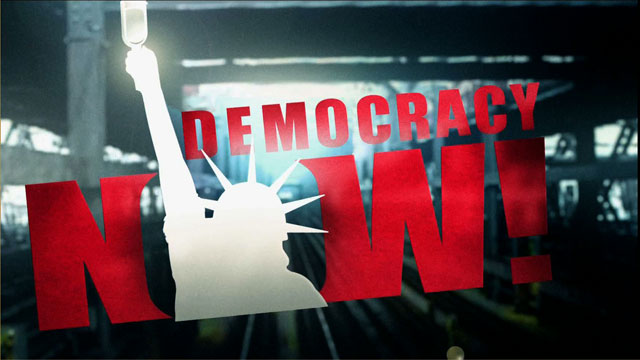 Media Options
Amy Goodman files her first audio report from Nicaragua on ousted Honduran president Manuel Zelaya's historic return home. She filed this report from the airport in Managua where she interviewed Father Roy Bourgeois of SOA Watch.
FOR LATEST REPORTS ON HONDURAS VISIT OUR LIVE BLOG
ROUGH TRANSCRIPT
AMY GOODMAN: I'm Amy Goodman, the host of Democracy Now! We are in Managua, Nicaragua, for an historic event: the return of ousted president Manuel Zelaya of Honduras to Honduras. Two years ago, on June 28th, 2009, he was thrown out at gunpoint. The Honduran military threw President Zelaya out of the country. Now he is returning on May 28th, 2011.
The deal that was brokered in Colombia, called the Cartagena Agreement, was witnessed by the presidents of Venezuela, Hugo Chavez, and Colombia, President [Juan Manuel] Santos. The deal was worked out between ousted president Manual Zelaya and the current president of Honduras Porfirio Lobo. They have agreed on a number of points. Among them that President Zelaya and over 200 exiles can return safely home. That there will be a constitutional assembly that will be allowed to be set up. That the party that now Manuel Zelaya heads called the Resistance will be guaranteed to be able to be a legal political party. And that a Secretariat for Justice and Human Rights will be set up to deal with the terrible human rights situation in Honduras.
President Zelaya will soon be boarding the flight for the short trip between Managua and Tegucigalpa, the capital of Honduras. Democracy Now! will be the only American media organization on that flight. Among those who are going to be on that flight are Father Roy Bourgeois, long time head of the School of the Americas Watch. He founded the School of the Americas Watch. He's joining me right here in Managua to talk about the significance of the fact that the Honduran military, the chief of staff of which, General Vázquez Velázquez, was trained at the School of Americas in Fort Benning, Georgia, which is why Father Roy Bourgeois is here to attend this moment.
FATHER ROY BOURGEOIS: In the endless struggle for democracy, for justice and peace in the Americas, there come along every now and then, special moments, historic moments, this is one of them. The School of Americas Watch really is honored and humbled to be invited to return with the democratically elected president Zelaya who was forcibly kicked out of the country. We're honored because really the SOA Watch movement, made up of thousands in the United States, has been trying to walk in solidarity with our sisters and brothers here in Honduras, who had been on the receiving end of these brutal soldiers with Battalion 3-16 and of course the two key players in this — the head of the air force, the head of the army, as expected, were graduates of the School of the Americas. Really this School has caused untold suffering and death in Honduras and throughout Latin America. And we are here really to say to the people of Honduras, that there are people in the United States — or in "the empire" as they often refer to us, and as we have been in the past in relation to Honduras and other countries — we are here representing many in the United States who are saying, "We are with you in your struggle for democracy, for sovereignty, for self-determination."
AMY GOODMAN: Father Roy Bourgeois, you have been in Honduras protesting the current regime during this two year period.
FATHER ROY BOURGEOIS: Yes, we came just a few days after the coup to meet with the resistance and what we found was very frightening. A lot of fear. The military took hold. They have killed really hundreds, teachers, especially the campesinos, the landless farmers, human rights activists, journalists among them. They do these acts of torture in disappearing and killing with impunity. We came back just last month actually to demonstrate once again, to meet with our counterparts, and our friends here to get updated, and we were shocked to see the intensity of the repression. And the fear is still here. But we also before leaving went before our US Embassy here in Tegucigalpa, Honduras, to say that we are from the United States, representing many in our country and we are asking for the United States to stand in solidarity with President Zelaya, to be on the side of democracy and self-determination.
AMY GOODMAN: It's very interesting that with the release of WikiLeaks of US government cables, among those cables was a cable that was sent by the US Ambassador to Honduras in July 24th, 2009. It was sent by Ambassador Hugo Llorens; the subject: Open and Shut: The Case of the Honduran Coup. And it said there was no doubt that the events of June 28th constituted an illegal and unconstitutional coup. The Embassy described it as an "abduction", a "kidnapping". At first, President Obama did call this a coup, but then the US government seemed to back off, although the US joined in a UN General Assembly vote, with the first ever universal condemnation of a coup in a vote in the UN General Assembly. The OAS (Organization of American States) expelled Honduras for this illegal act. The United States did not fully sanction Honduras, in fact continued a relationship with Honduras, and many feel that Secretary of State Hilary Clinton was working behind the scenes, and in front of the scenes, to restore Honduras to the Organization of American States. Clearly this has now been the motivation: Honduras's readmission to the Organization of American States, the OAS, for this accord. President Porfirio Lobo wants Honduras in the OAS and right now, right now this is extremely significant, what is taking place.
I was just speaking to Ecuador's ambassador to Venezuela who will be on this historic flight as well from Managua to Tegucigalpa today. He said, his name, Ramon Torres Galarza, that this is an historic moment. He said it's also very important as this was worked out by Latin American countries together. This is a Latin American moment, he said. He said Latin America, especially he was addressing this to President Obama, he said Latin America is not just a market, it is a continent, it is a culture, he said we are peoples, we are societies, with dreams. Throughout Latin America there is tremendous excitement right now as there is in Honduras for this return. People are hoping this will be the return of democracy to Honduras but we will see.
We now await the flight as people gather from all over. When we arrived last night from the United States we met at the airport one of the exiles who had left Honduras four months after the coup. It was too dangerous to stay. He has been in Spain for the last 20 months, and he has returned. People are gathering here, extremely excited about this flight, about what they're hoping is a return to democracy in Honduras.
I'm Amy Goodman, reporting from Managua, Nicaragua.
---