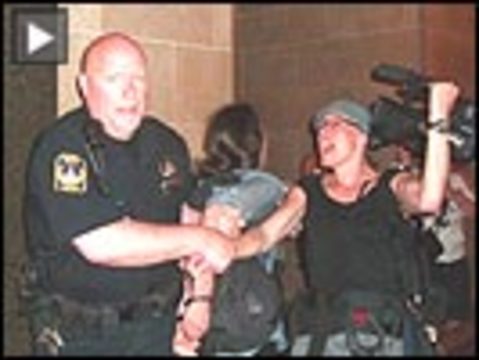 Media Options
---
Guests
Sam Mayfield

Independent journalist and documentary filmmaker.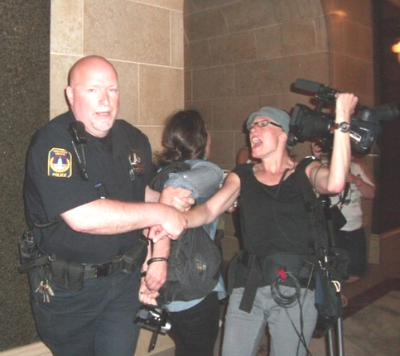 (Photo courtesy of Rebecca Kemble)
More than a thousand Wisconsin workers marched through Madison, Wisconsin, today to protest Gov. Scott Walker's "budget repair" bill that slashes collective bargaining rights and funding for education, healthcare and seniors' programs. During the march, police took into custody two credentialed journalists who were filming the protest.
Democracy Now! spoke with one of the reporters, Sam Mayfield, about 15 minutes after she was cited for disorderly conduct and released. Mayfield has been documenting protests in Madison since February for an upcoming documentary.
Click here to listen to the interview.
SAM MAYFIELD: Today there was this parade of maybe a couple of thousand people coming up State Street to the Capitol itself. The parade went around the Capitol building a few times, and then folks wanted to go inside to actually be part of the hearings that were taking place. I went inside, didn't have any trouble getting inside. I'm press, and so I was able to just go in.
There was an officer there arbitrarily exerting authority, told me to leave. I told him I was with the press. This was after, I should say, after he pushed my body. Before he told me to leave or told me anything, he pushed my body, physically touched me. And then waved me past after I said I was press.
Today I was working with a young woman, also from Vermont. She was my assistant. He told her to leave. She also said, "I'm press," and she didn't leave either. She stayed put to sort of film and document the police mistreatment of the protesters that were there. As people were coming into the Capitol, the police were sort of excessively forceful. I went into the rotunda, continued to film there. Someone brought it to my attention that my assistant was being arrested. I turned around, and I saw Alex being pulled and handcuffed. So I went to her just to see how she was. She was sort of in the elevator. We exchanged, you know, nonverbal communication with our eyes. Her camera was sort of dangling from her hand, and I grabbed the camera.
This large police officer, the one who had already pushed me and had already told me to leave, said, "Now you're under arrest." He grabbed me and then let me go. And he tried to take my camera. I wasn't going to give him my camera. Then he let me go. And so, I kind of — you know, we were looking for other people to just — to be documenting this and to be — you know, if there were just many people around. Then the cop called for backup, and then two other cops sort of corralled me. And then we all went downstairs in the elevator.
RENÉE FELTZ: Sam, we saw much larger protests go by in March where no one was arrested. Were you surprised that the police officers were making arrests today? And were you guys the only ones who were targeted?
SAM MAYFIELD: I was really surprised. I was surprised at the number of people that were arrested, and I was surprised at the excessive force that was exerted from the beginning. I didn't see this happen in the times when I've been here in the past months. It really seemed as though this police officer was — he was ready to take any kind of action from the beginning, without even hearing what was going on. So that was a surprise.
There were, when I was in the basement of the police custody place there, there were four of us being processed. The cops seemed to be very interested in how many people were down here, what were they in here for. My feeling, from overhearing the police officers' conversations, was that they were also surprised, and they were not happy with the number of people that had been arrested.
RENÉE FELTZ: And how about yourself? What's your reaction to being cited and being taken out? And what's your plans, moving forward?
SAM MAYFIELD: My feeling is that, you know, I'm frustrated that the cops are taking it to this level, that they're arresting press as they're documenting it. I mean, there weren't a lot of — you know, documenting the action. There weren't a lot of us documenting, and it was very obvious that I was press, after having presented myself as such. He knew very well that I was with the media. You know, it seems very unjust. People are being arrested at sort of — well, it seems like — it seems like sort of short notice. You know, this action happened this morning, this parade — or this afternoon, I guess, this parade. There have been — it's been very quiet in Madison lately. So it sort of makes me nervous that this is the new — this is the new tactic. I hope that this is not the new tactic that the police are going to engage in.
RENÉE FELTZ: Well, thanks very much for your update and for your time, Sam.
SAM MAYFIELD: Yeah, for sure.
---