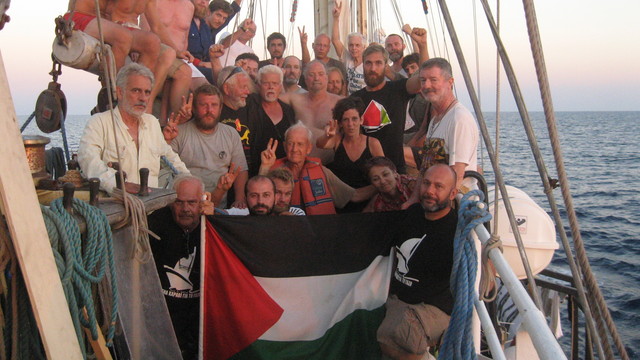 Media Options
We spoke with Mattias Gardell as he sailed through international waters on board the Swedish boat to Gaza, Estelle, before it was seized Saturday by the Israeli military as it attempted to break the Israeli blockade. The boat was called a "provocation" by Israel's ambassador to the United Nations. "What is a provocation is the fact that the current right-wing Israeli government has enforced the illegal seize of Gaza," Gardell told Democracy Now! producer Renée Feltz. Click here to listen to the interview.
Six Israeli naval vessels stopped the Estelle Saturday when it was about 30 nautical miles from Gaza. The Associated Press reports masked soldiers came on board the ship and ordered it to sail to Israel's Ashdod port, where activists were questioned by immigration officials ahead of their planned deportation. The Jerusalem Post reports that on Sunday an Ashkelon Magistrate Court remanded three Israeli citizens on the boat to police custody for an additional two days in jail on the grounds that they "violated a lawful order." Police said the state might bring charges against Yonatan Shapira, Reut Mor and Elazar Elhanan for incitement to rebellion, knowingly assisting the enemy and violating a lawful order, but the court found the evidence brought in support of the incitement to rebellion charge to be weak. It essentially dismissed the knowingly assisting the enemy charge as baseless in light of its reading of the relevant statute as applying only to IDF soldiers.
Organizers say the boat was carrying musical instruments, theatrical equipment, wheelchairs, children's books, 600 soccer balls and 41 tons of cement.
In related news, author and professor Noam Chomsky is currently on his first trip to the Gaza Strip. The AFP reports that he entered from the Egyptian side of the Rafah Crossing as a member of an academic delegation scheduled to participate in a conference this weekend at the Islamic University.
Click here to see more Democracy Now! coverage of past Gaza flotillas.
MATTIAS GARDELL: My name is Mattias Gardell. I'm co-founder of the Swedish Ship to Gaza Initiative, and I'm currently on our three-masted schooner Estelle, heading towards making an effort of breaking the siege of Gaza.
RENÉE FELTZ: And what country are you from?
MATTIAS GARDELL: I'm from Sweden.
RENÉE FELTZ: And can you tell me exactly what the goal of the boat Estelle is and what you're bringing to Gaza?
MATTIAS GARDELL: As everyone knows, the illegal siege of Gaza is now on its sixth year. And the latest report by the United Nations states that if something is not done, Gaza will be uninhabitable by the 2020, because then the last resources of clean ground water will be gone. And despite the fact that the United Nations, the European Union and a host of democratic countries clearly have stated that the siege of Gaza represents a violation of international public law, which bans collective punishment of civilian populations, and hence demand of Israel that it ends the illegal siege permanently, immediately and unconditionally, they have not had the courage of enforcing these declarations by deed. So we take the responsibility that our governments have abstained from doing. And by doing so, we also hope to send a message of solidarity to the besieged population in Gaza that there are people out there who do see and do care.
We are bringing—you know, we don't bring any food stuff or the sort. We are convinced that Palestinians are perfectly capable of supporting themselves if they are not stopped from doing that. Palestinians don't need our pity. Palestinians in Gaza are not birds in a cage that humanitarian aid organizations should feed and they should be thankful for each truck the Israelis let by. Palestinians are human beings who have the right to the same universal human rights that every other people do. So, what we bring is reconstruction material, stuff like music instruments and sports things and medication.
RENÉE FELTZ: Now, Israel's ambassador to the United Nations, Ron Prosor, has called your ship, Estelle, a "provocation" and said that it, quote, "raises tensions and could easily spark a serious escalation of the conflict," unquote. And I wanted to ask, how do you respond to this? And what do you expect to happen when the boat gets closer to Gaza?
MATTIAS GARDELL: Well, what is a provocation is the fact that the current right-wing Israeli government has enforced the illegal siege of Gaza and invited the world to witness it. And as much as the Israeli ambassador to the U.N. demanded the U.N. should intervene to stop us, we demand of the United Nations to intervene and stop and end the illegal siege of Gaza.
We are not breaking any laws. We are not the provocateurs. It is Israel that clearly violates international public law and decent human standards. They are provoking the world. And by doing so, by inviting the world to witness this crime against humanity, they are also presenting each and every one of us with a choice: either you choose to be part of the problem, or you choose to be part of the solution. And as much as our governments lack the courage to be part of the solution, we will do it. And we think it's necessary also that people now stand up and say, "Enough of this." It is a shame that this siege has been going on for six years, without those who came to have political legitimacy in terms of them safeguarding universal human rights, and they don't do anything about it.
So, we send a message of peace and solidarity, of hope and inspiration. We bring no—carry no weapons. And we expect that the political leadership of Israel decides to behave like any civilized government would do and abstain from attacking a civil, commercial vessel with military means. We should obviously be granted our right to reach the population of Gaza in peace.
RENÉE FELTZ: And finally, when do you expect to arrive?
MATTIAS GARDELL: Well, we expect to arrive tomorrow. And we hope that—
RENÉE FELTZ: That would be Saturday?
MATTIAS GARDELL: Yes. And we hope that Israel will abstain from attacking us as cowards in the night. This is a three-masted schooner that comes in peace, carrying nothing that represents anything other than our solidarity with the besieged population of Gaza. And obviously, it's clearly noted. I mean, the cargo has been inspected so many times, and they know perfectly well what's aboard. If they do decide to attack us, they reveal who they are to humanity.
RENÉE FELTZ: Thank you. And did you say where you—where the Estelle is right now, where the—in what waters?
MATTIAS GARDELL: She is in international waters, driving the normal route towards El Arish, which is our next step before going to Gaza.
RENÉE FELTZ: OK.
MATTIAS GARDELL: So, thank you.
RENÉE FELTZ: Thank you very much. And we look forward to staying in touch with you to find out what happens as you approach Gaza.
---