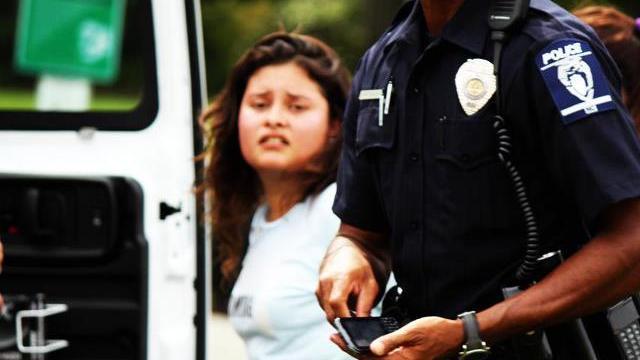 Media Options
In a Democracy Now! exclusive, producer Renée Feltz speaks with Viridiana Martinez, a DREAM activist detained about a week ago who is being held in the Broward Transitional Center in Pompano Beach, Florida. Click here to listen.
Martinez is one of a group of undocumented immigrant activists with the National Immigrant Youth Alliance who have infiltrated the Broward Transitional Center and found dozens of immigrants there who should be released under the Obama administration's policies. The group said they found more than 60 detainees with no criminal record or prior deportations, some of whom were detained as passengers in vehicles. They also found detainees in need of immediate medical care. Despite an executive action announced by President Obama last month to stop deportations of many undocumented youth, the group said they found more than a dozen young detainees who would qualify for the DREAM Act, a legislative proposal granting residency to certain youth who entered the country as minors. Obama administration officials had promised to comb through backlogged cases to close those involving immigrants with no criminal records and strong family ties, but it was reported in July fewer than 2 percent of deportation cases have been closed under the review.
VIRIDIANA MARTINEZ: My name is Viridiana Martinez, and I'm 26 years old. I came here to this country when I was seven. And I'm with the National Immigrant Youth Alliance.
RENÉE FELTZ: And please tell me, where are you right now? And how did you get in there?
VIRIDIANA MARTINEZ: I'm at Broward Transitional Center in Pompano Beach, Florida. I have been here since July 20th. I came in intentionally, allowed myself to be detained. I turned myself in at Port Everglades, where people have been arrested and detained before for not having proper ID to enter the port. And so, I intentionally went into—tried to go into Port Everglades and was detained by Border Patrol and brought here to Broward Transitional Center, where I'm now held because of my immigration status.
RENÉE FELTZ: Are you facing deportation now?
VIRIDIANA MARTINEZ: Yes, ma'am. I'm in proceedings.
RENÉE FELTZ: Can you talk about what you're calling for in regards to the people being held there at Broward?
VIRIDIANA MARTINEZ: We want a full review of all of the cases here at Broward Transitional Center, and we want the immediate release of all low-priority cases here in Broward.
RENÉE FELTZ: And why did you do this? And talk about what you're seeing in there and who you've talked to and what you're finding.
VIRIDIANA MARTINEZ: I did this because I am—I'm what they call the DREAMers. And now I am safer than ever, and, you know, I can be released from here based on the deferred action announcement that was made on June 15th.
RENÉE FELTZ: Let me interrupt you there. Can you talk a little bit about how you qualify, what you meet in terms of the qualifications that President Obama laid out?
VIRIDIANA MARTINEZ: Yeah, I have been here since I was seven years old. I graduated from high school. I'm 26 now, and I have a high school diploma, and I'm not 30 yet. And so, I basically, you know, qualify for the deferred action announcement that was made on June 15th. And folks who—you know, you have to meet those requirements—you know, the age limit, either been working, you know, have been going to school here, in order to be able to apply for this deferred action. And we're still waiting on, I believe, an application process that has been announced—will be available soon. But, you know, in order for us to get to that point where we have something that the president has announced to help undocumented youth like me who grow up in this country, we had to do precisely this. We had to do civil disobedience, and we had to do nonviolent protest demanding equal access to higher education and a stop to deportation, among other things that affect our undocumented community.
RENÉE FELTZ: And like you said, you went in intentionally. And what are you hoping to find in there and document now that you're inside?
VIRIDIANA MARTINEZ: Now that I'm inside, I have found several stories of women—because I'm in the women's section—who have been held for over a year, some for months only, but they don't belong here. They applied for the prosecutorial discretion announcement that was made last year by the Obama administration. And some of these women were, you know, either not even driving—they were passengers in a car—and they were questioned about their status. And now they are being held here for months. And other women, their cases are a bit more complicated, but they have been held here for—for over a year, including the case of Inga Barysheva, and she has been here for two-and-a-half years, even with a work permit that has been granted.
RENÉE FELTZ: And if they have been held for such a long time, why are they still inside? Why haven't they been released?
VIRIDIANA MARTINEZ: Well, I think that's a good question that should be asked to the judge here, Judge Rex Ford, and to the deportation officers of this facility and everyone involved and complicit in the process of keeping these women here, basically, you know, when they prove and they have proven that they have the requirements to be released, and either fight their cases, their deportation cases, outside and not be held here, or just released, you know, period, because they have no record at all and were unjustly arrested. And I think that this place is systematically set up to keep these women here—and on the men's side, the men—because there's money being made in this place. This place is owned by a company, GEO. And every time someone is detained, they are given money. Per person, I think the average is $170 per day. So, it's definitely—you know, there's definitely business and money and profit involved in all of this.
RENÉE FELTZ: And, Viridiana, did you speak about whether or not you had found any DREAM Act-eligible youth inside?
VIRIDIANA MARTINEZ: I have. I have found several DREAM Act-eligible girls here. One was being held here for three months. She was just recently, last Thursday, released, I believe. And there was another one who was also released last week. But the damage is already done, you know? Although they are released, the damage is already done, because they have been—you know, they have been detained in this place. And I think that's what needs to be highlighted. And even though the president and the administration is saying that they are not, you know, detaining or deporting DREAM Act-eligible youth, and here I am.
RENÉE FELTZ: And one more question about the Broward detention facility itself. Can you describe it? It's rare that we hear from people who are able to tell us what it's like to be held there. How would you describe where you're being held, for example, and maybe even the food and what you're able to access?
VIRIDIANA MARTINEZ: The food is disgusting. If you are sick and [inaudible] in this place, like the case of Norma Ramirez, who has three U.S. citizen daughters—she's been held here since May 7th. There is also an online petition [inaudible]. And she was stripped. She had some, you know, issues with her period, and she had to be transferred to the hospital and had to get, you know, surgery. And the way that she told me that the officers, you know, treated her was wrong. They laughed at her. They laughed at what she was in here for and, you know, the reason that she was sick and had to have surgery.
And I have also spoken to another of the girls here who has diabetes. And every time she goes downstairs to, you know, get her levels checked, the girls downstairs, the PAs [inaudible], you know, always tell her like, "Why are your—why are your levels so high?" And she's like, "They yell at me, but all I can say is, 'Well, why is your food so bad?'" You know? Because she basically eats the same thing we all eat, except—you know, with the exception of the bread, that instead of hers being white, it's wheat. And they tell her, you know, "You're slowly killing yourself in here. You're going to need a kidney transplant when you get out, you know, if you're still alive." And she says, "Well, hold on. Like, why are you saying this to me? Like, you know, I'm asking—I'm telling you what I need, you know, and I'm telling you that I need food, and yet, you know, I get fed the same thing that everybody else does, when clearly I need special treatment." And, you know, she was telling me about the—getting her finger pricked to check her—you know, since diabetics have to get that done, and they wouldn't let her family send her her machine. And they were, you know, "Oh, no. We don't allow that here." And she's like, "You know what? What am I—I mean, what am I supposed to do? Yeah, I'm slowly dying in here, because your food sucks and because your treatment is bad. You know, you're not even letting me take care of myself while I'm being detained here."
The bill being here is—you know, it's a mixture of—let's see, what—a mental health hospital and an internment or something. You know, it's like we're basically confined, and because it's 75—75 girls and almost, I believe, 400 men, 600 men, and so the 75 of us, we are confined to a hallway, basically. Walking up and down the hallway, there's room. We get taken downstairs to eat and maybe—you know, if you have to go see medical, a doctor, who also, you know, tells people, like this girl with diabetes, you know, all sorts of crazy things. You know, she clearly needs care, but they're not providing it. Even when she said, you know, "Let me bring my own machine," they're not—they're not — "Oh, no. We don't allow that here."
RENÉE FELTZ: Viridiana, finally, can you talk about what you're feeling right now as you, yourself, face deportation, and what your family members and your friends are saying, if you've been in touch with them?
VIRIDIANA MARTINEZ: My family members know that I'm in here. I'm privileged. I mean, I grew up here. I know the language. You know, I have all of these things to my favor. And yet, you know, this whole—like deferred action thing and the fact that I'm a DREAMer, but there are so many people in here that, you know, are not in that situation, that, you know, they're here alone with their three kids, and they got picked up, and their kids are, you know, at home by themselves, you know, and the neighbor had to be called to go take care of them when they got detained. The way I feel is I acknowledge the many advantages that I have, and I think because of that is, you know, what literally encourages me to be here and be able to, you know, to put myself in this situation, because I know that at the end of the day I'm safe. But there are so many other people that are not in the same position, and they need help, and they need support.
And this is what—you know, what our movement has taught us, the undocumented youth movement, is we look out for each other. And that's what we have, and that's what we're going to do. We're going to look out for each other, and we're going to fight each other's deportations, and we're going to—and we're going to hold each other accountable, and we're going to help each other out. And that's what has gotten us to be able to stop many deportations in the past, to stop deportations now, and it's what's going to push us to the future and be able to, you know, to keep pushing the buttons of these politicians that want to say that they're going to support us, but in reality and on the ground, other things are going on.
RENÉE FELTZ: Well, thank you very much, Viridiana, for contacting Democracy Now! and for speaking with me.
VIRIDIANA MARTINEZ: OK. Thank you, Renée. We'll be in touch.
---