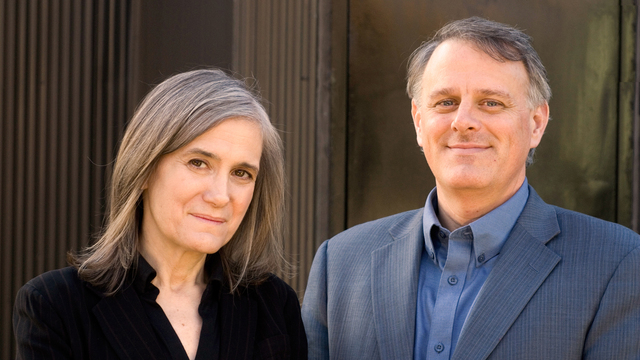 Media Options
By Amy Goodman with Denis Moynihan
Aaron Swartz wanted nothing more than to change the world. He was doing just that until he ended his own life, at the age of 26, on Jan. 11. Aaron was a social justice activist, gifted with deep understanding of how computers and the Internet work, and how they could empower people around the world with the freedom to connect. Self-effacing and insatiably curious, he accomplished much in his too-short life. He took a lead role in defeating SOPA, the Stop Online Piracy Act, a federal law that would have indelibly changed the operation of the Internet, granting corporations sweeping online censorship powers. Aaron became the target of zealous federal prosecutors who accused him of serious computer crimes, which his father, his lawyer and others say contributed to his suicide.
At the age of 14, Aaron helped develop RSS, "Really Simple Syndication," which changed how people get online content, allowing people to subscribe to different sources of information. RSS is how millions get their podcasts. He also helped develop the "Creative Commons" alternative to copyright, which encourages authors and publishers to share content. He founded a company, Infogami, that merged with Reddit, which allows users to collectively rank and promote contributed content, and is now one of the most popular websites globally. He attended Stanford, then, by 2010, became a fellow at Harvard University's Edmond J. Safra Center for Ethics.
While at Harvard, his legal troubles began. He used the Internet at nearby MIT (the Massachusetts Institute of Technology) to access a repository of digitized academic articles run by a nonprofit company called JSTOR, which apparently noticed a massive amount of downloads from a single user and contacted MIT to investigate.
Ultimately, Aaron was arrested outside MIT, with a laptop and some hard drives that purportedly contained about 4 million electronic articles. JSTOR declined to press charges, and Aaron returned all the articles. That didn't matter to Carmen Ortiz, the U.S. attorney in Boston who was appointed in 2009 by President Barack Obama. Along with Deputy U.S. Attorney Stephen P. Heymann, these two prosecutors piled 13 federal felony charges onto Aaron under the Computer Fraud and Abuse Act (CFAA), a problematic and overly broad law intended to target people stealing secrets from government computers or from financial institutions.
Aaron's family released a statement, saying: "Aaron's death is not simply a personal tragedy. It is the product of a criminal-justice system rife with intimidation and prosecutorial overreach. Decisions made by officials in the Massachusetts U.S. Attorney's office and at MIT contributed to his death. The US Attorney's office pursued an exceptionally harsh array of charges, carrying potentially over 30 years in prison, to punish an alleged crime that had no victims. Meanwhile, unlike JSTOR, MIT refused to stand up for Aaron and its own community's most cherished principles."
Taren Stinebrickner-Kauffman, Aaron's girlfriend, told me about Aaron's activism: "He would say, 'I don't want to be happy, I just want to change the world.' Open access to information was one of the causes he believed in, but it was far from the only one. During the course of this two-year ordeal, he led the fight against SOPA, the Internet censorship bill, which no one thought could be defeated when it was first introduced. … He did that all while under the burden of these bullying and false charges."
Aaron co-founded Demand Progress, with a mission "to win progressive policy changes for ordinary people through organizing, and grassroots lobbying." The group is calling for changes to the CFAA, including support for a bill just introduced by Rep. Zoe Lofgren, D-Calif., called "Aaron's Law." Demand Progress Executive Director David Segal wrote: "As currently written, Aaron's Law alone wouldn't have saved Aaron—there is still more to do to make sure that victimless computer activities are not charged as felonies—but this is a solid start that we can pass now and it's a law he wanted to change. And then we'll keep pushing."
At Aaron's funeral, giants of the Internet eulogized the young man, among them Harvard Law School's Larry Lessig, who called him "an incredible soul," and Sir Tim Berners-Lee, the inventor of the World Wide Web, who responded initially to the sad news with a tweet: "Aaron dead. World wanderers, we have lost a wise elder. Hackers for right, we are one down. Parents all, we have lost a child. Let us weep."
Aaron, in his early teens, wrote on his blog, "I'm not going to waste my time on things that won't have an impact … I want to make the world a better place." And he did.
Amy Goodman is the host of "Democracy Now!," a daily international TV/radio news hour airing on more than 1,000 stations in North America. She is the co-author of "The Silenced Majority," a New York Times best-seller.
© 2013 Amy Goodman
---