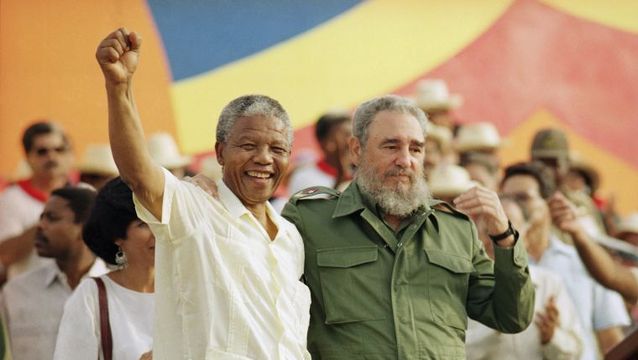 In 1991, Nelson Mandela traveled to Cuba to meet with then-President Fidel Castro on one of his first international trips after being freed from prison. Mandela called the Cuban Revolution "a source of inspiration to all freedom-loving people" and thanked Cuba for supporting the African National Congress at a time when it was banned in South Africa and condemned by the United States. "Who trained our people, who gave us resources, who helped so many of our soldiers, our doctors?" Mandela said to Castro. "You have not come to our country — when are you coming?"
Earlier today, Cuban President Raúl Castro spoke at the Mandela memorial in South Africa. Watch part of his speech
AMY GOODMAN: Let's go back to that moment in 1991 that Raúl Castro just described when Mandela traveled to Cuba to meet then-President Fidel Castro.
NELSON MANDELA: Before we say anything, you must tell me when you are coming to South Africa. You see—no, just a moment, just a moment, just a moment.
PRESIDENT FIDEL CASTRO: [translated] The sooner the better.
NELSON MANDELA: And we have had a visit from a wide variety of people. And our friend, Cuba, which had helped us in training our people, gave us resources to keep current with our struggle, trained our people as doctors, and SWAPO, you have not come to our country. When are you coming?
PRESIDENT FIDEL CASTRO: [translated] I haven't visited my South African homeland yet. I want it, I love it as a homeland.
AMY GOODMAN: That was Nelson Mandela in 1991, soon after he was released from jail, visiting President Fidel Castro in Cuba, thanking him for his support. The United States had provided surveillance intelligence to the apartheid regime in the early 1960s that located Nelson Mandela in hiding, that led to his arrest and subsequent 27 years in prison. This is Democracy Now!, democracynow.org, The War and Peace Report.
---