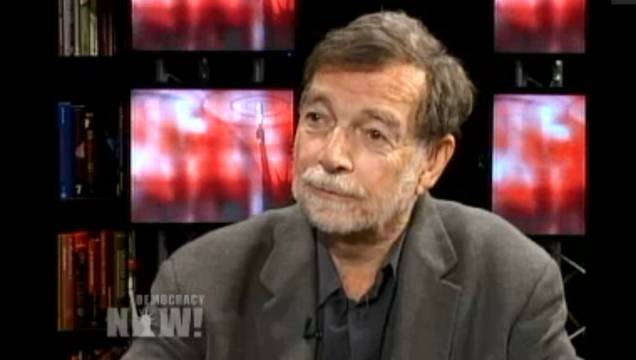 André Schiffrin, a leading figure in the book publishing world for nearly 50 years, has died at age 78 from pancreatic cancer. Above, you can watch our 2007 interview with Schiffrin, who was the editor in chief of Pantheon Books, where he edited titles by Jean-Paul Sartre, Studs Terkel, Art Spiegelman, Noam Chomsky and Michel Foucault. In 1990, he was asked to resign after his unit came under pressure to raise its profit margin, a move critics condemned as corporate censorship. Schiffrin went on to set up the nonprofit publishing house, The New Press, in 1992.
This was not the first time Schiffrin took a stand. The Los Angeles Times book critic David L. Ulin, writes that "During the Vietnam War, he signed a pledge refusing to pay taxes to support the military effort, seeing the publisher's role, primarily, as one of engagement. Books, in other words, were not commodities so much as expressions–of creativity, of conscience–and publishing was less a business than a public trust."
Schiffrin wrote many books, including his 2007 memoir, A Political Education: Coming of Age in Paris and New York, and The Business of Books: How the International Conglomerates Took Over Publishing and Changed the Way We Read, which was published in 2000.
He recalled in 2007 on Democracy Now! how Pantheon's Alberto Vitale came to ask him to resign, and the response of the writers he worked with who later joined him at the New Press. (Watch the full interview here.)
ANDRÉ SCHIFFRIN: Right. Well, [Pantheon] was owned—it was owned by Random House when I got there, and it had been a small, independent firm before. And Bennett Cerf and Donald Klopfer had bought Knopf at the time. And—
AMY GOODMAN: Who was Bennett Cerf?
ANDRÉ SCHIFFRIN: Bennett Cerf was the well-known television personality, but also a great publisher, who was head of Random House, as well as his partner, Donald Klopfer. And they ran a very good, old-fashioned American publishing house featuring mostly American writers, like O'Hara and Faulkner and so on. They then bought Alfred Knopf's firm, which had been the most distinguished publisher of books from abroad—from Japan, from Europe and so on. And then, for dessert, they bought Pantheon. […]
Well, in 1990—and I describe this in the book—the man he'd put in charge of the firm, a former banker called Alberto Vitale, came to us and said, "We'd like you to cut out two-thirds of your list" — all the books that would have been the Foucaults and the others that were not sure bestsellers. And—
AMY GOODMAN: Explain who Michel Foucault is.
ANDRÉ SCHIFFRIN: Well, he was one of the many important French philosophical figures that we published, and he still is a great influence and probably one—after Sartre, the most important of the French philosophers of the last century.
But also, he was very unhappy with what we were publishing politically, with the Chomskys and the others that we had published over the years. And Vitale said to us, "Why can't you publish more books on the right rather than those on the left?" It was clear to us at that point that we were in a situation where there was no compromise, no solution. So all of my colleagues and I resigned at the same time, which is something that normally doesn't happen in publishing. When there's a new owner, everybody says, "Oh, well, let's see. Maybe we can work it out. We don't want to leave our corner offices," and so on. But we did leave all together. And—
AMY GOODMAN: How many of you?
ANDRÉ SCHIFFRIN: Well, there were six who left altogether, the editorial staff. And there was a big picket line outside of Random House. There was a lot of noise about it, protests from all over Europe and so on. And it was clear that people saw that as a sea change, a moment when the conglomerates would really try to alter, as they had been doing, what was published.
And so, because it was such a famous incident, I was able to start a not-for-profit house based on the idea of NPR, PBS, called The New Press, which is now celebrating its 15th anniversary. And we got—we had the manuscripts. We had our bestselling authors, like Studs Terkel and others, who stayed loyal to us, very courageously, and we were—
AMY GOODMAN: Meaning leaving Pantheon and joining you.
ANDRÉ SCHIFFRIN: Right, right. Of all the hundreds, if not thousands, of authors I had published at Pantheon over the 30 years, only two stayed behind."
---