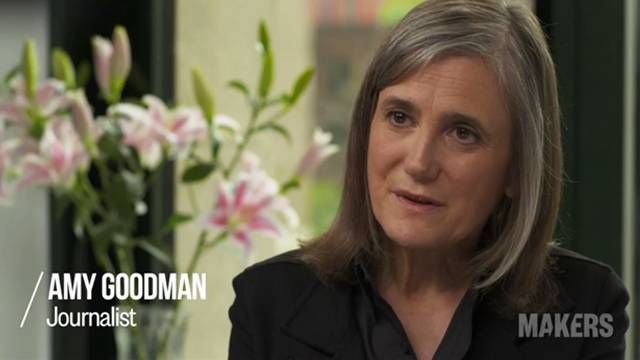 Amy Goodman sits down with AOL/PBS filmmakers to talk about her longtime career in journalism, building Democracy Now! over the past 17 years, and how independent media is essential to the functioning of a democratic society.
Watch the entire interview or pick one of the segments below.
"I feel like I have been doing journalism my entire life." Goodman talks about building a media that "allows people to speak for themselves."
Watch
Goodman talks about the vets she met through the Occupy Movement and the unique stories they have to tell.
Watch
Goodman talks about how widespread poverty is largely ignored on national platforms. "Poverty is one of the most critical issues of our country," she says.
Watch
Goodman discusses why women are the perfect candidates for a career journalism. "It takes serious listening. And I think we grow up listening," Goodman says of women. "And that is what journalism is about. Carefully listening and observing things others might not observe."
Watch
Goodman on the role media should play in America's society, but how it's obscured with static, "that veil of distortions, and lies, and misrepresentations, and half-truths that distort reality."
Watch
In this clip, Goodman discusses the great risk a whistleblower makes, and how it's the media's duty to listen to them, and to protect them.
Watch
In September 2008 Goodman was arrested outside the Republican National Convention. She talks about the viral video showing her getting arrested and the point it made about how journalists should do their job.
Watch
Goodman talks about interviewing a professor for her college newspaper, his subsequent reaction, and what it taught her about the media's reflective power.
Watch
Goodman on young women who don't identify as feminists, and what it says about the success of the movement.
Watch
"I feel proud when a young person who grew up with Democracy Now! says they want to be a journalist," Goodman says. She also talks about the way Democracy Now! allows its audience to form independent opinions.
Watch
Goodman talks about the importance of following your heart and ignoring naysayers.
Watch
Goodman on the backlash from the White House when she didn't stick to the "ground rules" when she interviewed President Bill Clinton when he called into WBAI in a "get out the vote" call.
Watch
"I work with an incredibly dedicated group of people," says Goodman on how the reporters at Democracy Now! provide a "voice for the voiceless."
Watch
MAKERS.com is a dynamic digital platform produced by filmmakers Dyllan McGee, Betsy West, and Peter Kunhardt, developed by AOL, showcasing hundreds of compelling stories from women of today and tomorrow. This historic video initiative features exclusive access to trailblazing women – both known and unknown.
---