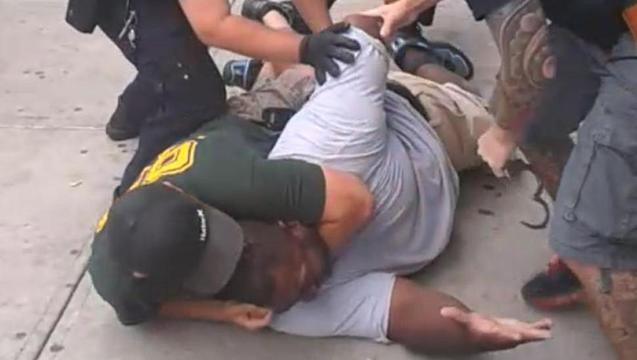 A grand jury has reportedly cleared the white New York City police officer involved in the chokehold death of Eric Garner, an African-American father of six. Garner died after police wrestled him to the ground and pinned him down. His death sparked a larger national debate about the NYPD's use of excessive force and its policy of cracking down on low-level offenses.
The incident was recorded by a bystander:

In a statement today, Vincent Warren of the Center for Constitutional Rights criticized the decision:
How can anyone in the community have faith in the system now? First Ferguson, now Staten Island. The Grand Jury's failure to indict sends the clear message that Black lives don't matter. But they do. It's bad enough that broken windows policing over something as harmless as selling untaxed cigarettes led to this tragic killing; it's even worse when the officer responsible –- who was caught on tape using a prohibited choke hold, no less –- is not held accountable.
In August, thousands marched to protest Garner's death in the New York City borough of Staten Island. Democracy Now! was there and broadcast this report.
.
NYC March over Chokehold Death of Eric Garner Protests Police Violence Nationwide

In July, Democracy Now! hosted a roundtable discussion on the death of Eric Garner. Guests included Kadiatou Diallo, the mother of Amadou Diallo, a West African immigrant who was killed by New York City police in 1999 and Iris Baez, the mother of Anthony Baez, who died in 1994 after an NYPD officer placed him in a chokehold.
New York Police Killing of Eric Garner Spurs Debate on Chokeholds & Filming Officer Misconduct

---