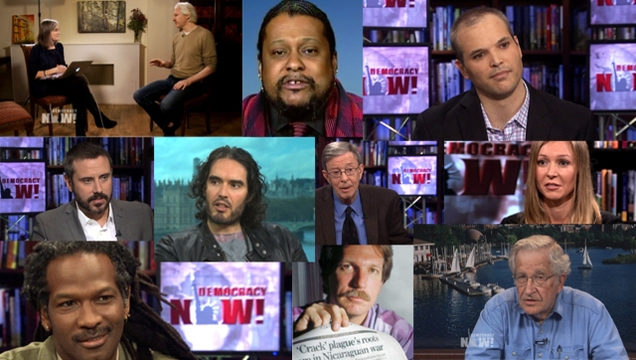 As 2014 comes to an end, we look back at the 20 interviews that were watched and shared most widely on our website. As you check out this countdown, we'd love to hear which segment was your favorite of the year. What interviews are you surprised didn't make this list? Tell us on our Facebook or Google+ pages.
"It is much more grotesque to consider the non-enforcement of white-collar criminals when you do consider how incredibly aggressive law enforcement is with regard to everybody else," said Matt Taibbi in this April interview about his new book, "The Divide: American Injustice in the Age of the Wealth Gap."
Could NSA spying undermine the security of the Internet? "Since about 2004, the National Security Agency has expanded the use of what it calls 'implants,' which are sort of malicious software implants within computers, computer networks — and even phone networks — to basically steal data from those systems," explains Intercept report Ryan Gallagher in this March interview.
In July, Amy Goodman traveled to London to interview WikiLeaks founder Julian Assange, who has been holed up in the Ecuadorian embassy for several years, having received political asylum.
"Israel is at a crossroad," explains Israeli professor and historian Ilan Pappé on Democracy Now! back in July. "In 2014, Israel made a decision that it prefers to be a racist apartheid state and not a democracy, and it still hopes that the United States would license this decision."
What is the influence of billionaire brothers, David and Charles Koch? Here's a film tries that answers the question. Director Robert Greenwald? of Brave New Films? appeared on Democracy Now! in May.
"The United States, through its policies, created the very threat that it claims to be fighting now," says investigative reporter Jeremy Scahill in this October interview. "In continuing this policy, what President Obama is doing is embracing the very lies that made the Cheney-Bush Iraq War possible."
JPMorgan paid billions in fines to keep what Alayne Fleischmann knew quiet. But she spoke out on Democracy Now! in November.
Are you freaked out by plastic bottles and containers? Mother Jones? reporter Mariah Blake appeared on Democracy Now! to detail all the shocking facts she uncovered when reporting this story about BPA-free plastics — and confessed that she has removed all plastics from her own home.
When anti-government protests rocked Venezuela in February, Democracy Now! shed critical light on the U.S. support of right-wing opposition groups behind the violent clashes in this interview with George Ciccariello-Maher, author of "We Created Chávez."
It should be no surprise that an interview with journalist Glenn Greenwald would make this year's list of our top 20 most popular segments. He appeared on Democracy Now! to critique the U.S. media's coverage of the Israeli assault on Gaza this summer. "We have less of an ability in the United States to debate Israeli policy than they even do in Israel," he says.
Since his first appearance to our show in 1998, Noam Chomsky's interviews have been among the most popular. In this discussion, he doesn't mince words on the legacy of former Israeli Prime Minister Ariel Sharon. "He was a brutal killer; he had one fixed idea in mind which drove him all his life: a greater Israel, as few Palestinians as possible."
Atrazine, a widely used herbicide used on Christmas tree farms, golf courses and food crops, was the topic of this interview with whistleblowing scientist Tyrone Hayes back in February. Find out why agribusiness giant Syngenta wanted his research kept out of the public eye.
In 1996, investigate journalist Gary Webb exposed the ties between the CIA, Nicaraguan contras and the crack cocaine trade ravaging African-American communities. The exposé provoked protests and congressional hearings, as well as a fierce reaction from the media establishment. In October, we revisited Webb's story when the Hollywood film 'Kill the Messenger'? hit the theaters.
"When I started looking at the evidence more carefully, it became clear to me that drugs weren't the problem. The problem was poverty, drug policy, lack of jobs — a wide range of things," Dr. Carl Hart explained on Democracy Now! earlier this year. "One of the things that shocked was when I discovered that 80 to 90 percent of the people who actually use drugs — like crack cocaine, heroin, methamphetamine, marijuana — were not addicted."
Russell Brand mixes serious political ideas with lots of laughs in this hour-long interview about his new book, "Revolution." And yes, he does his now-famous impersonation of "Noam Chomsky at summer camp."
Probation officers saw that kids were being dragged out of the courtroom for really minor stuff. While the rest of the country was moving towards a treat-kids-in-the-community, de-incarcerate this juvenile justice system, in Judge Ciavarella's court it was exactly the opposite. It was: Send kids away," said Robert Schwartz, executive director of the Juvenile Law Center, back in February. In this report, hear the voices of jailed youth and parents too.
"Look at it through Moscow's eyes. Since the Clinton administration in the 1990s, the U.S.-led West has been on a steady march toward post-Soviet Russia," explains Russian scholar Stephen Cohen in this popular interview from February. "Ukraine is not one country, contrary to what the American media reports…Historically, ethnically, religiously, culturally, politically, economically, it's two countries. One half wants to stay close to Russia."
When we asked Noam Chomsky his reaction to Israel's offensive in Gaza back in August, these were the first words out of his mouth: "It's a hideous atrocity, sadistic, vicious, murderous, totally without any credible pretext. It's another one of the periodic Israeli exercises in what they delicately call 'mowing the lawn.'"
In October, Democracy Now! reported on the incredible plight of Kalief Browder, a high school student who spent three years in the facility without trial, including 800 days in solitary confinement. We speak with reporter and author Jennifer Gonnerman, who recounted Browder's story in The New Yorker, and attorney Paul Prestia, who filed a lawsuit on Browder's behalf.
Our most popular interview of the year is with American Jewish leader Henry Siegman. What he has to say about Israel may surprise you. In this extended Democracy Now! interview from July, Siegman discusses the assault on Gaza, the myths surrounding Israel's founding in 1948, and his own background as a German-Jewish refugee who fled Nazi occupation to later become a leading American Jewish voice — and vocal critic of Israel's policies in the Occupied Territories.
Thank you so much for tuning in to Democracy Now! in 2014. Happy New Year!
---