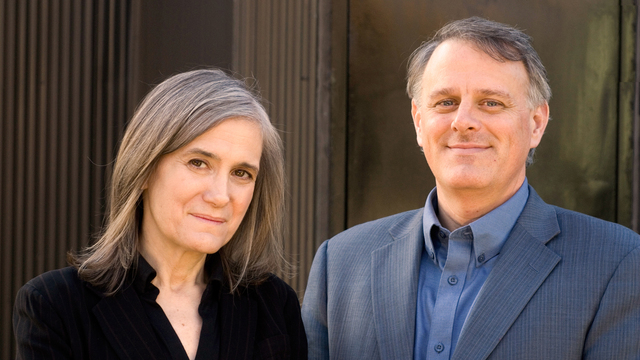 Media Options
By Amy Goodman with Denis Moynihan
"I say segregation now, segregation tomorrow, segregation forever." So proclaimed Alabama Gov. George Wallace more than a half-century ago. His proudly racist rhetoric was matched by heinous actions: Murders, lynchings and systemic violence, often endorsed or organized by state and local governments, were inflicted on African Americans and their allies struggling for civil rights. Despite that, those fighting for equality prevailed. Among the successes were the Civil Rights Act of 1964, the Voting Rights Act of 1965, affirmative action and court-ordered integration of schools. But with this week's U.S. Supreme Court decision supporting Michigan's ban against affirmative action in state university admissions, and with the increasing resegregation of schools, it seems like Wallace's dream of "segregation forever" may be alive and all too well.
Nikole Hannah-Jones is an investigative journalist with the nonprofit news organization ProPublica, which has just published her yearlong, 9,000-word piece on the resegregation of public schools in Tuscaloosa, Alabama. This remarkable report, "Segregation Now," notes that "In Tuscaloosa today, nearly one in three black students attends a school that looks as if Brown v. Board of Education never happened." The Brown decision, issued in May of 1954, covered several pending court cases (all organized by the NAACP) challenging school segregation. U.S. Supreme Court Chief Justice Earl Warren authored the unanimous decision, writing, "We conclude that in the field of public education the doctrine of 'separate but equal' has no place. Separate educational facilities are inherently unequal."
Hannah-Jones tells the history of school desegregation in Tuscaloosa through the lens of three generations of the Dent family. James Dent grew up in Jim Crow Alabama, never sharing a classroom with a white student. His daughter, Melissa, first went to an integrated middle school in 1980. It had taken decades for Tuscaloosa to implement desegregation, and then only by additional court orders. The city's two high schools were consolidated into one, Central High, which became a state powerhouse of excellence, both academic and athletic. Melissa went on to become the first in her family's history to graduate from college.
But this golden era of desegregation was short-lived. "Tuscaloosa has become one of the most rapidly resegregating school districts in the country," Hannah-Jones explained on our "Democracy Now!" news hour. "In 2000, when a federal judge released Tuscaloosa from its court order, the school board immediately voted to split up Central [High School]. Because of fears of white flight … they created three high schools—two integrated and one that was entirely black." Here is her key finding: a new kind of segregation. While there are no "whites only" schools in Tuscaloosa, as there were up until 1979, there is now a struggling "blacks only" school—Central High. "The irony is that Central High School is actually located in an integrated neighborhood, but the white students right across the street from the school are gerrymandered into a district to go to an integrated school, and that Central was created as a black school by the intentional drawing of district lines."
The problem is not limited to the Deep South. UCLA's Civil Rights Project has been tracking national trends. Surprisingly, it found that "New York has the most segregated schools in the country. … Heavily impacting these state rankings is New York City, home to the largest and one of the most segregated public school systems in the nation." The UCLA report repeatedly uses a term that is now common in academic circles studying resegregation: "apartheid schools"—those schools with less than 1 percent white student enrollment. The report continues, "Across New York City, 73 percent of charters were considered apartheid schools and 90 percent were intensely segregated (less than 10 percent white enrollment) schools in 2010."
This week's Supreme Court decision will surely continue the trend of resegregation from high schools into colleges. The 6-to-2 vote upheld the Michigan ban on race-based affirmative action in state university admissions. Chief Justice John Roberts expressed his feelings about race in 2007, when he controversially said, "The way to stop discrimination on the basis of race is to stop discriminating on the basis of race." Justice Sonia Sotomayor, in her dissent from the majority this week, wrote, "My colleagues are of the view that we should leave race out of the picture entirely and let the voters sort it out. … It is a sentiment out of touch with reality."
The reality is, racial discrimination and segregation go hand in hand. Racism may not boom from a governor's podium as it did in 1963 with George Wallace, but a racially divided America can never be equal.
Amy Goodman is the host of "Democracy Now!," a daily international TV/radio news hour airing on more than 1,200 stations in North America. She is the co-author of "The Silenced Majority," a New York Times best-seller.
© 2014 Amy Goodman
Distributed by King Features Syndicate
---