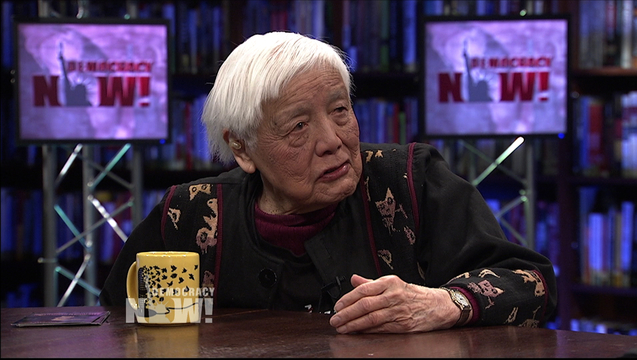 This is viewer supported news. Please do your part today.
Donate
Democracy Now! has learned the longtime Detroit activist and philosopher Grace Lee Boggs died this morning at the age of 100. "She left this life as she lived it: surrounded by books, politics, people and ideas," said her friends and caretakers Shea Howell and Alice Jennings.
Grace Lee Boggs was involved with the civil rights, black power, labor, environmental justice and feminist movements over the past seven decades. She was born to Chinese immigrant parents in 1915. In 1992, she co-founded the Detroit Summer youth program to rebuild and renew her city.
Grace Lee Boggs was a regular guest on Democracy Now! for many years. Watch all of her appearances here
VIDEO: Legendary Detroit Activist Grace Lee Boggs Turns 100; Watch Never-Before-Aired Interview

Grace Lee Boggs on Detroit and 'The Next American Revolution: Sustainable Activism for the Twenty-First Century'

Detroit Activist, Philosopher Grace Lee Boggs: 'The Only Way to Survive Is by Taking Care of One Another'

Grace Lee Boggs on Mass Protest and Race Politics in the Obama Era, Economic Devastation in Detroit, and the Legacy of Socialist Thought in the US

---