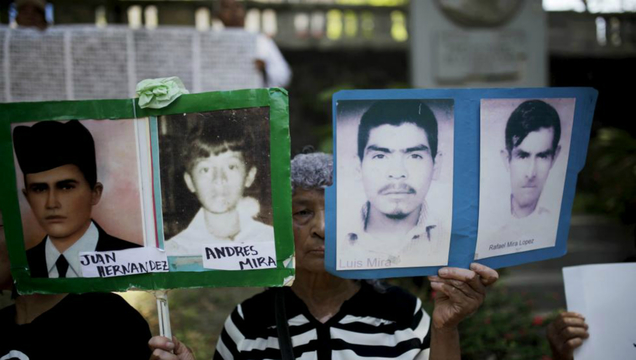 Human rights advocates and family members of victims are celebrating a pair of victories in long-running campaigns to deport Salvadoran generals accused of U.S-backed atrocities. On Wednesday, former General Carlos Eugenio Vides Casanova was deported to El Salvador from the United States, ending a 16-year legal battle. In a ruling last month, the Board of Immigration Appeals found there is ample evidence Vides was complicit in the rape and murder of four U.S. churchwomen in 1980, as well as the torture of political prisoners. He is the highest-ranking foreign military leader to be deported under a 2004 law barring bar human rights violators from U.S. soil. Vides was a close U.S. government ally during his stint as defense minister for the Salvadoran junta between 1983 and 1989. The churchwomen's families have fought for years to hold him and other U.S.-backed Salvadoran officials responsible.
The U.S. government has also moved to deport another Salvadoran general wanted in Spain. A U.N. inquiry has named Inocente Orlando Montano as among the top military officials who approved the murder plot that led to the 1989 slaying of six Jesuit priests, their housekeeper and the housekeeper's daughter. The Jesuits had been outspoken advocates for the poor and critics of human rights abuses committed by the U.S.-backed ARENA government. Montano lived in Boston for about a decade before being arrested in 2011. He was sentenced in 2013 on charges of immigration fraud for lying about his background. Prosecutors say he came to the United States in part to avoid being brought to justice for the Jesuits' murders. He is among 20 Salvadoran officials who have been indicted by a Spanish court.
In 2005, Democracy Now! spoke with Carlos Mauricio, a former professor at the University of Salvador. In 1983, he was detained and tortured for nearly two weeks at the national police headquarters. He later sued General Carlos Eugenio Vides Casanova and José Guillermo García.
Carlos Mauricio: I was kidnapped in front of my classroom. A special unit of the army, a death squad came for me in the evening of June 1983. They beat me up when I was in my classroom, took me away. I was blindfolded and handcuffed, and took me to a place that I didn't know, where I was kept for about three weeks. I was tortured in that place. I was blindfolded, so I didn't know who tortured me. But later the Generals Carlos Eugenio Vides Casanova and Guillermo Garcia were found responsible for what happened to me, and I believe, I truly believe that they were responsible … they are responsible for the torture of thousands of people in El Salvador and also responsible for the genocide carried out against the Salvadoran population.
Related Reading on the Salvadoran Cases:
'Salvadoran general linked to deaths of US churchwomen gets deported' (National Catholic Reporter)
'Ex-Salvadoran Colonel Accused in Jesuit Massacre Faces Extradition to Spain to Stand Trial for Human Rights Violations' (Center for Justice & Accountability)
'Former Salvadoran General Vides Casanova Deported from the U.S.' (Center for Justice & Accountability)
---