Media Options
Today is International Archives Day and this year's theme is "Democracy." With citizen journalism and cell phone footage playing such a key role in the Black Lives Matter movement for police accountability, we are featuring our August 2014 interview with Yvonne Ng, senior archivist for WITNESS, a group that trains and supports people using video in their fight for human rights. She co-authored their resource, "Activists' Guide to Archiving Video" and joined us to offer advice to for filming police abuse with smartphones and video cameras, particularly with respect to how to properly preserve such video. Watch part one above, and part two here.
In January, we interviewed Brian DeShazor, director of the Pacifica Radio Archives, about how he discovered a lost speech of Dr. Martin Luther King Jr. on the fight for civil rights and his support for Nelson Mandela and the anti-apartheid struggle in South Africa. See the speech below or here.
Today, we also took a moment to catch up with Democracy Now! Archives Manager Brendan Allen to learn more about what he does.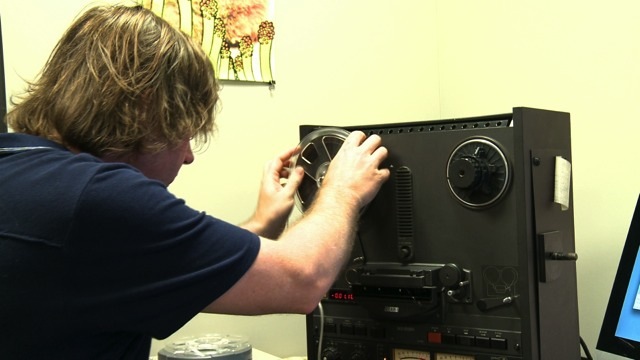 Brendan Allen at work with a 1/4" audio reel-to-reel deck.
"Democracy Now!'s War and Peace Report provides our audience with access to people and perspectives rarely heard in the U.S.corporate-sponsored media, including independent and international journalists, ordinary people from around the world who are directly affected by U.S. foreign policy, grassroots leaders and peace activists, artists, academics and independent analysts," Allen says.
"Working for a live broadcast is different from working in a traditional archive. The material we archive is audiovisual media, which comes in many formats, degrades rather quickly, and needs a lot of special attention. Also our constituents are television producers who work on a tight schedule that conforms to the 24-hour news cycle."
So what exactly does an archivist do here?
"I receive born-digital content from cards that need to be ingested (loaded into a computer, imported and transcoded to digital files & metadata for the producers).  These cards were shot the day before by producers or freelancers.  I give each digital file & metadata package a unique identifier and transfer it onto our 40-terabyte library server for our producers to access and edit later. All the content on this library server is organized into a directory structure and ready to be catalogued in our database," Allen says.
"Our goal is to preserve all of our digital content and to digitize all the physical material in our archive and make detailed catalog records.  The show covers social justice and human rights issues by giving a voice to ordinary people, so we closely follow stories over time. The archives are an integral part of our show; we use material from them almost daily.  I believe archives are essential to any community struggling for human rights, a better future, and an understanding of how the past informs the present."
Brendan Allen manages the Archives for Democracy Now! He attended the School of Visual Arts and received a BA in English Literature and Media Studies from the University of New Mexico. He worked as a video librarian for Black Entertainment Television in 1998 and then moved to Public Broadcasting Service in Alexandria, VA, where he worked as the library media coordinator. In 2006, Brendan earned a Master's in Library Information Science at Pratt Institute, while working as the Senior Archivist for the United Nations Children's Fund (UNICEF) in New York City.
---