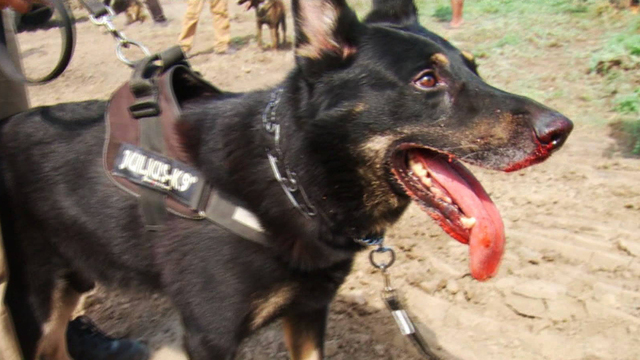 The Morton County Sheriff's Department has concluded its investigation into the use of dogs to attack Native American-led water protectors opposing the Dakota Access pipeline on September 3, finding the guards lacked proper licensing. Morton County Sheriff's Captain Jay Gruebele writes:
"Through this investigation it has been proven that the dog handlers were not properly licensed to do security work in the State of North Dakota."
On Saturday, September 3, Democracy Now! filmed security guards working for the pipeline company attacking Native Americans. The report showed guards unleashing dogs and using pepper spray and featured people with bite injuries and a dog with blood dripping from its mouth and nose. The video went viral online, viewed more than 14 million times on Facebook and was rebroadcast on many outlets, including CBS, NBC, NPR, CNN, MSNBC and the Huffington Post.
Following Democracy Now!'s report, Amnesty International USA called on Morton County Sheriff Kyle Kirchmeier to investigate the use of force by private security working for the Dakota Access pipeline company on September 3.
Three days after the attacks Democracy Now! spoke with Jonni Joyce, an expert in law enforcement canine handling with more than 25 years of experience, about the use of canines to attack protesters. "What I witnessed on the video was absolutely horrific," said Joyce. "It appeared that the handlers were not trained properly in order to manage a dog that has been trained in some type of controlled aggression."
To see all of Democracy Now!'s coverage of the Dakota Access pipeline, click here.
---