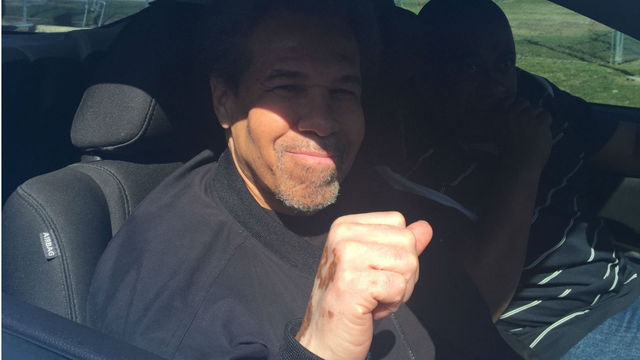 Image Credit: Palomita Firecracker
BREAKING: Albert Woodfox is out of prison after 40+ years of solitary confinement @WBRZ pic.twitter.com/JiB9FaoqLD

— MichaelVinsanau WBRZ (@MVinsanau) February 19, 2016
UPDATE: EXCERPT OF STATEMENT FROM THE INTERNATIONAL COALITION TO FREE ALL THE ANGOLA 3
Just moments ago, Albert Woodfox, the last remaining member of the Angola 3 still behind bars, was released from prison 43 years and 10 months after he was first put in a 6×9 foot solitary cell for a crime he did not commit. After decades of costly litigation, Louisiana State officials have at last acted in the interest of justice and reached an agreement that brings a long overdue end to this nightmare. Albert has maintained his innocence at every step, and today, on his 69th birthday, he will finally begin a new phase of his life as a free man.
In anticipation of his release this morning, Albert thanked his many supporters and added:
"Although I was looking forward to proving my innocence at a new trial, concerns about my health and my age have caused me to resolve this case now and obtain my release with this no-contest plea to lesser charges. I hope the events of today will bring closure to many."
On behalf of the Angola 3–Albert Woodfox, Robert King, and in memory of Herman Wallace–we would like to sincerely thank all the organizations, activists, artists, legal experts, and other individuals who have so graciously given their time and talent to the Angola 3's extraordinary struggle for justice. This victory belongs to all of us and should motivate us to stand up and demand even more fervently that long-term solitary confinement be abolished, and all the innocent and wrongfully incarcerated be freed.
STATEMENT FROM George Kendall, attorney with Squire Patton Boggs, LLP:
"Although we are overjoyed that Albert Woodfox is finally free, it is indefensible he was forced to endure decade after decade in harsh solitary confinement conditions, longer than any prisoner in the history of the United States. Albert survived the extreme and cruel punishment of 40 plus years in solitary confinement only because of his extraordinary strength and character. These inhumane practices must stop. We hope the Louisiana Department of Corrections will reform and greatly limit its use of solitary confinement as have an increasing number of jurisdictions around the country."
Original Democracy Now! updates below
Supporters say Albert Woodfox, the longest-serving U.S. prisoner in solitary confinement, is about to be released in Louisiana after he pled no contest to murdering a prison guard in 1972. His two prior convictions were overturned based on racial prejudice and lack of evidence.
At a hearing this morning in a St. Francisville courtroom, Woodfox entered his plea to lesser charges than the murder for which he was indicted of last year for the third time. He was sentenced to 42 years but has already served a 45 year sentence.
His legal team told The Times Picayunne that Woodfox pleaded "no contest" to two lesser charges: manslaughter and aggravated burglary, and noted this is not an admission of guilt.
Woodfox's release is expected soon from the West Feliciana Parish jail, where he had been held pending his third trial.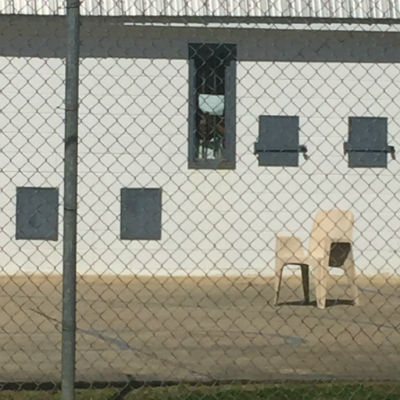 West Feliciana Parish jail, where Woodfox is being held ahead of his anticipated release.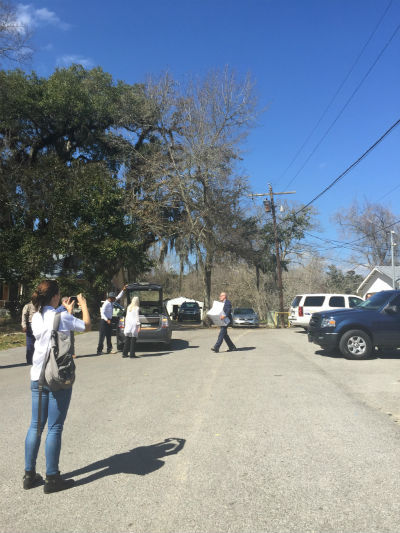 Woodfox's supporters load his belongings into a car waiting to drive him away.
Woodfox was serving a five-year-sentence for armed robbery at Angola State Penitentiary when he and fellow inmate Herman Wallace were accused in 1972 of stabbing prison guard Brent Miller. The two men always maintained their innocence, saying they were targeted because of their attempts to address horrific conditions in the former slave plantation by organizing a chapter of the Black Panther Party. During an interview featured in the documentary The Land of the Free, he said, "We are fighting for people to understand that we were framed." His second-degree murder conviction was reversed 20 years later.
The state successfully tried Woodfox a second time in 1998, but in 2014 a federal judge ruled he should be set free on the basis of racial discrimination in his retrial. When Louisiana Attorney General Buddy Caldwell announced plans to try Woodfox yet again, U.S. Middle District Court Judge James Brady ordered his release based on five factors:
"Mr. Woodfox's age and poor health, his limited ability to present a defense at a third trial in light of the unavailability of witnesses, this Court's lack of confidence in the State to provide a fair third trial, the prejudice done onto Mr. Woodfox by spending over forty-years in solitary confinement, and finally the very fact that Mr. Woodfox has already been tried twice and would otherwise face his third trial for a crime that occurred over forty years ago."
The U.S. Fifth Circuit later approved Woodfox's continued detention.
Woodfox is the last of three men to be released who were part of a group known as the Angola Three. He and Wallace had joined with a third prisoner named Robert King, who was freed when his conviction was overturned in 2001 and he was exonerated of charges that he had killed a fellow inmate. Wallace was freed in 2013, just days before he died from cancer.
Among those who had long echoed concerns about how Woodfox was convicted was Miller's widow, Leontine Verrett, who said in a statement, "I think it's time the state stop acting like there is any evidence that Albert Woodfox killed Brent. After a lot of years looking at the evidence and soul-searching and praying, I realized I could no longer just believe what I was told to believe by a state that did not take care of Brent when he was working at Angola and did not take care of me when he was killed."
See all of Democracy Now!'s coverage of the Angola 3 over the years.
---