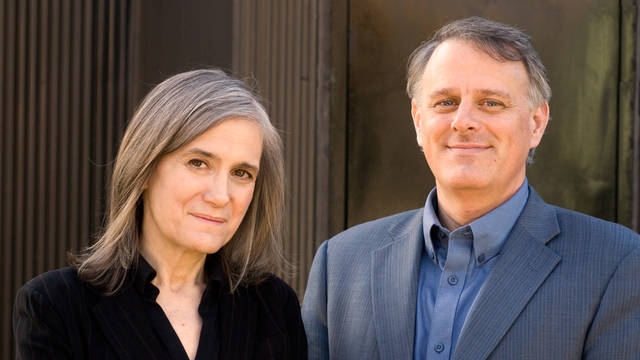 Media Options
By Amy Goodman & Denis Moynihan
Siwatu-Salama Ra is no stranger to standing her ground. It was because she did, though, that the 26-year-old pregnant mother may have to give birth while imprisoned. Siwatu, an environmental and racial-justice activist, was unjustly prosecuted and imprisoned, and, now in the third trimester of a high-risk pregnancy, is serving a mandatory two-year sentence. She, her family, her lawyers, her Detroit community and a global network of activists who know her as a crusading organizer are doing all they can to ensure that she is released to have her child safely, with her family by her side. The time between Earth Day and Mother's Day will be critical.
"This tragic story started on a Sunday evening in July in Detroit at Siwatu's family home, where her mother, sister, brother and nieces resided," Victoria Burton-Harris, Siwatu's attorney, said on the "Democracy Now!" news hour.
In a video released by the FreeSiwatu.org website, Siwatu recounted the incident that led to her imprisonment, speaking about the woman who had dropped her child off at their house:
"She started yelling at me, screaming at me, cursing at me. In the midst of this, I'm asking this woman to leave, just go, and she wouldn't. So the next thing that she did was ram her car into my car. Plus, my baby was in the car, playing. That shocked fear in me, and I jumped and got my baby out of the car. She's literally going back and forth with this car, putting it in reverse and fixing herself to come at us again and go after my mom. My mother, who was also standing very close to me, wasn't able to run."
Her mother, Rhonda Anderson, added: "She's using her car as a weapon. When I could not move, that's when I was the most frightened. She was so close to hitting me that I can feel the car on my clothes."
Siwatu continued: "That's when I made the decision to reach for my firearm, that was unloaded, with no bullets. I was afraid. And I told her, 'You have to leave now.'"
Siwatu was licensed to carry a concealed firearm. The assailant quickly snapped photos of her holding the gun, then fled to a police station, where she filed a report. Siwatu filed a police complaint as well, several hours later. Unbelievably, the police contend that whoever in a conflict files the police report first is considered, automatically, the victim. The second person is automatically considered the aggressor.
Following that bizarre logic, the police never followed up on Siwatu's complaint. Rather, several weeks later, a SWAT team descended on her home and arrested her.
The jury trial went twice as long as the judge predicted. As the jury began deliberating, a massive snowstorm was heading to Detroit, adding pressure on jurors to render a verdict quickly. Critically, the jury was never told that the charges carried a mandatory minimum two-year sentence, meaning that the judge could not use any discretion. The jurors found Siwatu guilty of two of three charges. Her conviction is on appeal.
Siwatu is the co-director of the East Michigan Environmental Action Council, where she started as a youth leader in her teens. Michael Brune, executive director of the Sierra Club, said in a statement: "Siwatu has spent her life fighting environmental injustice and pushing back against the big polluters who are violating the law to poison her community. She does this difficult work against the backdrop of a legal system and society that disproportionately oppress people of color, particularly Black women, at every turn."
Brune continued: "Her unjust incarceration during a high-risk pregnancy is just one example of the racism people of color in our country experience every day. Her story underscores the reality that our struggles are all deeply connected — from environmental justice to the fight against racialized oppression in the criminal justice system."
From Earth Day this Sunday through Mother's Day in May, Siwatu-Salama Ra should just be concerned with giving birth to a healthy son, into a world she has been fighting to make healthier for all. Instead, she sits in a prison cell, seven months pregnant, facing the prospect of being shackled en route to the hospital, and not being able to breastfeed her newborn when she returns to the prison. The growing #FreeSiwatu movement is working to prevent this gross miscarriage of justice.
---