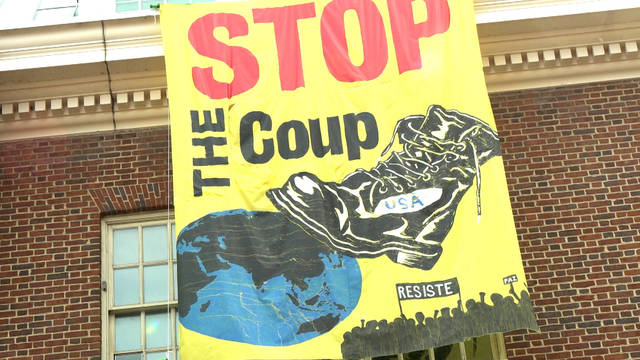 Police arrested four activists earlier today inside the Venezuelan embassy in Washington, D.C. The activists from CodePink, ANSWER Coalition and Popular Resistance had spent weeks inside the building at the invitation of Venezuela's government in order to prevent it from being taken over by Venezuela's U.S.-backed opposition. Last week, authorities cut off water and electricity to the embassy.
The Venezuelan government criticized the arrests.
"The Government of the Bolivarian Republic of Venezuela does not authorize the entrance of any US law enforcement officers into our former Embassy building in Washington," Deputy Foreign Minister Carlos Ron said in a tweet. "Any such entrance is an unlawful breach of the Vienna Convention."
The D.C. embassy has been the scene of ongoing protests by both critics of U.S.-backed regime change and supporters of the Venezuelan opposition.
Democracy Now! toured the embassy earlier this month and spoke to the activists inside, who called themselves the Embassy Protection Collective. Kevin Zeese, a member of the collective, said U.S. authorities had warned those living at the embassy that they would be removed.
"We're not trespassing. The Venezuelan government, the elected government, allows us to be here," Zeese said. "They gave us a key to come in. So we're lawfully here."
#BREAKING | Lawyer Mara Verheyden-Hilliard confirms that #UnitedStates police forces have illegally invaded the Venezuelan embassy in #WashingtonDC, arresting the 4 remaining activists of the #EmbassyProtectionCollective, "violating" the Vienna Convention. #HandsOffVenezuela pic.twitter.com/WXXdPVjJPd

— teleSUR English (@telesurenglish) May 16, 2019
BREAKING: Four embassy protectors have been arrested! Ann Wright, former state department diplomat, explains why the arrests are ILLEGAL! pic.twitter.com/iinQrutVYk

— CODEPINK (@codepink) May 16, 2019
Related Democracy Now! Segments
Despite Threats & No Electricity, Anti-Coup Activists Remain Inside Venezuelan Embassy in D.C.
Meet the Activists Occupying Venezuela's Embassy in D.C. to Protest U.S.-Backed Attempted Coup
---