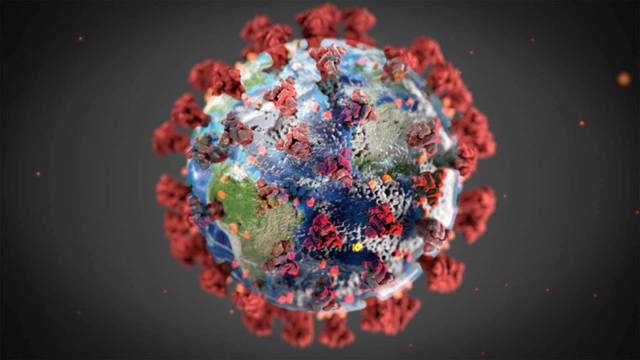 As Global COVID-19 Cases Approach 1 Million, U.S. Emergency Medical Stockpile Is Depleted
The coronavirus pandemic continues its relentless expansion in almost every corner of the globe, with the number of confirmed COVID-19 cases worldwide rapidly approaching 1 million people — though the true number is certain to be far higher due to a critical lack of testing. The largest number of confirmed cases is in the United States, where coronavirus deaths have topped 5,000. Managers of the Strategic National Stockpile warn emergency supplies of medical equipment, including life-saving ventilators, are all but exhausted.
U.S. Shipped Life-Saving Medical Equipment Abroad Even as Coronavirus Spread
The Intercept reports that even as the pandemic reached U.S. soil and began to spread, the Trump administration allowed a steady flow of ventilators and personal protective equipment supplies to be sent abroad, with a shipment as recently as March 17.
Meanwhile, all but the sickest patients and the wealthiest Americans continue to struggle to learn their COVID-19 status. One New Jersey lab, Quest Diagnostics, reported a backlog of about 160,000 COVID-19 tests, delaying some results by as much as 10 days.
New York Governor Warns of "High Death Rate" from COVID-19 Through July
Here in New York City, the epicenter of pandemic in the United States, over 1,400 people have died. Governor Andrew Cuomo warned state residents Wednesday to expect a high death rate through July.
Mayor Bill de Blasio has repeatedly warned city hospitals are in dire need of millions of masks, hundreds of thousands of gowns and hundreds of ventilators, and could run out of supplies by April 5. For many medical workers, the breaking point has already arrived.
One New York City doctor tweeted a photo of the personal protective equipment she was handed when she arrived for her shift: a New York Yankees-branded rain poncho.
Across the Hudson River, seven hospitals in New Jersey reached capacity Wednesday and were forced to divert COVID-19 patients to other hospitals. New Jersey's coronavirus death toll has topped 350, and Governor Phil Murphy said Wednesday his state also faces critical shortages.
Gov. Phil Murphy: "Do we have enough ventilators? No. Do we have enough PPE? No. Do we have enough beds? No. Do we have enough healthcare workers? No. Four emphatic noes."
Georgia Governor Claims He Was Surprised to Learn of Asymptomatic Coronavirus Carriers
In Georgia, where at least 154 people have died of COVID-19, Republican Governor Brian Kemp on Wednesday told residents to prepare for a shelter-in-place order beginning on Friday. Governor Kemp's announcement came weeks after medical professionals warned coronavirus infections would explode across Georgia without strict social distancing measures.
Gov. Brian Kemp: "What we've been telling people, from directives from the CDC, for weeks now, that if you start feeling bad, stay home. Those individuals could have been infecting people before they ever felt bad. But we didn't know that until the last 24 hours. And as Dr. Toomey told me, she goes, 'This is a game changer.'"
In fact, a report in The New England Journal of Medicine published in late January warned asymptomatic people can spread the coronavirus, and the finding has informed public policy worldwide for weeks.
More Governors Order Residents to Remain at Home as Trump Defies Calls for Nationwide Lockdown
The governors of Pennsylvania, Florida and Mississippi issued stay-at-home directives Wednesday, while Alabama Governor Kay Ivey has refused to follow suit. Florida Governor Ron DeSantis reportedly reversed his long-standing opposition to a statewide lockdown after a phone call from Donald Trump, though the president continues to refuse pleas by public health officials to issue a nationwide remain-at-home order. Eleven states still have no such policy in place.
Lawmakers Begin Planning 9/11-Style Commission on Pandemic
House Intelligence Committee Chair Adam Schiff says he's consulting with other lawmakers on plans to form an independent commission to probe why the U.S. was so unprepared for the coronavirus pandemic. Schiff told The Washington Post the inquiry would be modeled after the 9/11 Commission and should convene once the nation is back on its feet.
CDC Considers Recommending Everyone Wear a Mask in Public
Los Angeles Mayor Eric Garcetti Wednesday urged all residents to use nonmedical-grade masks or facial coverings while in public. The advice came as the Centers for Disease Control and Prevention is reconsidering its advisory that people should not wear masks — advice that was aimed at preventing a run on personal protective equipment, which is already in short supply.
Trump Refuses to Reopen Healthcare Enrollment as Millions Lose Employer-Based Coverage
The White House has rejected calls to reopen health insurance exchanges under the Affordable Care Act ahead of the next open enrollment period in November. About half of Americans get their health insurance from their employer, and this week Federal Reserve economists said a staggering 47 million U.S. workers could be laid off due to the pandemic.
Coronavirus-Stricken U.S. Aircraft Carrier Evacuated in Guam
In Guam, the U.S. Navy will allow thousands of sailors to disembark from the USS Theodore Roosevelt to prevent the further spread of the coronavirus. Officials will keep a skeleton crew aboard the nuclear-powered aircraft carrier. The evacuation came after the ship's captain wrote in an impassioned plea to naval commanders that "Sailors do not need to die." Acting U.S. Navy Secretary Thomas Modly on Wednesday didn't rule out punishment for the captain over the letter's release.
Navy Secretary Thomas Modly: "I don't know who leaked the letter to the media. That would be something that would violate the principles of good order and discipline, if he were responsible for that."
New Orleans Jazz Legend Ellis Marsalis Dies of COVID-19
Legendary jazz pianist and composer Ellis Marsalis Jr. has died of complications from COVID-19 at the age of 85. Marsalis was one of New Orleans's best-loved musicians and the father of six sons, including the legendary jazz artists Branford and Wynton Marsalis.
Fountains of Wayne Co-Founder Adam Schlesinger Dies of COVID-19
In Poughkeepsie, New York, Adam Schlesinger, co-founder of the rock band Fountains of Wayne, died Wednesday after a battle with COVID-19. Schlesinger won a Grammy Award in 2010 for a comedy collaboration with Stephen Colbert; he was nominated for an Academy Award and a Golden Globe for the soundtrack to the 1996 film "That Thing You Do!" and also won three Emmys. He co-wrote songs with Rachel Bloom. He was 52 years old.
Top Coronavirus Expert Dr. Anthony Fauci Gets Security Detail After Death Threats
The White House's top medical expert on the coronavirus pandemic, Dr. Anthony Fauci, has reportedly been given a security detail after receiving death threats. Dr. Fauci has repeatedly contradicted Trump's false claims about the pandemic and the timeline for any new treatments or a vaccine. He's been pilloried in conservative media circles in language echoing President Trump. For example, a recent headline in the American Thinker referred to Fauci as a "Deep-State Hillary Clinton-loving stooge."
Driver Crashes Train Near Naval Hospital Ship in L.A. Port to Promote Conspiracy Theory
In California, federal prosecutors have charged a locomotive driver who deliberately derailed a train Tuesday and crashed it near the U.S. Navy hospital ship Mercy, which is docked at the Port of Los Angeles to relieve the burden on hospitals strained by COVID-19 patients. Forty-four-year-old driver Eduardo Moreno reportedly outlined a conspiracy theory to investigators alleging the ship was sent as part of a "government takeover."
Bodies in Guayaquil, Ecuador Left Rotting in the Streets as COVID-19 Overwhelms Health System
In Guayaquil, the epicenter of the coronavirus pandemic in Ecuador, bodies wrapped in plastic bags have been left decomposing in the streets and in empty buildings for days, as hospitals are overwhelmed with COVID-19 patients and the city morgue lies full. Officially, Ecuador has the second most coronavirus cases in Latin America after Brazil, with over 2,700 reported cases and 98 deaths, but officials in Guayaquil say they've recovered over 400 bodies in recent days.
After Hungry Residents Demand Food, Philippines President Orders Soldiers to Shoot Curfew Violators
In the Philippines, authoritarian President Rodrigo Duterte said Wednesday he's ordered soldiers to shoot to kill residents if they resist a strict lockdown on the island of Luzon.
President Rodrigo Duterte: "I will not hesitate. My orders are to the police and the military, also with the village officials, if there are troubles or occasions where there's violence or your lives are in danger, shoot them dead."
Duterte's order came after residents of Manila's Quezon City shanty town staged a protest, saying they've gone hungry without food or relief supplies that were promised when the lockdown began more than two weeks ago.
Italy Trails in Counting COVID-19 Deaths as Vice President Pence Says U.S. Faces Similar Fate
In Europe, COVID-19 continued its unrelenting toll as hospitals across the continent were pushed past their breaking points. Spain's death toll topped 10,000 with a record 950 new deaths reported in a single day.
In the U.K., London's ExCeL convention center has been converted into an enormous field hospital with plans to treat up to 4,000 COVID-19 patients. Over 2,300 people have died from the disease across the U.K., where for the first time since World War II the Wimbledon tennis tournament has been canceled.
In Italy, COVID-19 deaths have topped 13,000, but The Wall Street Journal reports Italy's true toll is far higher because the country can't spare the resources to test every dead body. U.S. Vice President Mike Pence said Wednesday models predict the United States faces a trajectory of COVID-19 deaths similar to Italy's.
Coronavirus in U.S. Jails a "Public Health Disaster Unfolding Before Our Eyes"
In the United States, a third prisoner has died of COVID-19 at the Oakdale federal prison in Louisiana. There are confirmed cases in prisons or ICE jails in Florida, Georgia, North Carolina, Texas, Arkansas, Pennsylvania, California, Nevada, Colorado, Minnesota, Ohio, Kentucky, Maryland, Vermont, New Jersey, and in Illinois, where a 59-year-old prisoner died of COVID-19 at the Stateville prison near Joliet. In Detroit, a Michigan Department of Corrections officer died of COVID-19 on Tuesday, and more than 140 prisoners have tested positive.
Here in New York City, the top physician at the Rikers Island jail said it's now unlikely officials will be able to halt the spread of COVID-19, predicting 20% of those infected will need hospitalization and 5% will require ventilators. Dr. Ross MacDonald called the situation at Rikers a "public health disaster unfolding before our eyes." Prisoners report they're packed 50 to a dorm, sleeping 15 inches apart with no access to soap, gloves, sanitizer or bleach.
The United States is the world's largest incarcerator by far, with 2.3 million people behind bars.
Sen. Kelly Loeffler and Husband Shifted Investments to Medical Supplier Ahead of Market Crash
Georgia Republican Senator Kelly Loeffler is facing fresh calls to resign over revelations that her husband invested heavily in a medical supply company ahead of the stock market's coronavirus crash. Senator Loeffler's latest financial disclosures show her husband, Jeffrey Sprecher, who's chair of the New York Stock Exchange, bought more than $200,000 worth of shares of DuPont in late February and early March, when Loeffler had access to privileged briefings about the threat of the coronavirus. DuPont produces personal protective equipment for medical workers. In February, Senator Loeffler and her husband began dumping millions of dollars' worth of shares in companies that have since plummeted in value. At the time, Loeffler publicly downplayed the risk of a pandemic, tweeting, "Democrats have dangerously and intentionally misled the American people on #Coronavirus readiness."
Another Republican senator, Intelligence Committee Chair Richard Burr of North Carolina, faces a Senate ethics probe and an FBI investigation after he sold as much as $1.7 million worth of stocks just days before markets began tanking in February.
United Nations Postpones COP26 Climate Talks over Coronavirus Fears
The United Nations has indefinitely postponed the COP26 climate summit scheduled for Glasgow, Scotland, in November over coronavirus fears. The Climate Action Network responded in a statement, "Let us remember this pandemic is taking place against the backdrop of an ecological crisis — one that threatens the lives of millions of people and will exacerbate the risks we already face. Just like a fast-spreading virus, climate change has no regard for borders. If one country is not safe, no country is safe."
Wisconsin Governor Rejects Calls to Delay April 7 Primary Amid Deadly Pandemic
In Wisconsin, Democratic Governor Tony Evers has refused calls to cancel primary elections set for April 7 and will activate the Army National Guard to work at polling places, despite an explosion in coronavirus cases and 25 deaths. In Milwaukee, election officials are set to invalidate more than 450 absentee ballots that were signed without a witness's signature, as required by law, despite statewide social distancing orders that have been in effect since March 24.
Vermont senator and presidential candidate Bernie Sanders pleaded with Wisconsin to delay voting, writing, "People should not be forced to put their lives on the line to vote, which is why 15 states are now following the advice of public health experts and delaying their elections."
This comes as at least three poll workers in Florida have tested positive for COVID-19 since Florida's March 17 primary — two in Broward County and one in Jacksonville.
Meanwhile, Democratic front-runner Joe Biden called Wednesday on the Democratic National Committee to delay its presidential nominating convention in Milwaukee, from mid-July to August.
Asian Americans Say Trump Stoking Racist Attacks with "Chinese Virus" Rhetoric
Elected officials around the U.S. are demanding that President Trump and Republican lawmakers apologize for repeatedly calling the novel coronavirus the "Chinese virus." Trump's repeated use of the term came as Asian Americans across the U.S. reported a rash of hate crimes, including a number of assaults on Asian New York City subway riders. This is New York state Senator John Liu.
Sen. John Liu: "We have this long legacy, not a great legacy, of being termed the 'Yellow Peril' from over 100 years ago. And unfortunately, Trump calling this the 'Chinese virus' only perpetuates this notion of Yellow Peril."
---