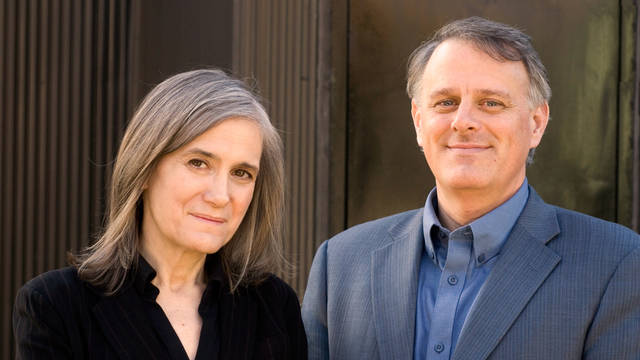 Media Options
By Amy Goodman & Denis Moynihan
On February 3rd, a massive train derailment in East Palestine,Ohio blanketed the town with a toxic brew of spilled chemicals and gasses, fouling the air, polluting waterways and killing thousands of fish and frogs. Local residents are suffering ailments ranging from respiratory distress, sore throats, burning eyes and rashes, all with unknown long-term consequences. The two mile long freight train was operated by Norfolk Southern Corporation, It's been called a "bomb train," as among its 141 cars were tankers that can hold up to 32,000 gallons each of highly flammable toxic chemicals. In addition to the spill, an out-of-control fire raged for days followed by a "controlled" burn of the train's most toxic cargo, releasing a huge mushroom cloud of fire and smoke. This catastrophe could have been prevented, had it not been for lax regulation and the outsized lobbying power of corporations like Norfolk Southern.
Five days after the accident occurred, local residents who had been evacuated were told it was safe to return home. This did not sit well with Emily Wright, who works for River Valley Organizing, a community group in the Ohio River Valley, which includes East Palestine.
"There's five miles in between where I'm at and where the derailment was," Wright said on the Democracy Now! news hour. "You should be OK [officials said]. They kept saying the same thing over and over again in the media and in the press conferences: 'There's no toxins in the air. There's no toxins. Don't worry.'"
Despite official assurances, Emily Wright was worried. "We started in my home experiencing nausea — sorry to be explicit, but — diarrhea. My father has bilateral asbestosis from working in the mill. So, these industries are killing us in more than one way. And he couldn't breathe well."
By that time, the risk of exposure had grown, as had fears of a potentially massive explosion. So, Wright and her neighbors were told to "shelter in place."
"Twenty-five million Americans live in an oil train blast zone," Emily Wright continued, "This is in the poorest parts of America, going from Conway, Illinois, to Pennsylvania, cutting through Appalachia. You know, they continue to do, you know, safety issues, lower safety concerns, not worry about us, because we are the people that historically cannot fight back."
While the train was two miles long and heavy, and carried a dizzying array of hazardous chemicals, its braking system relied on technology dating back to the Civil War. This brake mechanism functions like bumper cars, when the engine in front slows, the car behind it bumps into it and it brakes, and so on down the line. A much more modern and effective braking system, known as ECP, for "Electronically Controlled Pneumatic brakes," is already in use. Amtrak passenger trains have this system, as do trains carrying nuclear waste.
As reported by The Lever News in the wake of the derailment, in 2014 the Obama administration enacted a rule, to go into effect in 2023, that would have mandated ECP brakes on trains carrying the type of hazardous materials on this latest bomb train. Norfolk Southern and other industry leaders contributed over $6 million to Republican campaigns while lobbying against the rule. In 2018, the Trump administration rescinded it. The Biden administration and Transportation Secretary Pete Buttigieg to date have done nothing to reinstate it.
In addition to blocking safety rules, Norfolk Southern and other rail giants have been slashing costs to increase profits.
"At the root of it all is really cutbacks to staffing," Ross Grooters, a locomotive engineer and co-chair of the Railroad Workers United union, said on Democracy Now! "You have companies that are making obscene amounts of money…you have fewer people doing a lot more work faster. You have across-the-board cutbacks on the maintenance of cars, on the maintenance of locomotives, on the maintenance of track. This is critical infrastructure. And then you have increasingly long and heavy trains, like the one we saw here, where these trains have a greater propensity to derail."
As the Lever News investigation revealed, while lobbying to block safety rules, arguing that the braking systems, for example, would be too costly to implement, Norfolk Southern spent $1 billion on stock buybacks in order to boost its share price.
Meanwhile, the residents of East Palestine, and many more in an increasing area impacted by this massive toxic spill, are left drinking bottled water while being assured everything is fine.
"We really need a federal emergency to be declared," said Emily Wright, on Democracy Now! once again, on the day EPA Administrator Michael Regan visited East Palestine, "We need FEMA here. There are short-term and long-term effects that will be some of the greatest this nation has ever seen in a train derailment."
---