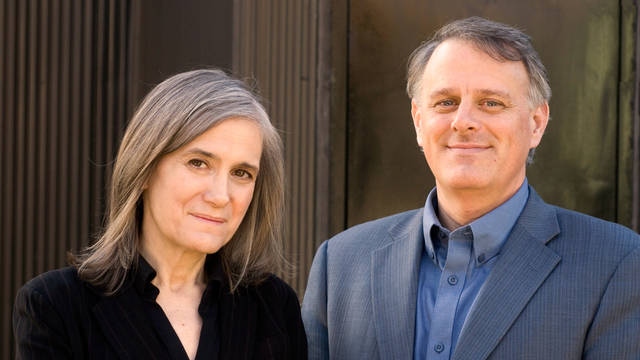 Media Options
By Amy Goodman & Denis Moynihan
History was made this week when Donald Trump became the first president to be criminally charged. He pleaded not guilty to 34 counts of falsifying business records. He has yet to be indicted, however, for the far more serious offense of promoting an insurrection and attempting to overthrow the results of the 2020 presidential election. Most prominent Republicans have refused to criticize Trump for any of his alleged crimes.
The traditional view that fascism can't happen here seems obsolete as the Republican Party appears increasingly comfortable embracing authoritarianism. Several elections this week remind us that "democracy" is not a noun but a verb – the outcome of collective efforts, not just on election day, but every day.
Wisconsin serves as a prime example. While the state is roughly evenly split between liberals and conservatives, Republicans have aggressively gerrymandered the state's legislative and congressional districts, capturing huge majorities in the state Senate and Assembly. As Wisconsin's Democratic U.S. Senator Tammy Baldwin puts it, "That's politicians deciding who their voters are rather than the converse." This has allowed them to enact a barrage of democracy-constricting laws including voter suppression, gutting reproductive rights and campaign finance regulations, and attacking the right to organize unions.
"Wisconsin is a case study for how Republicans are dismantling democracy in real time right now, but also it's a project that dates back over a decade, where Republicans have tried to create a situation where their majorities are voter-proof, that they control the state no matter what happens politically," Ari Berman, national voting rights correspondent for Mother Jones, said on the Democracy Now! news hour last October, just before the pivotal 2022 midterm elections.
Ari came back on Democracy Now! this week as a statewide vote was underway for a Wisconsin state Supreme Court seat, which would decide whether liberals or conservatives control the Supreme Court. "This is an incredibly important race in Wisconsin," Ari said, "probably the most important race of the 2023 election cycle" in the entire country.
As Madison, Wisconsin-based national affairs correspondent for The Nation, John Nichols explained on Democracy Now!, after liberal judge Janet Protasiewicz won the race, "the Wisconsin Supreme Court, to a greater extent than almost any court in the country, has entertained many of the Republican efforts to assault voting rights, suppress votes, alter ways in which elections are managed and handled. This court came within a vote of really opening the door for many of Trump's challenges to the 2020 election results."
In what was expected to be a very close race, Janet Protasiewicz defeated rightwing extremist, insurrection-supporting Republican Dan Kelly by a whopping eleven percentage points. Overcoming voter suppression and unprecedented amounts of out-of-state dark money contributions, the voters of Wisconsin achieved a critical win in the fight to reclaim their democracy. Democrats expect the court, with its new 4-3 liberal majority, to hear challenges soon to both Wisconsin's recently revived 1849 near-total abortion ban and to the state's Republican-gerrymandered political map.
In nearby Chicago, an election took place to choose a new mayor for the Windy City's 2.8 million people. Incumbent Mayor Lori Lightfoot lost her reelection bid in February, sending two challengers to a runoff: establishment and police union favorite Paul Vallas, a former CEO of Chicago Public Schools, and Brandon Johnson, a progressive teachers' union organizer and county commissioner. Vallas, as a public education executive in several major school districts around the country was well-known for aggressive privatization and promoting charter schools. He campaigned for mayor on a "law and order" platform, promising to increase Chicago's police force.
Brandon Johnson ran on a progressive platform with pledges to make "the suburbs, airlines & ultra-rich pay their fair share." He proposes a "Mansion Tax" and a speculation tax on financial transactions to fund investments in public transit, schools, and a broader approach to public safety compared to Vallas' pledge to simply throw more police at Chicago's problems.
Brandon Johnson proved pollsters wrong, winning the race, albeit by a slim majority. His surprise victory was attributed to the development of a broad, multi-racial/multi-ethnic coalition and the tactical, on-the-ground campaign support from some of Chicago's largest unions.
It might seem extreme to include a contest between two wings of the Democratic Party in a discussion of rising fascism. But politicians like Paul Vallas who actively seek to increase police power enable the creation of a police state – a prerequisite for authoritarianism.
Author Jeff Sharlet describes the attraction of fascism as an undertow, able to slowly draw people in. Electoral victories alone will not stem the rising tide of fascism. Grassroots organizing to address the systemic inequities often used by demagogues to fan the flames of division is essential. This week's victories in Wisconsin and Chicago demonstrate that people power is still a force more powerful.
---