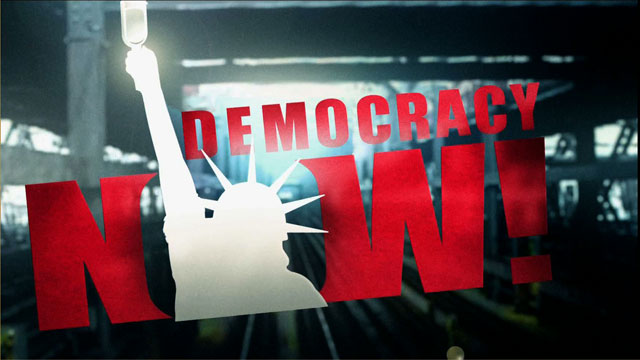 Media Options
What is a living wage? Living wage campaigns in various New Hampshire municipalities.
Keywords: quality job, living wage, decent housing, healthcare, retirement, Baltimore, FAT CATS, political theater
---
Transcript
This is a rush transcript. Copy may not be in its final form.
AMY GOODMAN: And we're going to continue now on the discussion of labor in New Hampshire. We are talking about Pat Buchanan's record, but we also want to talk about just what is going on with wages, with employment in New Hampshire. And again, we are joined by Mark MacKenzie, president of the New Hampshire state AFL-CIO, a fireman, who might leave us at any point. And we also have on the line with us Phil Wheeler, with the United Auto Workers, who's been in New Hampshire organizing UAW members. And we've been joined by Judy Elliott, who is an economist with New Hampshire Citizen Action, who has been studying the employment trends in the state.
Welcome to Democracy Now!, Judy.
JUDY ELLIOTT: Good morning.
AMY GOODMAN: I want to ask you about the economy. Both in Iowa and New Hampshire, the journalists have been saying that the economy is good. They say unemployment is very low. What's your take on New Hampshire?
JUDY ELLIOTT: Well, in New Hampshire, it's true that the unemployment rate is very low. In December of 1995, it was 3.1 percent, which is terrific, of course. But the problem is that the jobs that we're creating in New Hampshire tend to be in low-wage industries, and we continue to lose employment in high-wage industries.
AMY GOODMAN: Why do we hear that the economy is good when people on the ground aren't feeling that?
JUDY ELLIOTT: Well, I mean, I think if you ask a worker who's looking for employment, they will tell you that, sure, it's easy to get a job. You can go to a fast-food place or a service establishment, and it's very easy to get a job. But the problem is that the quality of the job is low in terms of the wage paid, in terms of the benefits available, in terms of the stability of the employment. It tends to be that many jobs are created in part-time or temporary areas. So what we're seeing is that there's no problem for workers to find employment, but finding employment that will really support a family is getting trickier and trickier for workers.
AMY GOODMAN: Tell us about the living wage campaign in New Hampshire.
JUDY ELLIOTT: Well, New Hampshire—New Hampshire folks who are concerned about the problem of declining job quality have been looking at examples from other states and looking at examples of coalitions of community, labor, religious groups, who have gotten together to say that, yes, employment is a problem for everybody, that in order to have stable families in good communities, we need to have high-wage jobs. So we're starting to pull together that sort of a coalition in New Hampshire and hoping to do it specifically in Manchester, our biggest industrial city, to address the problems of the workers who are most vulnerable—in other words, young workers, single heads of household, immigrants—and try and see what we can do to improve the status of those workers.
AMY GOODMAN: Mark MacKenzie, what do you consider a living wage?
MARK MacKENZIE: I think Judy hit on it. You know, in Manchester, the biggest community, I think it's a wage that provides a certain amount of security to the people in the community. It gives them enough to be able to buy a house or to rent a decent apartment in the community. It gives them enough money to be able to get healthcare or have retirement and have some sense of security about their job and about their community. A living wage is about security, and it's about sufficient amounts of money and sufficient security to be able to live, live a decent life in a community like Manchester, New Hampshire. And minimum wage—
AMY GOODMAN: I know—I know that in New York City, Sal Albanese, the city councilmember, introduced a living wage resolution, where the city would not contract with contractors who didn't pay a living wage, not the minimum wage. That didn't pass. I believe in Baltimore it has.
MARK MacKENZIE: Judy, I think, is probably more up to that. I know that there's been a number of campaigns around the country, and I think Baltimore is one of them. I think there might have been one down in Philadelphia, if I'm not mistaken. Maybe Judy can respond to that.
JUDY ELLIOTT: Yeah, Baltimore did pass a living wage ordinance saying that any contractor who sells services to the city must pay a living wage, and that living wage is going to go up over the years. But there are also living wage campaigns in Buffalo, Milwaukee, Minnesota, and it's a spreading trend. It looks like a tactic that is being employed successfully in a number of places.
AMY GOODMAN: Judy—Judy, on a lighter note—we only have 30 seconds—I hear you're a member of the New Hampshire political theater group called Fat Cats. What are you doing?
JUDY ELLIOTT: Well, we are portraying the special interests who buy political candidates, so we dress up in fat cat suits and go out and hand out fake $500 bills. It's a terrific season to buy a candidate.
AMY GOODMAN: Judy Elliott, thank you very much for joining us—
JUDY ELLIOTT: Sure.
AMY GOODMAN: —economist with New Hampshire Citizen Action. We also want to thank Mark MacKenzie, president of the New Hampshire state AFL-CIO and full-time firefighter. And I'm glad to let our listeners know that during the time we spoke, there were no fires, at least in Mark's vicinity. And finally, I want to thank Phil Wheeler, who's with the United Auto Workers, for joining us for this segment, as well.
And I want to let people know that Democracy Now! is Pacifica's national election show, and it's available to community radio stations all over the country. Now, you're hearing it, so you know that we're available to you, but if you have friends in other cities, other communities, that don't hear Democracy Now!, tell them to call their community or public radio station and let them know Pacifica's Democracy Now! is available to build democracy around this country.