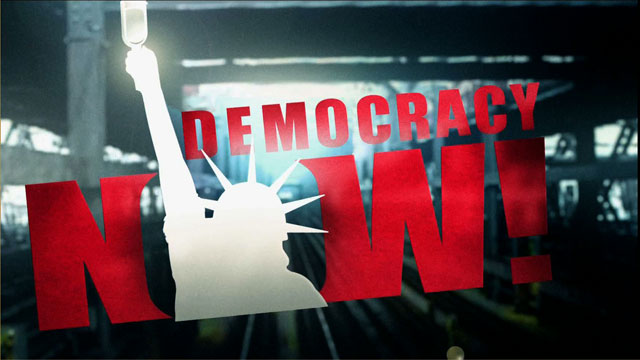 Media Options
It's been 28 years since a relatively handful of political hippies and yippies defied the autocratic power of then-Mayor Richard Daley Sr. and attempted to march on the Democratic National Convention in Chicago. The resulting violent confrontation was picked up by the news media. And protesters, who were well aware of the cameras' significance, chanted, "The whole world is watching!" This week in Chicago, the protests have been decidedly tamer. And an older, greyer group of radicals, who once called for trashing the streets of Chicago, are now advocating a more staid political pursuit, like lobbying and registering to vote. But Pacifica's Paul DeRienzo, who has spent the week on the streets of Chicago, found some young firebrands who yearn a return to the more confrontational style of politics, but with an agenda more in line with the '90s. [includes rush transcript]
---
Transcript
This is a rush transcript. Copy may not be in its final form.
SALIM MUWAKKIL: It's been 28 years since a relatively handful of political hippies and yippies defied the autocratic power of then-Mayor Richard Daley Sr. and attempted to march on the Democratic National Convention in Chicago. The resulting violent confrontation was picked up by the news media. And protesters, who were well aware of the cameras' significance, chanted, "The whole world is watching!"
This week in Chicago, the protests have been decidedly tamer. And an older, greyer group of radicals, who once called for trashing the streets of Chicago, are now advocating a more staid political pursuit, like lobbying and registering to vote. But Pacifica's Paul DeRienzo, who has spent the week on the streets of Chicago, found some young firebrands who yearn a return to the more confrontational style of politics, but with an agenda more in line with the '90s.
PROTESTER: They're giving us—they're giving us the street. They're just going to wait for traffic control, alright? We took them by surprise. OK.
PROTESTERS: The whole world is watching! The whole world is watching!
PAUL DeRIENZO: The whole world was definitely not watching this demonstration, and Chicago police officers actually chuckled in a good-natured fashion as they tried, with little success, to control a march of several hundred activists protesting the so-called war on drugs. The demonstrators were leaving Grant Park, where they were part of a week of alternative activities billed as the Festival of Life, the same name used for an aborted rally in the same park in 1968. Despite the small turnout, the Cures Not Wars rally was lively, led by a float festooned with signs demanding legalization of medical marijuana, an end to the drug war and calling for more research into an hallucinogenic African rainforest plant called ibogaine that's been used to treat some drug addictions. As fighter jets from a convention-related air show roared overhead, the march made its way past the federal prison and through downtown Chicago. One of the speakers was Dave Dellinger, a veteran of 1968 and the conspiracy trial that followed a year later. As a member of the celebrated Chicago Seven, Dellinger talked about political prisoners of today and recounted the first time he smoked pot. It was with a man he had met in prison after an antiwar protest.
DAVE DELLINGER: He came and joined our commune, and the first thing he did was to give me a marijuana cigarette. Of course I didn't inhale. So how come I felt so good?
PAUL DeRIENZO: Chicago police were surprisingly relaxed throughout the raucous march, allowing demonstrators into the street and giving organizers pretty much all they wanted. But the image of congeniality was breached when an anti-nuclear activist drove up to the fountain in Grant Park towing a float with a mock-up of a nuclear waste cask.
MATEO: And all of a sudden, all these cops come out of everywhere, and we had a little event. You know, we're not scheduled to be here 'til tomorrow, so I'm happy.
PAUL DeRIENZO: Mateo came to Chicago to protest plans to use Yucca Mountain in Nevada to permanently store waste from the nation's nuclear plants. Anti-nuclear activists are concerned about the safety of the site and the transportation of the radioactive waste on public roads. It turns out he was taking a rest at the precise spot where Vice President Al Gore was to make an unscheduled appearance at a Democratic Party outing. Within seconds, police and Secret Service agents appeared out of nowhere, and Mateo and his companions began to speak out to a growing crowd of protesters, forcing the cops back. He describes what the model is depicting.
MATEO: The ones that will actually be used on the highways and on trains are quite a bit bigger than this, three or four times bigger. What it is is the ends are the shock absorbers, supposedly, so if there is an accident, then they'll absorb the shock, supposedly. And then inside of here would be enough plutonium to match the radiation value of 200 Hiroshima bombs.
PAUL DeRIENZO: But even Mateo had to admit that President Clinton has said he's opposed to using Yucca Mountain as a nuclear waste site. Clinton's position on this and many other issues has often changed with the political winds, making it difficult for protesters at the Democratic convention to unite and build any serious opposition to the Democratic Party agenda, something discovered by a former defendant in the Chicago Seven trial. Tom Hayden is now a Democratic California state senator, but as he tried to speak at the Festival of Life, he was quickly met by hecklers, who drove him from the stage.
SEN. TOM HAYDEN: Chicago in 1968, one out of six of them were undercover police, so let me get back to my point, for those of you who want to hear it.
BEN MASEL: Are you accusing me of being an undercover policeman, Tom?
SEN. TOM HAYDEN: No, you're probably too crazy to be an undercover police officer. The point is—
BEN MASEL: Yes, it's crazy to try and practice free speech in Chicago today.
SEN. TOM HAYDEN: The point is, don't—don't blame anybody for somebody else's failure. If you invite somebody to speak, let him speak. My message is delivered. Good luck to you.
PAUL DeRIENZO: The heckling was led by Madison, Wisconsin, activist Ben Masel, who was arrested handing out leaflets telling Bill Clinton that he's no Thomas Jefferson. And despite the Chicago Police Department's good-natured face, demonstration organizers, including American Indian Movement founder Vernon Bellecourt, bitterly complained of their treatment at the hands of Chicago Mayor Richard Daley Jr. Bellecourt says the protests would have been a lot larger if…
VERNON BELLECOURT: The Festival for Life, they're not on the guest list coalition that we are all part of, had not got jacked around by the city of Chicago. They only got the permit for this facility two days ago, being sabotaged by the city so that they could not build a massive gathering that would have been here.
PAUL DeRIENZO: But again, Bellecourt says political prisoner Leonard Peltier has a better chance of getting a pardon from Clinton in his second term than if Dole is elected president. Inside the convention hall located several miles from Grant Park, the talk has been about the ascendancy of Democratic Party moderates and conservatives and the distancing of the party's more liberal wing, represented by many of the demonstrators. But California Representative Maxine Waters, who visited some of the protesters on Monday, says it's not the Democratic Party that's turned its back on progressives, but the media. And, Waters adds, change will come when the left once again seizes the media spotlight to get their message out.
REP. MAXINE WATERS: I don't think that the progressive voice has been muted at this convention. The progressive voice has been muted in America. What you find is, the airwaves have been overtaken by the right-wingers and the religious right, and not enough has been done either by the Democratic Party or progressives to take their rightful place in the debate and create their own forums and access the media in ways that we have a voice.
POLICE OFFICER: Let's go, down on the sidewalk; otherwise, you are subject to arrest. You're trespassing. Let's go.
PAUL DeRIENZO: On a park?
POLICE OFFICER: Yes.
PROTESTERS: Racist, sexist, anti-gay, born-again bigots, go away!
PAUL DeRIENZO: Protesters from a group calling themselves Refuse and Resist at an event sponsored by the anti-abortion Christian Coalition at a Chicago museum. A new generation of young activists seems in the making, as the pro-choicers, many just teenagers, confront the staid, upper-middle-class, middle-aged anti-choicers. This convention hasn't seen the political earthquakes of the past, but the fault lines are clearly there, waiting for the right issues to kindle the fires next time. For Pacifica Radio, I'm Paul DeRienzo in Chicago.
AMY GOODMAN: And thank you very much for that report, Paul. When we come back, we're going to be talking to some of the activists out in the streets of Chicago this week. You're listening to Democracy Now! I'm Amy Goodman, with Salim Muwakkil. We'll be back in 60 seconds.