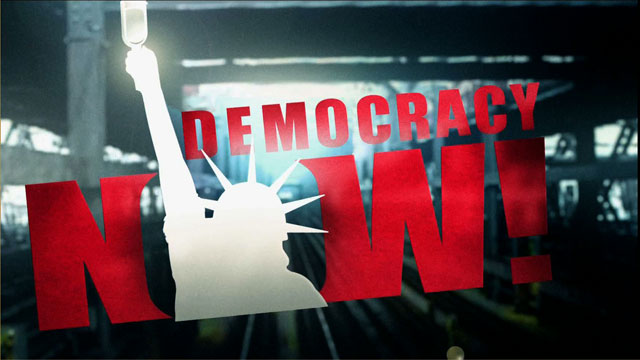 Media Options
Guests
Noam Chomsky

professor and linguist at the Massachusetts Institute of Technology (MIT).
Yesterday, Noam Chomsky walked into a congressional office building, but not to demonstrate or get arrested. For the first in some 30 years, he was officially invited to speak on Capitol Hill. The occasion was a forum sponsored by the 52-member Progressive Caucus of the U.S. Congress. There, in a packed congressional hearing room, the caucus unveiled their legislative program for the coming year. Dubbed the "Progressive Promise," the 11-point program calls for big cuts in corporate welfare and military spending. It also outlines plans for a single-payer healthcare system, a job creation strategy, and it sets restrictions on influence-peddling and special interest lobbying in Congress.
---
Transcript
This is a rush transcript. Copy may not be in its final form.
AMY GOODMAN: Yesterday, Noam Chomsky walked into a congressional office building — not to demonstrate or get arrested. For the first time in decades, he was officially invited to speak on Capitol Hill. The occasion was a forum sponsored by the 52-member Progressive Caucus of the U.S. Congress. There, in a packed congressional hearing room, the caucus unveiled their legislative program for the coming year. Dubbed the "Progressive Promise," the 11-point program calls for big cuts in corporate welfare and military spending. It also outlines plans for a single-payer healthcare system, a job creation strategy, and it sets restrictions on influence peddling and special interest lobbying in Congress.
Today, we'll bring you some of the speakers from the Progressive Caucus, including Barbara Ehrenreich and Robert Borosage. We also managed to interview MIT professor Noam Chomsky as he rushed out of the caucus forum yesterday and into the slush of a Washington winter to catch a plane back to Boston. I hailed a cab for him and jumped in. What better way to talk with someone who The New York Times calls "arguably the greatest intellectual alive today." Just remember, Noam Chomsky says, "Don't trust The New York Times."
AMY GOODMAN: So, we're sitting here in the cab to the airport, coming from the Cannon Building, where you've just testified. Is this the first time you've been in Congress?
NOAM CHOMSKY: Well, I did actually testify once at the Senate Foreign Relations Committee when Fulbright, Senator Fulbright, was running — it was toward the end of his career. He was already very turned off by Washington and everything that was going on there. And he had basically turned the Senate Foreign Relations Committee into a kind of a seminar on the Indochina war and foreign policy. And I was there actually with Arthur Schlesinger. We testified together. It was quite amusing.
The other — the last time, the only other time I ever remember being there was in April 1965. It was a couple months after the bombing of North Vietnam had started. Howard Zinn and I, and I think we rounded up a couple of other faculty members, and we commissioned ourselves a committee of concerned New England professors or something respectable like that, and went to petition our representatives. So we went through the Massachusetts delegation, which was quite funny. It was two or three days after Johnson had given a speech giving one of these fake peace proposals, you know, which we don't have to go through.
We went — the first person we went to see was Tip O'Neill, who has now a reputation of being a fiery opponent of the war. He wouldn't let us into his office. He told his secretary he wasn't going to talk to anybody who was critical of the war, period. So we never even got past the secretary in that case.
We saw Saltonstall, who was the senior senator, and he was very polite. He listened to us, and we gave our pitch very politely. And he said he didn't see what we were talking about. The president had spoken. What more is there to discuss? You know, so let's go on to the next topic.
We saw Kennedy, who was the junior senator, who was extremely affable, in fact took us out to lunch in the Senate cafeteria or something. But he basically said — you know, he listened. You know, we talked. And he said he didn't really know a lot about the foreign affairs. That wasn't his bailiwick. It was sort of what his brothers did, you know. But he listened politely.
And we then went the rounds. About the only response that we got — and that was, in fact, some contacts that proved very useful — was with a couple of Republican congressmen, Brad Morris and Silvio Conte from — I think they must have been on the western part of the state. And, in fact, we kept close contact with them. So, I had — Brad Morris, I guess, was our representative, and we had him over to the house to talk to neighbors. When I got into — when things happened down in the civil rights movement in the South, called his office, you know, and they were helpful. And all through the war, these couple of Republican congressmen were quite helpful.
Then, of course — remember, this was early. By 1968, everything changed, you know, because business had come out against the war, and The New York Times came out against the war, so everybody was suddenly a longtime opponent of the war. But when you go back to then, it was not true.
But I don't recall — the only — in fact, for years, my association with Washington was the smell of tear gas. And as soon as I landed in the Washington airport, I could already feel it, because I was only here for demonstrations. So, I was tear-gassed. I could tell you about the Washington Cell Block. You want to hear about that? Not very nice. It's one of the worst jails to be in.
AMY GOODMAN: When were you in the Washington Cell Block?
NOAM CHOMSKY: Oh, quite a few times, but, you know, just for civil disobedience, not for long, like couple days or something. And, of course, if you were like a guest, they'd treat you nicely. But when you walk through down there, it is horrifying. I don't know what it's like now, but there are these cavernous black rooms, you know, with figures in them — as far as you can tell, almost all Black, maybe all Black, and just as if it's — I mean, it was just inhuman. And the conditions were — I mean, it wasn't like a torture — the part we saw, at least, wasn't a torture chamber, but it certainly wouldn't pass any human rights conditions. But this is just passing through. But aside — I saw a lot of the Washington Cell Block and the streets and tear gas and mace, but nothing about the congressional offices.
AMY GOODMAN: So, what did it feel to actually be officially invited into the Cannon Building today?
NOAM CHOMSKY: Well, it's like, you know, the kind of thing I do in every other country in the world, so not too surprising. I just came back from South America, where I was, among other things, made an honorary citizen of Buenos Aires — how do you like that? — in the mayor's office. When I was in Australia, I talked at the national Parliament building. I mean, it's like anywhere else.
But this was good, because I think this is the first meeting they've — well, you could correct me, but as far as I know, this is the first meeting of a kind of progressive caucus in I don't know how long. At least I can't even remember one. And it was a lively crowd. What I heard of it, they were saying good things. And there are people like Bernie Sanders, who I know, John Conyers, who I know, and others who have been doing very good things for years. It's nice to see them with a little — some troops around them.
AMY GOODMAN: So, what do you think should be the agenda of the Progressive Caucus? How do you think a minority in the Congress can have an effect?
NOAM CHOMSKY: Well, first of all, they are a minority in numbers. But in terms of their public support, I think they're probably a majority. That is, if you judge by — you know, public opinion studies are misleading, but I think they're misleading in the direction of underestimating their support, because when people are asked questions on polls, they're heavily influenced — to some extent, influenced at least by the propaganda they hear, so you have to compensate for that. But even if you just take the numbers, the general public is basically social democratic. Like by about 20 to one, people think that corporations ought to sacrifice profits for the benefit of workers and communities. That's a long way from where workers were a hundred years ago, when they said that workers ought to own the mills, you know. But now they're saying, "We want you to be benevolent autocrats," not "We don't think you have a right to rule." But so, that's what I mean by "social democratic," you know, not what working people used to say.
Overwhelming majorities of the population believe that, like — depends how you ask the question, but like 70 to 80%, that we have a responsibility through the government to provide basic healthcare, daycare, support for people who are needy. Right through the Reagan years, and, as far as I know, still, people were even in favor of higher taxes for things like education, environmental protection, welfare and so on. Here's where you have to be a little cautious. Like, if you ask people questions about welfare, they'll say they're against it. But if you ask people, "Do you think that we should support women with children who need help?" they'll say, "Yeah, we're in favor of it." The reason — here's where you see the effectiveness of the propaganda system, I mean, which has created an image of welfare as, you know, a rich woman — by implication, Black — driving a Cadillac, reading: "So, you'll pay for it." Well, OK, if that's welfare, why should I pay for it? But if it's helping poor people who are in trouble, yeah, sure, we're in favor of it.
Take a look at the budget. You know, standard line is the public wants the budget balanced. Extremely misleading. I mean, the way the polls are set up, there's two categories of questions. One is, do you want the budget balanced? Everybody says yes. I mean, like I'd say yes, too. That's like saying, "Would you like your household debts eliminated? Like your mortgage." Sure, terrific. On the other hand, as soon as you ask a realistic question, "Would you like the budget balanced if it means cutting back on healthcare or cutting back on education or, you know, anything you can think of?" then there's overwhelming opposition, just like if you ask people, "Do you want your household debts canceled if it means your kids don't go to school and you lose your car and so on?" Well, no.
So, to get back to your question, it seems to me that the potential support for a group like this is very, very large. Over 80% of the population regards the economic system as inherently unfair. Well, OK, it is. And these are the ones who are talking about it. The agenda for them ought to be — and I don't know how you do this exactly — is to interact with sectors of the public who are willing to become organized or who they can help become organized, and create the basis for the support that will make them not a minority but enable them to speak for what probably is the large-scale majority sentiment in the country. And that's a big task. I mean, they have to fight the commercial media. They have to fight the concentration of wealth. I mean, everything is going to try to stop them. But that's always been true.
AMY GOODMAN: They have to fight President Clinton.
NOAM CHOMSKY: Yeah, sure. Well, President Clinton, you know, if they can build up popular support, he'll float along with it. At the moment, I mean, he's looking where the money is and where the power is and will continue to do so, but if it happens to shift in another direction, he'll be there. I don't think that's the problem.
I think the problem is the communications system, which is of course overwhelmingly a propaganda system. The enormous concentration of power, the propaganda tells you, "There's nothing you can do. You know, it's the mysterious and infinite wisdom of the market. Just go home and shut up." The entertainment industry, which is trying to glue you to, you know, its conception of a good society is the social unit consists of a person, and the two — you know, no interconnection among people, you know, you and that thing over there. Well, the more you can — you have to fight against that, starting with children. But it's a continuing battle. It always takes new forms. I mean, in the last couple hundred years, it's been going on in one or another form without a stop.
AMY GOODMAN: What about — right now the Senate is confirming Madeleine Albright as the secretary of state. And then, if we run this at another point, we now have Madeleine Albright as the secretary of state. What do you think of her?
NOAM CHOMSKY: She has some nice lines. My favorite was, she told the Security Council, when the Security Council was refusing to go along with some — you know, one of the — forget what — one part of the Iraq boycott, I guess, she said, "The United States will act" — she said, "We will act multilaterally when we can and unilaterally when we must, in order to defend our interests." That's about right, you know? So, OK, if you guys want to go along with us, that's fine. But, otherwise, we're the biggest thug on the block, and we'll do what we like.
AMY GOODMAN: Little change of venue here, but the question of her multilateral approach and using U.N. military forces and the U.S. military forces to intervene abroad?
NOAM CHOMSKY: I think that that will continue as before. I mean, the U.S., first of all, has a unique military doctrine. Its soldiers are not allowed to be placed under risk. So the U.S. is automatically disqualified from any kind of peacekeeping operations. Anything that involves civilians, the U.S. can't be involved in. That's what happened in Somalia. I mean, if those had been Canadian forces or Irish forces, there wouldn't have — nothing would have gone wrong. But when U.S. forces were placed under a threat, they reacted with overwhelming force, and it led to a total disaster. U.N. forces in South Lebanon face much worse than that, but that's what you do when you're in peacekeeping forces.
So, the U.S. is quite willing to put forces in after the fighting is over, when it can pick up the pieces. And if there's multilateral forces under U.S. command, that's like what happened in Croatia, Bosnia. As long as there's dirty work to do, Europeans do it. When there was a force introduced, it was under U.S. command but no U.S. troops. Then, after the two sides were more or less equal, when it became possible to implement what, in effect, is a partition of Bosnia, which is what they were after all along, and to do it without too much threat, the U.S. was perfectly willing to do it and try to get greater Croatia and greater Serbia under its control, much to the discomfiture of the Europeans. And that's the kind of intervention that will take place.
I mean, Haiti is a very simple example. U.S. did not support the embargo. It supported the military coup. The U.S. continued to trade. Trade went up under Clinton. Right through both the Bush and the Clinton administration, they permitted Texaco illegally to ship oil. This is perfectly well known to the press. It was all revealed publicly and the lead story on AP the day before the troops went in. Nobody could miss it. If you let oil go in, there's no embargo. They moved in when it was time, they felt, to restore the pre-election status quo, which then they moved the troops in.
AMY GOODMAN: And we'll be back with professor Noam Chomsky in just a minute.
[break]
AMY GOODMAN: You're listening to Democracy Now! The Exception to the Rulers. I'm Amy Goodman. And just after we spoke, Noam Chomsky and I — we were now at the airport in Washington, D.C. — I learned that thousands of Israeli police patrolled near Jerusalem mosques searching Arab-owned cars and closing streets, after two bombs in Tel Aviv wounded 13 Israelis. Israeli security forces traditionally go on alert for possible attacks during the Muslim holy month of Ramadan, which began today, as devout Muslims flock to mosques and fast from sunrise to sundown. Also, the former head of Israel's Shin Bet secret service admitted, in an interview published today, ordering the killing of two captured Arab hijackers in 1984. Avraham Shalom, who resigned after a failed cover-up, said, "I gave an order to give them a few more blows and get it over with." But at the airport, once we got out of the cab, I did ask professor Chomsky about his thoughts on what's going on in Hebron right now and the so-called peace process.
NOAM CHOMSKY: Well, you know, this is a long story, but basically the whole Oslo Agreement is a tremendous power play. The important part is that for 25 years the United States has stood alone — literally alone — with Israel against the world, opposing some kind of two-state settlement or some such arrangement. And the U.S. won. The Oslo Agreements eliminate the Palestinians. In fact, what's being implemented — what's called the peace process is more or less what South Africa instituted in the '50s and '60s, some kind of Bantustan policy. Actually, it's less. Norman Finkelstein has pointed out, quite accurately, it's not as forthcoming as South Africa. South Africa committed itself to supporting the Bantustans. Israel has — it's just prevented them from developing, harshly, has given no commitment to them. Well, that's called the peace process. Well, you know, it's pretty hard to implement that sort of thing. Hebron is one of the difficulties, but the whole system is so outrageous that to implement it is going to require force. And there's no serious difference between Labor and Likud on this. These are mostly rhetoric.
AMY GOODMAN: You pointed out that under Netanyahu, when we just talked after he was elected, that you thought things might get better for the Palestinians.
NOAM CHOMSKY: They did. They did. There are more Palestinians working. One of the worst — part of the worst suffering of the Palestinians was the collective punishment imposed by the Labor government, which just makes them starve, the closures. Well, that was somewhat eased under Netanyahu.
On the other hand, he's a little more — if you look at settlement policy, well, you have to wait a while and see, because we don't really have the data, but it's not strikingly different. I mean, there's a lot of different rhetoric, but there's not much difference in the facts. In fact, over the years, Labor and Likud have mostly been a difference of style. The Likud — and it has to do with their base. I mean, the Labor base is mostly Westernized, kind of elite, people like Abba Eban. I mean, they understand the norms of Western hypocrisy. So, if you want to put up a settlement, don't do it the day that the secretary of state is there, with a big banner saying, you know, "Screw you," or something. That's not the way to do it. You wait until he goes home, and then, two weeks later, you know, you send a few trucks out. And you don't make a new settlement. You thicken an old settlement. And then, a little while later, it turns into a new settlement. That's the way to do it. That's what the West likes. The West does not like this in-your-face style that goes along with these crude types. And I think that's probably the main difference, not much else.
AMY GOODMAN: Last question. It's on President Clinton's cozy relationship with Suharto.
NOAM CHOMSKY: Yeah, like everyone else's —
AMY GOODMAN: The dictator of Indonesia.
NOAM CHOMSKY: I mean, the United States — it's not President Clinton. It is every U.S. — remember, when Suharto came in with a huge massacre of maybe half a million or a million people, that was enthusiastically applauded in the West. I mean, you read The New York Times, Time magazine. Everybody was just completely enthusiastic. It was a marvelous thing, you know, a hope, a gleam of light in Asia. You know, they just applauded it enormously. Ever since then, Suharto has been the darling of the West. I mean, he wiped out the only mass-based popular movement. He slaughtered them. He ran a terror state. He opened the country up to robbery by Western investors. What's to complain about? Carter loved him. Everybody loved him. So, yeah, Clinton did some crooked business with taking some money from his friends, but that's the least of it.
AMY GOODMAN: Do you predict East Timor will be able to be independent? Do you think the Nobel Peace Prize will make a difference? Do you think the campaign finance hearings on Clinton himself that'll begin, the Republicans' change of heart to be able to clobber Clinton?
NOAM CHOMSKY: These are not things you try to make predictions about, but that you try to do something about. I don't think there's any way to predict. Depends how — it depends what happens on the streets. If people make a fuss about it, yeah, it could make a difference.
AMY GOODMAN: Professor Noam Chomsky, linguist at the Massachusetts Institute of Technology, political analyst, activist and so much more. He was at the Washington airport just after he spoke at the Cannon Building, the congressional office building, addressing a forum of the Congressional Progressive Caucus.
Among the people who spoke there, as well, were Barbara Ehrenreich, a writer and now columnist for Time magazine. Among her many books, The Snarling Citizen. A well-known democratic socialist, she addressed the packed forum, as well.
BARBARA EHRENREICH: I was asked to speak on the subject of the political culture. And nothing is more symptomatic of that, I think, than the recent revelations about the Clinton fundraising effort. This situation recalls for me a little-noticed event in the spring of 1992. George Bush held at that time something called the president's dinner to raise money for his reelection. And it was, you know, one of these things, just like Bill Clinton does, where it costs a thousand dollars to sit at dinner with the president, it costs $5,000 to shake his hand, $10,000 to sit right next to him. The price of further intimacies is not ever disclosed.
But anyway, in 1992 when this happened, some reporter, possibly from The Nation or The Progressive, asked Marlin Fitzwater about the fairness of this. And Fitzwater responded, "Well, that's" — this is quote — "That's how things work. You want influence, you have to pay for it," close-quote. So the reporter asked, "What if you don't have any money?" And Fitzwater replied, quote, "Well, then you have to find other ways of getting attention," close-quote. A few days later, the Los Angeles riots broke out. Hundreds of thousands of Los Angelenos had heeded Marlin Fitzwater's advice.
Now, I mention this incident because American political culture is increasingly shaped by the perception, on the part of growing numbers of citizens, that they have very little or no access to decision-making, influence or any of these things. And this perception, of course, is far from paranoid, thanks to two familiar trends, which have been discussed here already today. One is class polarization, the increasing divide between the wealthy and everyone else. The other is deepening political corruption, which guarantees that we become ever more like a plutocracy and less like a democracy. Now, the average citizen, the result is a feeling of enormous powerlessness and futility. "Naturally," you have nothing to say — say "naturally" with quotation marks around it — about the decisions of the corporation to provide you with jobs. In fact, that seems to be the meaning of free enterprise now, the freedom of corporations from any annoying intrusions on the part of the general public.
At the same time, the political process, the public sector, is increasingly closed off to all but the rich and/or trivialized as television commercials or content-free galas like last summer's so-called political conventions. Who would have thought that the most fascinating event at the Democratic convention — this is the most powerful party at that moment in the most powerful nation in the world — would be the Macarena?
This hollowing out of the political process is happening in other parts of the world, too, where you see political parties that once represented an ideological distinction converging in their eagerness to be of service to the class of people who can afford huge political donations. But one thing that distinguishes our country is the relative absence of any visible, organized, audible opposition to point out how far we have strayed from the democratic ideals we started with in this country, and why it is that we have done so. In fact, our tradition of left-wing or progressive populism is so weak that it could even be coopted about a year ago by that erstwhile lackey of the corporate elite, Pat Buchanan, who did, though, have the distinction of being the only presidential candidate who bothered to mention the growing class divide in our economy and political culture.
Now, when the levers of power seem inaccessible, when no one is interested in your opinion unless you happen to be selected for a focus group, then there seems to be no explanation for what's going on. If you are — you don't have to be very poor, either — if you're just an average citizen, like many of those that I argue with all the time, you come to the conclusion, straight out of the X Files, that you live in a world ruled by alien forces.
And this leads to the kinds of responses which I think define American political culture so much today. One is conspiracy theories, the subject of a certain amount of alarm in Newsweek and The New York Times recently. But it makes sense. You know, if you have no power — if we have no power, although we're still officially a democracy, yeah, they have to conclude: Something very sinister is going on. And the usual direction that kind of thinking goes is toward pointing a finger at the government, usually the federal government, that it has become an occupational force, that it has become an enemy force, etc. And, of course, the second kind of response to a world run by alien forces is scapegoating. If no one is listening to you, it must be because they — you know, fill in with your favorite out group: Blacks, Jews, immigrants, gays, whatever — are the ones who are getting all the attention.
Now, the tragic thing, of course, is these responses to powerlessness — conspiracy theories, scapegoating — of course, feed directly into the right-wing agenda now, which can only end up increasing the powerlessness of the average citizen. The right reinforces the scapegoating. The right comes along and promotes the federal government's conspiracy theories and promises to get this, quote, "monster" off our backs. Now, I suspect the right is sincere in its scapegoating, but it's the promise they always make to shrink government that is, for better or worse, duplicitous. Their agenda is not to shrink government, but to shrink those functions of government that may in any way help to redress the yawning imbalance of power between the average person and the corporate elite. Social welfare, health and safety regulations, all those things get shrunk. Corporate welfare and the military, which is a perversion of corporate welfare, and the repressive functions of government, such as the prisons, etc., just continue to thrive.
So, what I am saying is that we are embarked in our political culture on a very vicious cycle. Feeling powerless and lacking coherent alternatives, people turn to the scapegoating and conspiracy theories that the right wing promotes. But the policies of the right then can only lead to greater powerlessness and hence to another turn of the cycle.
Now, what can progressives do? And I am especially thinking of the progressives who have sponsored this conference: the progressives in Congress. Obviously, the first task is to be a voice for the excluded, the overlooked, the uninvited, the people left out of the fundraising dinners and the caucuses and so on, pointing out what is in fact wrong here, that the power of wealth has gotten out of hand, that we have a political system increasingly controlled by the wealthy and the corporations through which they are organized. And this, by the way, is not a conspiracy theory. No one is attempting to hide it. It's not secret. A conspiracy has to be a little bit secret. As Charles Keating, the S&L bandit, put it, in response to the question as to whether his political contributions served to buy influence, he said, quote, "I certainly hope so." Maybe we'd get more attention if we could claim there was a conspiracy: Aliens in Armanis take over Washington, or something. But it's not a conspiracy; it's a system. It's not wicked and depraved men, though certainly some of them are wicked and depraved, but men caught in a system that rewards only greed and a lust for power.
But second thing I would say to progressives, and here we must depart from the economic populism, say, of the 1930s. We no longer have the option of simply positing the government, and especially the federal government, as a counterforce to the corporate elite, one, because it's corrupt; second, because it is repressive. It's hard to feel warm and loyal toward a government which wants to plant Clipper chips in your PC, keep track of your travel history to feed to airport security, or break into your house and search for traces of cannabis. In fact, one thing I'd like to see is for progressives in Congress to take a much more clear libertarian position on these issues of individual freedom, which are continually violated by federal government. Stop, for example, the "war on drugs," which has simply become an excuse for locking up the nonwhite population. Because the quickest recipe for failure would be to go out there thinking it was 1935 and try to explain to people how the government can solve all their problems if only they elect the right people and so forth, when, for both good reasons and bad ones, it is the government that so many people most fear.
Now, finally, for these things to be accomplished, the Progressive Caucus has got to become visible. I told my children that I was going to Congress today, I was going into the House of Representatives. And they said, of course, "Mom, be careful." You know. And I said, "No, no, no, no. There are progressives. It's OK. I'll just be with them. I won't stray." They had never heard of any Progressive Caucus. And so I looked it up in Nexus, you know, in the computer database that lists all the magazine and newspaper articles. And I found mentions of the Congressional Progressive Caucus, in all time — that is, going back to 1980-something — 55; mentions of Newt Gingrich, 69,667. Now, we don't want all his mentions, of course, but that just gives you an idea of the disproportionate attention. What I would like to see is for the Progressive Caucus to become a public presence, so people could see there is an alternative and that there are people there who could potentially advocate for them. And this means making statements. Please, a statement. What do you stand for? You don't have to agree on everything, but you could agree on a lot of things. Make statements on pressing issues. What's wrong with turning Social Security over to Wall Street? Well, the point of government is to protect us from Wall Street, not to throw us on its tender mercies. How about a statement to that effect? Welfare reform — Clinton promised to fix it. Well, let's have the Progressive Caucus say how he should do it, and get on his back to do it.
Now, one very important thing is that becoming a public presence as progressives is going to mean dissociating yourselves from Bill Clinton. I would say it was his fundraising scandals that prevented the election of a Democratic congressional majority this time round. So I say, take a tip from Paula Jones: Dump Bill. This is not a time for party loyalty. In fact, if anyone has been disloyal to his party and what it once stood for, it is Bill Clinton. And if, for some unfathomable, perverse reason, you do feel some loyalty to Bill, then the best thing the progressives in Congress could give him is a visible presence to his left. No one benefits, least of all Bill Clinton, from the perception that he is the left of the political spectrum in this country.
Finally, get out of — my final piece of advice to the Progressive Caucus: Get out of Washington. Get on the road. Go out there, as a group, or subgroups of you. The people out there, we'd like to see you. We'd like to meet you. We'd like you to have public hearings and forums. We'd like you to show up at picket lines, union picket lines, environmental protests, wherever people are trying to assert their dignity and get a share of the decision-making power. If the Progressive Caucus of Congress cannot give people some hope in the democratic process, some idea that they might be represented, in a tiny way, in their government, then people would indeed be right to conclude that there is no hope for government and no hope for the democratic process. I think you can do better. I'm going to put my trust in you to do so. Thanks.
AMY GOODMAN: Noted author Barbara Ehrenreich addressing the Congressional Progressive Caucus. The MC of the event, at least her panel, was New York Congressmember Major Owens.
REP. MAJOR OWENS: Thank you very much. We are begging for allies in the Progressive Caucus to establish a highly visible left here in Washington. We need your help.
I'd also like to confess that when you use the description of the bad guys' greed and lust for power, some of us don't like that. Just say greed when you talk about the bad guys. Some of us lust for power. I lust for the power, day and night, to establish a single-payer healthcare system in the United States of America!
AMY GOODMAN: And you're listening to Democracy Now! We'll be back with Jesse Jackson and Bob Borosage in 60 seconds.
[break]
AMY GOODMAN: You're listening to Democracy Now! I'm Amy Goodman. As the Congressional Progressive Caucus continued throughout the day, one of the people who spoke was the Reverend Jesse Jackson, and he made a comment about the hundreds of people that he looked out on as he spoke.
REV. JESSE JACKSON: Do Blacks belong in there? Do Hispanics belong in there? Does Democratic Party's future belong in there? Does this progressive organization of our allies — does this look like the America we are fighting for? Somebody who cares or who has the credentials must raise these questions. And I do, because I have the credentials. I've earned the right to challenge our family to be progressive and not just talk progressive. Progressive means inclusion.
AMY GOODMAN: Later in the day, Robert Borosage spoke. He's co-founder of the Campaign for America's Future and a leading author and activist.
ROBERT BOROSAGE: There's a consensus congealing in this city which does great disservice to what happened in this last election. And that consensus is essentially that the public voted for balance. They've returned Republicans to the Congress. They returned the president to the White House. They rejected the extremes of liberalism and the extremes of conservatism. They basically are a satisfied population which doesn't want much done. And the president reflected that by running, moving to the right and sculpting his campaign to appeal to upscale voters in the suburbs characterized by this year's craze, the suburban soccer mom. From that — Gingrich actually characterized this yesterday by saying that Clinton was the first Republican Democrats had ever elected to the presidency.
From that, the president has put forth a vital center concept and an agenda of the vital center, which is totally reflective of elite concerns and a far remove, in fact, from where the public is. That agenda is to continue balancing the budget by cutting domestic programs, to reform entitlements, including this recent talk about privatizing Social Security, to continue free trade agreements, bringing Chile into NAFTA, bringing China into the WTO. There's talk about capital gains tax cuts. And he's described the role of a minimalist president in an era when Big Government is gone. But this is not where the public is. And it is not what voters said in this last election.
And it's worthwhile to spend a second at least standing back and looking at this election. This election was framed in the fall of 1995, not in the fall of 1996. And it was framed by progressives in this Congress who decided they would not go along with the Newt Gingrich revolution, but they would rather fight the Republican attempt to cut Medicare and Medicaid, the environment, education and other domestic programs, while passing massive tax cuts mostly for the rich. Now, that message and that decision to fight was opposed by the White House. It was opposed by the White House's pollsters. It was opposed by the conservatives in this party, led by the DLC, who dismissed it as outmoded class rhetoric. And yet, it is what brought Democrats back and allowed Democrats the chance to retake this Congress.
The president's fortunes revived not when he agreed to balance the budget in 13 years, 11 years, 10 years, nine years and seven years, alternatively or in succession. His fortunes revived when he, over the opposition of Dick Morris, the guru adviser, over the opposition of the Democratic Leadership Council, which started muttering about forming a third party, he decided that he, too, would stand up against these Republican cuts and fight even to the point of shutting down the government against the Gingrich program. It is at that point, when the public was reassured that this president had enough backbone to stand up against Gingrich, that his fortunes revived. By the early part of this year, 1996, he had a double-digit lead in the polls, and it was never changed. And it's worth noting that his popularity continued to rise through the spring while he reaffirmed affirmative action, late-semester partial-birth abortions, vetoed two welfare repeal bills and did all of the things that his adviser told him would be disastrous if he did it. And at the point the campaign began and the public started to pay attention to it, Clinton had a 20-point margin in the polls and was never headed. It is important for Democrats particularly not to forget that reality. The president revived and Democrats had a chance to take back this Congress, because they stood up and fought for people's programs that help working people.
Now, the evidence of this is very clear when you look at the polling. In the poll we did, we tried to winnow out who were the new Clinton voters, who provided the margin, who came to vote for Clinton in 1996 who didn't vote for him in 1992, and brought him from 43% of the vote to 49% of the vote and gave him his margin of victory. Seventy-five percent of them were non-college-educated voters within family incomes under $50,000 a year. They are not soccer moms in the suburbs. They are downscale working women and working men struggling to make ends meet and deeply concerned about the Republican assault on programs that work for them. That is even more true for the Democratic recovery and response in terms of who came to Democrats.
Now, these downscale voters are in fact the volatile part of this electorate. In 1992, they came out in large numbers, and we had a record turnout in modern — in recent elections. And they voted for Bill Clinton despite all of the scandals, etc., that were burdening him. In 1994, they turned against Democrats as nothing was done, and most of them — many stayed home. The vote plummeted, and Democrats lost. And in 1996, some of them came back, and they came back and voted for Clinton and for Democrats, but some portion also stayed home. And that's why we had the lowest turnout in this election, presidential election, since the year 1924.
The second part of this evidence is, look at the Republican side. Every part of the Republican coalition was repudiated in this election. The Christian Coalition and the radical right were put in the closet in San Diego at the Republican convention, deemed not fit for primetime. The Gingrich revolutionaries survived by abandoning the revolution, hustling in the last two weeks of Congress to pass healthcare reform, raise the minimum wage, pump billions of dollars into education, and so that they could go back to their constituents and say, "See, we can get things done." And the heart of the Republican supply-side theory, the 15% tax cut, not only was put at the centerpiece of the hapless Dole campaign, but its leading spokesman, Jack Kemp, was put on the ticket with promises that it would sweep and change American opinion. And, of course, the public wasn't buying it. So, one of the reasons why Newt Gingrich has scheduled only 12 workdays in the first three months of this Congress is not simply that he's avoiding the posses that are trying to get him for his low crimes and misdemeanors, but because they don't know what to do. And they're happy to let the president go first while they figure out how they're going to posture themselves. It is important for progressives and Democrats to remember this about this election.
Now, the Democratic Leadership Council, the conservatives in this party are using a poll by the president's pollster to suggest that the reason the president won was that he was more conservative, and the reason Democrats failed to take back the House was that they were perceived as more liberal and, as Penn says, they are not trusted to live within the bounds of a balanced budget. Now, when you actually look at his poll, there is not one iota of evidence to support that statement. Not one. In fact, in his own poll, more voters, 32% of the population, thought of Clinton as a liberal than thought of collectively Democratic candidates as a liberal. And, of course, nobody voted for a collective Democratic candidate for Congress; they all voted for individual ones.
Why didn't the Democrats retake the House while the president won? I think the evidence is pretty clear. In contested elections where we lost, we were outspent five, six, seven to one, despite all the stuff about union money. Republican big money, conservative money, came in big, and it came in big in the last weeks. And it made a huge difference in contested elections. Secondly, a lot of our candidates weren't very good. They were recruited in 1995 at the high tide of the Gingrich revolution. A lot of people didn't want to run. And where we had good candidates, we tended to win. And where we had bad ones, it was a harder poll. If we had had in the congressional races comparable resources in relationship to Republicans as in the presidential race, a candidate half as gifted as Bill Clinton, and opponents half as hapless as Bob Dole, we would have a Democratic Congress, in large numbers, right now. And it does need to be said that Democratic candidates were wounded by this White House, both at the start of the campaign with the capitulation on welfare that allowed Republicans to resuscitate their reputation and at the end of the campaign with the scandals on Indonesian money.
Now, in our poll, we asked people: What do they want? What are they looking for from this Congress? And we asked particularly the people who made a difference for the president, the 75% of Americans who are non-college-educated voters. And their priorities are pretty clear. Their first priority, overwhelming, in poll after poll, exit poll, you name it, is protect Social Security and Medicare. And their reasons are very simple: People are struggling in an economy that does not work very well for them, and they use Social Security and Medicare as a building block for a piece of security at the end of a long work life that they can count on. And if Democrats go into this Wall Street-financed craze about privatizing Social Security, we will reap a whirlwind, because people want these programs protected.
Secondly, they want the budget balanced. It is a symbol of whether government is under control and whether their tax money is being used sensibly. But it is very interesting. If you ask people, "Would you support a $100 billion new investment program in education?" two-thirds of the American people, 70% of those with incomes under $50,000 a year, say yes. Would you support it and pay for it with taxes on the rich? Yes, massive numbers. Would you support it and pay for it by a tax — by cutting corporate welfare? Of course. Would you support it if it took — if we issued bonds to pay for it? Yes. Would you support it if it delayed reaching a balanced budget and meant we had deficits for a longer period of time? Over 60%, yes. People want things done. They are very skeptical about this city's ability to do them and about who this city will do them for, but they are people struggling to make ends meet in an economy that doesn't work very well for them, and they are looking for help.
The third priority in our poll, out of a bedsheet of about 50 items picked out by voters, was guaranteed national health — guaranteed affordable healthcare for all. Now, this is an issue not mentioned by any candidate — right, left, center — in this election. The conventional wisdom in this city is, after the collapse of the Clinton plan, universal healthcare is dead. Incremental reforms, you know, where you got two days now for mothers and infants after birth — you know, next year, we'll try to do the third day. And if we do it day by day, in about a hundred years, we'll get closer to comprehensive healthcare. But the public, one out of five workers in this workforce do not have healthcare. Huge numbers are underinsured and at risk and know it. Overwhelming numbers, particularly downscale voters, are scared to death about their ability to afford healthcare for their families, about their ability to educate their children, about their ability to secure their retirement. They want affordable healthcare guaranteed for all, which every other industrialized country provides for its citizens and which remains one of the great outrages of this society that we do not do it for our own.
Fourth, they are remarkably populist on economic issues. Again, other than Pat Buchanan, that went unmentioned in this election. We asked people, "Would you hold corporations accountable who are laying off workers, and increase regulation to hold them accountable to keep jobs at home, even if it cost — or do you think" — with the alternative choice was — "or do you think that such regulations and accountability costs jobs and makes corporations less accountable?" Seventy percent of the population wants corporations held accountable. We asked people, "Do you think trade costs jobs or creates jobs?" The overwhelming consensus in this town is that trade, free trade, of course, creates jobs. The massive numbers of Americans, people believe that it costs many more jobs than it creates, and they have absolutely no interest in extending the free trade global economy regime that we have been following. They are looking for differences.
We asked people — we offered people a choice between the president's notion about fixing welfare: Let's give tax incentives to business to hire welfare people. Actually, that's turned into let's urge businesses to hire welfare people. I hope you all hired your welfare mother this week. We asked them — gave them that choice versus "Would you guarantee jobs for every person who was once on welfare?" And the public chose guaranteeing a job for every person. If we had just dropped every welfare, they would have chosen that even more. People want security in an economy that doesn't work.
And it is the job of the Progressive Caucus, particularly in this era, to create an independent voice, a strong voice, not simply inside this Beltway but around the country, rousing people, engaging them, showing them that there is an alternative, exposing to them that there is somebody out here who is willing to protect their interests and to fight for them and to struggle with them and getting them reengaged in the political process, because if we don't succeed in doing that, then I think we are going to see movements that will make Pat Buchanan look like a tea party.
AMY GOODMAN: And you're listening to Democracy Now! That was Bob Borosage, co-founder of the Campaign for America's Future, leading author and activist.
If you'd like a copy of today's show, you can call 1-800-735-0230. That's 1-800-735-0230. Democracy Now! is produced by Dan Coughlin, with Errol Maitland; Julie Drizin, our executive producer; Ken Mason, our engineer. I'm Amy Goodman. Thanks for listening to another edition of Pacifica Radio's Democracy Now!