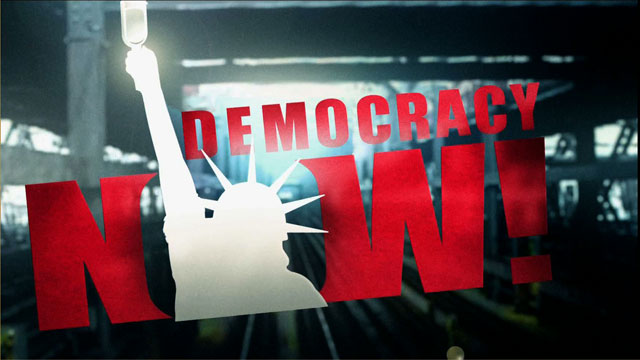 Media Options
1n 1995, Mumia Abu-Jamal, was only 10 days away from execution when massive worldwide protest forced the government to grant a temporary stay of execution. In 1982, Abu-Jamal was convicted of the 1981 shooting death of white police officer Daniel Faulkner in a trial many human rights activists called a sham. Abu-Jamal was sentenced to death for the crime.
Today, he awaits one last decision by the Pennsylvania Supreme Court. If they decide against him, a death warrant will be signed. After this, his case will go to federal court. In today's climate of rushing to the death penalty, no one can predict how quickly and on what terms his case will be decided.
If you're a long time listener to Democracy Now!, you may remember in February 1997, Democracy Now! broadcast 13 commentaries by Mumia Abu-Jamal. Democracy Now! worked with the Prison Radio Project who sent a reporter into the prison where Abu-Jamal was incarcerated, SCI Greene. The PRP recorded Abu-Jamal, albeit handcuffed and separated by a plastic barrier. Just before we went to air with the first commentary, the 12 radio stations that air Democracy Now! in Pennsylvania pulled our program and ended their contract with Pacifica Radio.
All the 12 stations that blanket the state are owned by Temple University, who said it was inappropriate to air the voice of Mumia Abu-Jamal. The administration got more than a thousand calls, letters, and e-mails; protests were held outside the university and within, but Temple refused to bend.
Mainstream organizations, like the Society of Professional Journalists, stood by Democracy Now!, saying too few journalistic organizations are standing up to pressure as authorities around the country cut off access to prisons and prisoners' voices. Despite losing those 12 stations, Democracy Now! decided it had to stand-up for freedom of the press as well as for academic freedom, since Temple University is one of the few academic institutions in the country that owns a series of radio stations.
The Pennsylvania Fraternal Order of Police, of course, had been fiercely opposed to the airing of the commentaries. This opposition had factored in strongly the year before, when National Public Radio pulled Abu-Jamal's commentaries a day before they were to air. Abu-Jamal is suing NPR, thus the name of our series, "All Things Censored," in which we bring you a commentary written by Mumia Abu Jamal on the first Monday of every month. Last month, the commentary was read by Irish activist Bernadette Devlin McAliskey. Today's is read by the prominent Latino poet and American Book Award winner Martin Espada.
Tape:
Mumia Abu-Jamal Commentary "Sense and Censory" Read By Martin Espada. Martin Espada, is a professor at the University of Massachusetts, Amherst. A Puerto Rican poet, who has been called the premier Latino poet of his generation, he won the American Book award for Poetry. Espada was a regular commentator on National Public Radio's program "All Things Considered," until he submitted a poem about Mumia Abu-Jamal. His poem was refused for being too political, and he was never asked to contribute to the program again.
Song:
If Mumia Dies: The New Afrikan Riots.
.
.
.
---