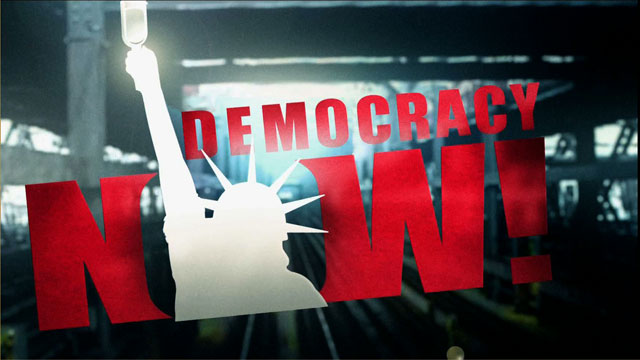 We now take a look at the manufacturing of weapons by the United States. After a 22-month investigation, a newspaper in Ohio, the Toledo Blade, is publishing a six-part expose on how over a period of several decades, the United States government knowingly exposed thousands of workers to dangerous levels of a toxic substance used to make nuclear weapons. The series is called "Deadly Alliance."
The reporter, Sam Roe, sifted through tens of thousands of court, industry and recently-declassified government documents that show that U.S. government officials, concerned more about the manufacture of weapons during the Cold War than about worker safety, allowed the continued manufacturing of beryllium–a light, durable metal vital to the operation of missiles, jet fighters and nuclear weapons.
Beryllium dust attacks the lungs and causes an illness know as Chronic Beryllium Disease, which is sometimes fatal. According to the report, government officials knew of the risks of exposure to beryllium dust, but failed to halt production or warn the workers. The results, according to the Toledo Blade, have been deadly. At a Cleveland-based beryllium plant owned by the country's largest manufacturer of the product, the Brush Wellman Plant, at least 39 workers have contracted the disease, and six have so far died.
Guests:
Sam Roe, senior writer for the Toledo Blade and author of the six-part report.
Gary Renward, who worked for 35 years at the Brush Beryllium plant in Elmore, Ohio, which is the principal manufacturer of beryllium. He was diagnosed with Chronic Beryllium Disease in 1993. He says previous X-rays taken in 1988 already indicated that he was ill, but the government withheld the information from him. He now uses an oxygen tank to breathe.
Carmen Fornataro, who formerly worked at the Hazleton, Pennsylvania plant of Beryllium Corporation, which made weapons under a U.S. defense contract. He contracted Chronic Beryllium Disease as a result of exposure to beryllium dust at the plant. By some reports, dust counts at Hazleton sometimes reached 4,000 times the safety limit. He speaks from Boyton Beach, Florida.
Related link:
---