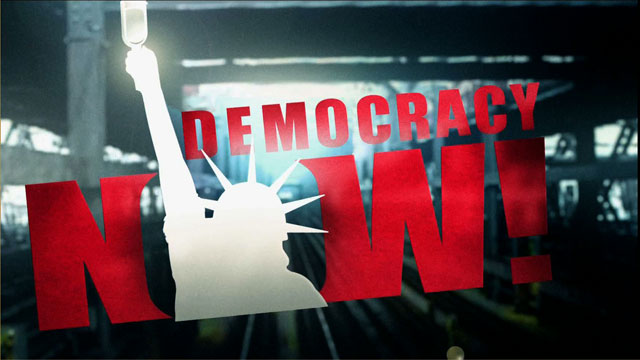 Media Options
Yesterday was Hitler's birthday and at Columbine High School in Littleton, just outside Denver, it was marked by the deadliest school shooting in U.S. history. As junior Evan Vitale said about the shooters: "They always have the neo-Nazi look, so we were talking about them and Hitler's birthday even before the shooting started. Everybody knew it was Hitler's birthday."
The two teenagers laughed and hooted as they opened fire on classmates in their suburban Denver high school, killing at least 16 people and then apparently turning their semi-automatic weapons on themselves.
According to witnesses, the two marched into the library of Columbine High School with guns and pipe bombs, and began shooting students and faculty, holding the school under siege for several hours. As survivors of the shooting left the school, many said the two gunmen were part of a "clique" called "the Trench Coat Mafia." Students also said that they targeted kids of color and popular athletes. In their video production class, one student said they shot videos of themselves holding guns, and that they had already threatened to kill people
In a Washington Post piece titled "Trench Coat Clique Savored Death Fantasy," the article says "on websites featuring poetry called the written work of the trench coat, trench coats serve as a symbol for things from Hitler and the Nazis to mass murder, to suicidal fantasies. Yesterday was Hitler's birthday, an occasion for demonstrations, mock funerals and other macabre commemorations among both Nazis and parts of the Gothic scene."
Guests:
Isolde Raftery, a 17-year old junior from Garfield High School in Seattle and member of the group "Students Against Violence Everywhere" (SAVE). In 1995, there was a shooting in her school in which two girls were injured. One of those girls formed the SAVE chapter at Garfield.
Patrick Sheehan, 17 year old junior at the Norwich Academy in Norwich, Connecticut. He is part of the group "Youth Peace" that focuses on violent influences on young people such as militarism and TV violence.
Vincent Schiraldi, from the Justice Policy Institute in Washington, DC.
Josh Sugarmann, Executive Director of the Violence Policy Center.
Mark Potok, from the Southern Poverty Law center and editor of the "Intelligence Report."
Related links:
---