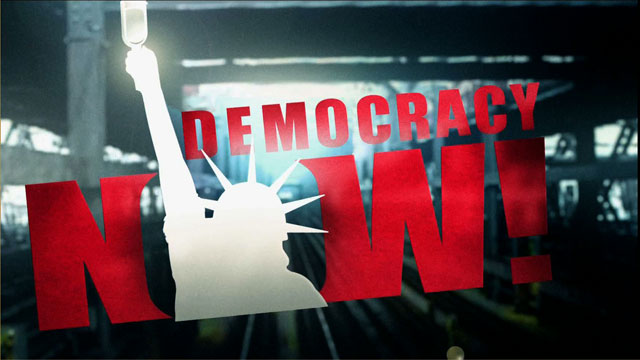 Media Options
From Chevron's drilling and killing in Nigeria, we now move to Occidental Petroleum in Colombia, and to the Los Angeles-based oil giant's plans to drill in the ancestral land of the U'wa people. Just a few years ago, in April of 1995, the U'wa made headlines around the world when they pledged to commit mass suicide if Occidental proceeded with its oil project in the Samore block, which is located on their traditional territories. Legal battles followed, and the U'wa took their struggle to the public, to Occidental's shareholders and to the Organization of American States.
Now, as Occidental waits for final approval for a drilling license from Colombia's Ministry of the Environment, the U'wa have taken their struggle to Los Angeles, where Occidental is holding its annual shareholders meeting tomorrow. There, they plan to confront Occidental's top executives, including the CEO, the Chair and the Board of Directors, and to ask investors to back a resolution calling for Occidental to appoint a study on the potential effects an oil drilling project would have on U'wa land.
Guests:
Auruna Nomina, also know by his Spanish name Roberto Perez. He is the newly-elected President of the U'wa traditional authority (in Spanish known as the "Cabildo Mayor"). He is in Los Angeles for the Occidental shareholders meeting.
Shannon Wright, Director of the "Beyond Oil Campaign" for the Rainforest Action Network. Speaking from Los Angeles. Call: 1.800.989.7246.
Atossa Soltani, Executive Director of Amazon Watch. She worked closely with Terence Freitas, who was killed in Colombia by the Armed Revolutionary Forces of Colombia last month with two other activists, Ingrid Washinawatok and Lahe'na Gay, when they were working on a project with the U'wa. Speaking from Los Angeles. Call: 310.456.1340.
Related link:
---