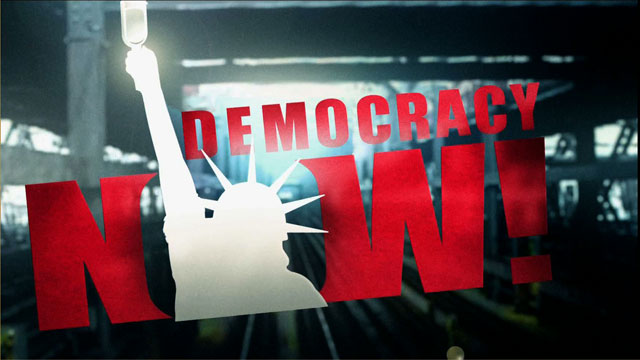 Media Options
Angry protesters shouted at Chicago's police superintendent yesterday as he announced that officers broke the rules in the shooting deaths of two unarmed African American civilians. In one of the shootings, an officer shot a 26-year old woman after the officer mistook the woman's cell phone for a gun. In the other case, an officer fatally shot a Northwestern University football player after breaking the student's car window with a wrench.
Meanwhile in New Jersey, family members of a black man killed by police in a highway shooting were among the demonstrators who gathered at the scene of the killing this week to remember the victim and protest the incident. Police fired 21 bullets against Stanton Crew in the early morning hours of June 2nd. Four bullets struck Crew, who died at the scene.
And in Prince George's County, a suburb of Washington, DC, family members of an African American man killed by police as he sat handcuffed inside a police cruiser are gathering today at the spot where he was killed on the sixth anniversary of his death. Archie Elliot III, the son of a judge and a schoolteacher, died with his hands cuffed behind his back. No charges were filed against the officers.
In response to calls from community activists, civil rights leaders and human rights organizations, the Justice Department last week held a summit on community-police relations. The meeting brought together representatives of the civil rights community, law enforcement officials, survivors of police brutality and community activists. President Clinton chaired a roundtable discussion that included the mother of Amadou Diallo–the unarmed Guinean immigrant who died earlier this year in a hail of bullets fired by officers from New York's Street Crimes Unit, as well as the Rev. Al Sharpton and many others.
At the summit, President Clinton declared racial profiling "morally indefensible" and ordered Federal agencies to compile data on the race and ethnicity of people they question, search or arrest to determine whether people are stopped because of the color of their skin.
Today we are not only going to talk about the problem of police brutality, but also about the actions taken by communities across the nation.
Guests:
Richie Perez, Head of the National Congress for Puerto Rican Rights. He attended the Justice Department's summit on community-police relations. Call: 212.614.5453.
Rev. Bernell Butler, cousin of Tyisha Miller, an African American teenager who was killed last December by Riverside police while she was sitting unconscious in a parked car. Call: 909.274.9860 or write to P.O. Box 5445, Riverside, CA 92517.
Diop Kamau, Executive Director of the Police Complaint Center and former police sergeant from Hawthorne, California. He has gone undercover with a video camera and taped incidents of police abuse–in one incident, officers threw him through a plate glass window, and he captured this on tape. Call the National police brutality hotline: 1.800.764.0235.
Paul Hoffman, civil rights attorney based in Santa Monica, California, and Chair of Amnesty International USA's Board of Directors. He has worked on cases of police abuse since the 1970's, and has taught law courses on international human rights and police abuse litigation.
Joe Madison, civil rights activist and talk show host at WOL in Washington, DC. He has been on a hunger strike since this past February 15th to demand that charges be filed in the 1993 shooting death of Archie Elliot III. Elliot was killed by Prince George's police on June 18, 1993–exactly six years ago today. The officers shot him 14 times while he was sitting handcuffed in the front seat of a police cruiser. Madison has been subsisting on liquids since February.
Matthew Zingraff, Associate Dean at the College of Humanities and Social Sciences at the University of North Carolina and Director of the North Carolina Center for Crime and Justice Research. The center has been commissioned by the state of North Carolina to design a model for gathering data on racial profiling by police on the state's highways. Telephone (919) 513 1837.
Related links:
---