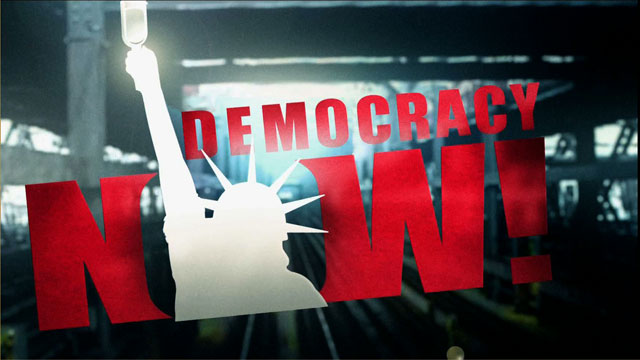 Media Options
This week, African American doctors charged that HMOs systematically exclude them and reduce black patients' chances of selecting physicians of similar racial backgrounds. [includes rush transcript]
The American Association of Health Plans, which represents 1,000 HMOs nationwide, rejected the accusations, which were made by the National Medical Association, that largest organization representing black doctors.
Guests:
Dr. Gary Dennis, former President, National Medical Association.
* Susan Pisano*, Vice President of Communications, American Association of Health Plans.
---
Transcript
This is a rush transcript. Copy may not be in its final form.
AMY GOODMAN: African American doctors charged earlier this week that HMOs systematically exclude them and reduce black patients' chances of selecting physicians of similar racial backgrounds. The American Association of Health Plans, which represents one thousand HMOs nationwide, rejected these charges. The charges were made by the National Medical Association, the largest organization of black doctors.
We're joined right now by the former president of the National Medical Association, Dr. Gary Dennis, as well as by Susan Pisano, Vice President of Communications of the American Association of Health Plans.
Let's begin with Dr. Gary Dennis and the charges of your organization.
DR. GARY DENNIS: Good morning.
AMY GOODMAN: It's good to have you with us.
DR. GARY DENNIS: We represent over 25,000 African American physicians and patients. And we've been in a struggle to try to provide excellent healthcare for our patients for a long time. But since the managed care organizations have become more network-oriented and less staff-model HMOs, a lot of contracts with physicians have been let, which create panels of physicians in networks that unfortunately have not included many choices for African American patients that they desire.
And recent studies show that many African Americans — in fact, all racial and ethnic groups — tend to want to have a doctor who they can trust and respect, who also can relate to them from their cultural background, sensitivities, language, etc. So, therefore, it's very important that patients have those kind of choices.
But the African American physicians have been excluded by a lot of managed care organizations, and I'm not sure whether it's an intentional thing or not, but the result is the same, and that is that many African American physicians do not participate as members of these health panels. As a consequence, the patients don't have an opportunity to be treated by them.
Now, we have had many examples of individual health plans across the country where there have been just severe shortages of African American and ethnically appropriate physicians, period, where most — or in fact in one case in Kansas City all of the African Americans were excluded. Now, I think one of the reasons is because the health plans have not been taking into consideration the race and ethnicity of the physicians that make up their physician panels. Number two, they don't know whether their enrollees really would like to choose a physician that's of their same ethnic or racial background. And not having that information probably handicaps in some way. But the result is that many patients who would like to see a black doctor don't have that opportunity.
AMY GOODMAN: Let's get a response from Susan Pisano of the American Association of Health Plans that represents more than a thousand HMOs.
SUSAN PISANO: Good morning. First of all, I'd like to say that we believe that this is a serious issue and that upon learning of the press event held by the National Medical Association, our president wrote to the NMA's president to ask to meet about this matter. So we hope to get the opportunity to do that soon to learn more about just what's going on here.
First of all, we agree with what Dr. Dennis said, that for many patients it's very important for them to be — to get the proper treatment, to have a physician who can relate to them and their cultural background. We fully agree with that. I think the literature's pretty clear about it.
I think the second thing is that we also agree that it's important to have diverse physician panels. It's important for the patients. It's also important for the plan. It's in the plan's best interest, if the plan is going to grow, to have the physicians in the panel that the patients want to see.
And certainly, the studies that have been done about this question do indicate that white and non-white physicians are about as likely to get and to keep contracts. Now, I don't say that to in any way dismiss what Dr. Dennis is saying. All I'm saying is that we need to look further and look at what the factors are that are behind what the NMA sees.
DR. GARY DENNIS: Could I make a comment?
AMY GOODMAN: Yes. Go ahead.
DR. GARY DENNIS: Yes, well. I appreciate your comments, but I think the only data that we have is a study that was done in California, where managed care has primarily been staff-model HMO dominated by Kaiser. And now, many, many other HMOs that are more network-oriented, where it's really the way of life where all physicians are involved in managed care. So if you're practicing medicine, you are working with managed care. Unfortunately, that's the only study that has been done that even looked at whether there was discrimination, is that one study.
But what that study showed is that patients who were sicker were being redlined through excluding doctors, whether they were white or black or Hispanic, who treated sicker patients, which means that there are some kinds of selection criteria that negatively impact physicians that treat patients in inner cities.
And what we found is that in different geographic locations, where we have a high concentration of African Americans in inner cities, and you have those doctors treating those patients being African Americans, they are frequently not included in those panels. Now, there may be economic reasons for it, and I believe that part of it has to do with the methodology that's used to select physicians, which may not be as sensitive to those cultural and impact issues.
For instance, if you excluded in my city — I'm a neurosurgeon in Washington, D.C. — if you excluded just three of the black neurosurgeons, you would have excluded all but one in the District of Columbia. And including myself, there are three working with me. And we don't participate in many health plans, which means that a lot of patients who may want to have an African American neurosurgeon for whatever reason don't have that option.
And so, I think that's what we — we have to look at the total picture. We are living in a society where discrimination has been a way of life, especially as relates to African Americans. The opportunities to train in healthcare have been so limited that it's amazing that we have as many black doctors as we have today. But in the pipeline, in medical school, there are fewer and fewer black medical students, because of all of this anti-affirmative action business. So as a consequence, we have shrinking numbers, and when there are even a few black specialists excluded by health plans, patients frequently have no choice at all.
So I think that these are the kinds of issues that are different than in the majority population. If you want to have culturally sensitive and appropriate healthcare — and I think that most people want that, all people — I think that we need to start coming up with some different solutions. And I think that's why we're bringing this up, because most people don't recognize it. It's unique to a society where you have a very small number of like ethnic providers when you're not taking that into consideration when you create these networks.
AMY GOODMAN: It's interesting. I think the figures are something like, from the American Medical Association and your group, Dr. Gary Dennis, the National Medical Association, 4% of the nation's 700,000 practicing physicians are black, and you compare that to the population of this country of African Americans, which is 12%. Susan Pisano, a number of responses, American Association of Health Plans.
SUSAN PISANO: Well, you know, it's interesting in talking to medical directors around the country. Given all of the controversy that has been swirling around managed care in the last couple of years, one of the things they say is that we welcome the idea that there are physicians who want to be contracting with us and who are, you know, talking about this.
I think that Dr. Dennis raises a very important question, which is that with so few practicing physicians who are African American, that when just a few of them aren't in a particular health plan that that makes a big difference for the patients. And I think we need to give this a closer look, and I think that's why our president has asked to be able to meet with Dr. Shurvinton to talk about these matters.
Certainly, I think that one of the obstacles to getting a better handle on what's going on is that plans don't routinely ask about a physician's race or ethnicity when a physician is applying to participate with the plan. That's not on the standard application form, so it's not a piece of information that's readily available to the plans. I think it's also very important to know that there are some rules that apply to how health plans put together their panels, and they do involve geography. They do involve making sure that the physicians in the panel are close by where patients live. So we have to look at what role that's also playing. So, I think there are a number of things that we need to be taking a very close look at.
AMY GOODMAN: We only have a minute, but I would like to put this in the context of this presidential election year 2000. Last night, the Democrats and Republicans debating separately. In New Hampshire, the issue of healthcare was raised a number of times. Dr. Gary Dennis, can you put the issue of the population of African American doctors in this country and also the particular issue of exclusion into the presidential race? And do you have a favorite candidate that you think would make a difference?
DR. GARY DENNIS: Well, first of all, you know, the National Medical Association has been firmly behind the race and ethnic healthcare disparity campaign that President Clinton and our Surgeon General David Satcher have promoted. So, clearly we are certainly behind all the positive things that have occurred in the last few years.
We haven't really made a commitment about any particular presidential candidates. Certainly, Vice President Gore and his commitment to healthcare of all Americans, his well-thought-out incremental inclusion of more Americans in the healthcare system so that they can receive the kind of treatment that they deserve, I think is laudable. And any candidate that can move towards universal coverage and a prescription healthcare benefit for patients is doing the right thing for all Americans.
AMY GOODMAN: And the American Association of Health Plans, Susan Pisano, have you come out with an endorsement for presidential candidate?
SUSAN PISANO: We have not. We think that it's encouraging that the question of how to get more people coverage has come to the fore. And I'd actually just like to make one final point on today's discussion, which is one of the ways that health plans build —
AMY GOODMAN: We have ten seconds.
SUSAN PISANO: — their physician panels is by recommendation of patients. We think it's very important to have the physicians in the panel that our patients want.
AMY GOODMAN: Well, I want to thank you for being with us. How can people get in touch with your groups? Dr. Gary Dennis, National Medical Association.
DR. GARY DENNIS: Yes, (202) 347-1895. You can contact me through email at gcdennis(at)pol.net. Thank you very much.
AMY GOODMAN: And one more time, that phone number?
DR. GARY DENNIS: (202) 347-1895.
AMY GOODMAN: And Susan Pisano, the American Association of Health Plans.
SUSAN PISANO: Our number in Washington is (202) 778-3200 and I am spisano(at)aahp.org.
AMY GOODMAN: That's (202) 778-3200.