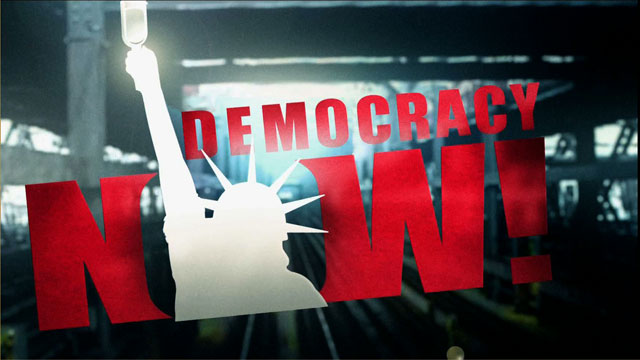 Media Options
Texas Governor George W. Bush opened the 2000 election year today by winning the endorsement of Elizabeth Dole, a former rival for the Republican presidential nomination. [includes rush transcript]
Dole, who ended her bid for the White House in October after raising $5 million–less than a tenth of what Bush had collected at that time–called Bush "a president Americans could trust."
With three weeks until the Iowa caucus on January 24, the first lap of the marathon presidential race, Bush, his Republican rivals and their Democratic counterparts are criss-crossing the wintry landscapes of both Iowa and New Hampshire in search of votes.
Guest:
Bob Hennelly, freelance reporter who is following the presidential campaign.
---
Transcript
This is a rush transcript. Copy may not be in its final form.
AMY GOODMAN: Texas Governor George W. Bush opened the 2000 election year today by winning the valuable endorsement of Elizabeth Dole, a former rival, for the Republican Presidential nomination. Dole ended her bid for the White House in October after raising five million dollars, less than a tenth of what Bush had collected at that time. She now calls Bush "a president Americans could trust." Immediately after the formal announcement, Elizabeth Dole joined Bush aboard his campaign plane en route to Iowa, where she'll appear by his side at stops in Des Moines and Davenport.
With three weeks until the state's caucus on January 24th, the first lap of the marathon presidential race, Bush, his Republican rivals and their Democratic counterparts are crisscrossing the wintery landscapes of both Iowa and New Hampshire in search of votes.
Meanwhile, Al Gore and Bill Bradley began the 2000 election year yesterday the same way they finished 1999, attacking each other's spending proposals as the presidential race resumes after a brief respite.
We're joined right now by Bob Hennelly, political commentator, who will talk about this — after all, Bill Bradley is from his home state in New Jersey — and, also the latest news, an unprecedented decision to monitor New Jersey state troopers, that has taken place over the last weeks. Welcome to Democracy Now!, Bob Hennelly.
BOB HENNELLY: Thanks for having me.
AMY GOODMAN: Well, why don't we start off with the politics in the North — New Hampshire and Iowa — what you're seeing emerge as the major issues?
BOB HENNELLY: Well, it looks like Bradley is trying to make himself look like he's outside the Beltway, that he is — with his retirement back in 1995 — that he is closer to where Americans are at, which is kind of a disengagement from politics. And he's also trying to, I think, attack the fact that there's a perception out there that the Clinton/Gore administration was an agenda of little things — school uniforms, basically rearranging the deck chairs, if you will — as opposed to some systemic, underlying changes. And Bradley's trying to go with a universal healthcare plan. He's trying to talk about a prescription drug plan that would be far-reaching. And Gore, actually, is kind of moving to the right of Bradley, in talking about, you know, the art of the possible. And much of it is wrapped up in rhetorical flourish on both sides. And, of course, Bradley himself was in Washington a number of years, so, I guess what he's saying is that — you know, in some ways the numbers seem to bear it out. There's clearly a national decline in voting and a kind of disenchantment with politics at all levels. And I think that Bradley, like McCain, is trying to cash in on that.
AMY GOODMAN: I have to apologize to our listeners for such a bad line. We expected to have Bob Hennelly in the studio with us, but, Bob, I guess you got caught — was it by the Y2K bug on the subway or something else?
BOB HENNELLY: No, just urban dysfunction. Someone pulled an air brake, and we had to get out.
AMY GOODMAN: So, Bob is speaking to us from a payphone somewhere between New Jersey and New York, and it does sound like you're under water, so maybe you're in the tunnel.
BOB HENNELLY: All good reporters belong on the street anyway.
AMY GOODMAN: That's right. You've been following Bill Bradley for a long time. He was your senator in New Jersey. What do you see emerging, and what is happening in New Jersey? Not a lot of politicians in New Jersey — although it's not politicians that count, but people — are supporting their homeboy.
BOB HENNELLY: You're exactly right. In fact, what's happened is there's a kind of — there was a disillusionment when Bradley left, because, of course, it came after the Republican tsunami, and the sense was that he was leaving just as the going was getting tough, and the party apparatchiks and the folks that are professional politicians felt that it was making it harder for them, because a guy that had charisma — a former basketball player and all the rest — that he was leaving, and they never recovered from that.
And then, also you have to keep in mind that for people like Mayor Sharpe James of Newark, the White House still has a lot of currency, and it's important to be very close to the people that have control over the purse strings. And, in this case, it's very much Vice President Gore.
And so, it's amazing, as a matter of fact, I think that Senator Torricelli has nominally not endorsed anyone, but there has been no major political figure, with the exception of Governor Jim Florio, in New Jersey who has made much of an endorsement flourish for Bradley. And, in that case, it's perceived that it's kind of a Hail Mary pass by Florio, because he's up against Jon Corzine, the former Goldman Sachs — and in that case, there's a situation where Florio needs something, because Corzine is outspending him so significantly that the hope is that if Florio can tap into Bradley's grassroots sensibility — and there is, I mean, in New Jersey the average — there is still support for Bradley among voters. I mean, that's clear from the Eagleton Poll. But, no, you're correct. The professional politicians are not backing him up here. There's no favoritism in effect here.
AMY GOODMAN: And what about on the Republican side, the Dole-Bush alliance? You had Elizabeth Dole coming out when she announced that she would be giving up her bid, clearly frustrated by money and politics, more that she didn't have the money she needed in politics — there were not major statements about money corrupting politics — and now supporting the man who has it all, who is going for that hundred-million-dollar campaign chest and joining him on the campaign trail.
BOB HENNELLY: It's kind of cynical on some level, because clearly her candidacy was undermined by the same forces that McCain has been talking about, which is the large money, which is going to be bigger than ever and has gotten bigger every year. And actually, at this point, I think we can say that there is an inverse relationship. The more money spent, actually, the fewer voters turn out. It's almost like the money suppresses turnout.
Of course, in New Jersey, Governor Whitman had been touted as a national player, and then she was going to run for the Senate seat that Lautenberg retired from. And this really made it so that it was perceived that she was, while not a shoe-in, certainly a likely winner, because it was at one point thought that Florio would go up against Whitman, and that would be kind of a redux of a movie that had already been played with Whitman winning.
So with her stepping out — I think there is some connection, actually, with the trooper story. The day before — the same day that two troopers were indicted for shooting three unarmed men of color on the Turnpike, Whitman announced that she was not going to run for the U.S. Senate seat. So, to some degree, this whole question of racial profiling, I think, did have some political implications for Whitman, because she couldn't win on this issue. And as long as that trooper problem of racial profiling persisted, she was mortally wounded as a candidate.
AMY GOODMAN: We're talking to Bob Hennelly, a very muddy Bob Hennelly, who is speaking to us at a payphone somewhere between New Jersey and New York, as his subway got unpredictably — or should I say predictably unpredictably — stopped somewhere underwater. Political commentator.