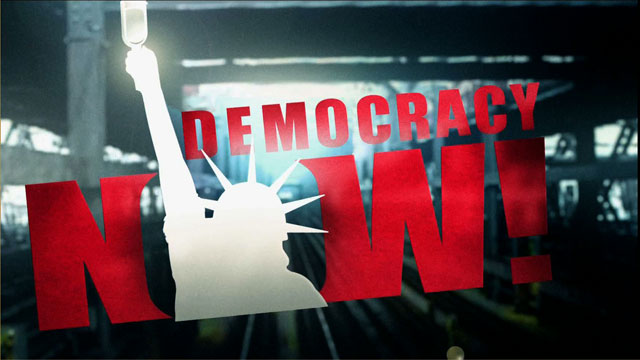 Media Options
The warming trend that has gripped our climate for the past 20 years will make 2000 one of the hottest years since 1860. According to the UN, eight of the 10 warmest years in the 140-year period have occurred since 1990. This year will also a politically hot one for environmentalists. [includes rush transcript]
Increasingly, US policy makers are out of step with the rest of the world on environmental issues. With climate change now accepted as a global security threat, even major corporations are looking for ways to turn a profit by developing alternatives energy strategies. The selection of George Bush as U.S. president does not appear to bode well for the kind of structural changes needed to ameliorate global warming.
Bush's environmental record as governor of Texas has sparked harsh criticism. His newly named head of the Environmental Protection Agency, Christine Todd Whitman, has a dubious environmental record in her home state. Furthermore, both Bush and Vice President Dick Cheney have close ties to the oil industry. But, ironically, the lure of profits from emerging alternative technologies around the world may offer hope.
Ross Gelbspan, Author of "The Heat Is On", 31-year journalist, Pulitzer Co-Winner
Jeffrey Tittel, Director, New Jersey Sierra Club
Related links:
---
Transcript
This is a rush transcript. Copy may not be in its final form.
AMY GOODMAN: The warming trend that's gripped our climate for the past twenty years has made 2000 one of the hottest years since 1860. According to the United Nations, eight of the ten warmest years in the last 140 years have occurred since 1990. This year will also be a politically hot one for environmentalists.
President-Select George W. Bush has named his new head of the Environmental Protection Agency, and she is New Jersey Governor, Christine Todd Whitman, who has a dubious environmental record in her home state of New Jersey.
Both Bush and Vice President Cheney come from the oil industry. Cheney, the former head of the largest oil services company in the world, the Halliburton Corporation, and Bush, a failed oil man.
But today, looking specifically at Christine Todd Whitman's record, we're joined by Ross Gelbspan, author of The Heat Is On, who is a longtime journalist, co-winner of the Pulitzer Prize for his writing, and Jeffrey Tittel, who is director of the New Jersey Sierra Club.
I wanted to go to first a comment of Christine Todd Whitman, when her name was being bandied about as the new head of the EPA. Reading from an article just a few weeks ago that was in the New York Times, they talk about one of the most salient issues, climate change, Christine Todd Whitman's statements that left some scientists and environmental advocates perplexed, especially since her administration has been a leader among the states in addressing the problem. For example, New Jersey was the first state to set a target for reducing emissions of greenhouse gases. But when asked to discuss her views on the science behind global warming, Governor Whitman responded by citing her doubts about the causes of the hole in the protective ozone high in the atmosphere.
She was asked, "Global warming — what's your thought on what the state of the science is, and what can be done to address it?" And Whitman responded, "Still somewhat uncertain. Clearly there's a hole in the ozone that's been identified, but I saw a study the other day that showed that that was closing. It's not as clear, the cause and effect, as we would like it to be."
When some experts on the atmosphere and pollution read a transcript of Whitman's statements, they said the governor had confused two distinct important global environmental problems: global warming and the ozone hole.
Well, asked to clarify her views, the governor said she might have misunderstood the question, but added she didn't think the two issues were not interrelated. She said, "In both of those instances, I'm not sure that there's a scientific consensus on how to deal with them." She went on to say, "There seems to be good enough evidence that both are occurring, but I'm not aware of a uniformly agreed to scientific response on either the causes or the solutions here."
Well, let's turn to Ross Gelbspan, author of, The Heat Is On. What's your thought?
ROSS GELBSPAN: Well, my thought is, is that she is remarkably unprepared for a question like that, and I'm really perplexed by that, because, as you said, Amy, New Jersey does have a pretty good record, actually, for state action in this area.
Clearly there is a — climate change is very different from the ozone depletion. I would say this, however: I don't think the Environmental Protection Administrator is a key administration player in the area of climate change, not nearly as important as State Department or Secretary of the Treasury, and so forth. On the other hand, it's pretty appalling. That reaction is really, really ridiculous.
AMY GOODMAN: Where does she fall in terms of those in power, those in a Republican or Democratic administration, when it comes to global warming?
ROSS GELBSPAN: Well, what's really interesting is some of the major opponents in the far right, who have for the longest time denied the science, have changed their mind. Senator Chuck Hagel, Senator Craig from Wyoming now believe the science is real. You have a major article last year, I think, in Foreign Policy by Senator Lugar and Jim Woolsey, former head of the CIA, saying, yes, global warming is very serious, we have to start dealing with it.
You have a lot of oil companies moving in the direction of putting lots of bucks into renewable energy. You have the CEOs of the thousand biggest corporations, who met at the World Economic Forum last year, who voted climate change the major crisis facing humanity today. So she's really sort of off the charts, even in terms of the traditional opponents in this area.
AMY GOODMAN: Let's go to her overall record in New Jersey. Jeffrey Tittel, director of the New Jersey Sierra Club, where does Christine Todd Whitman stand on the environment in your state?
JEFFREY TITTEL: Well, when it comes to the issues that the EPA deals with, she has a terrible record. She's OK when you deal with open space, though her vision of open space is buying development rights on the states and things of that nature, but when it comes right down to protecting the environment, protecting the health of the citizens of the state of New Jersey, her record is something that Texas oil men would be proud of.
Even when you mention global warming, the reason we've had reductions in New Jersey was because of a law called the Pollution Prevention Act, which was a law put in place by Governor Jim Florio, which Governor Whitman in 1995 and '96 tried to repeal and the Republican legislature wouldn't go along with her. So even where there is progress, it's not because of Governor Whitman's record. She has consistently tried to repeal almost every major environmental law in the state in some form of another, whether it was the Pollution Prevention Act or the Clean Water Enforcement Act.
She eliminated our environmental prosecutor, which was more then just a prosecutor. It was a whole office in the state government, plus in every county. She got rid of the Department of Public Advocate, who worked with community groups on environmental issues, especially environmental justice issues. She cut the Department of Environmental Protection staff by 30%. Then she reduced their hours of those remaining by about 12%. And because of that, inspections in the air program were down by 44%. Enforcement actions against polluters were down by 80% in New Jersey. And the list goes on.
There's close to a hundred programs where she's either tried to eliminate them, eliminated them or have made them completely ineffective when it comes to the environment in New Jersey.
AMY GOODMAN: In terms of global warming, Ross Gelbspan, author of The Heat Is On: The Climate Crisis, the Cover-Up, the Prescription, where do we stand in the United States compared to the rest of the world?
ROSS GELBSPAN: Well, it's interesting. If you're looking at the Bush administration, we have to say he can't do a lot worse than Al Gore did. Basically, the United States has really frustrated the nations of the world in trying to reach an agreement on the climate crisis, and basically the talks collapsed last month in the Hague, again because of U.S. intransigence. The U.S. delegation, basically acting on orders from Gore, insisted on meeting all our obligations, which is 7% cuts below 1990 levels, by planting more trees and buying cheap credits in poor countries. The Europeans said, "No, no, no. You have to get at least 50% of your reductions by real domestic changes in your energy diet." The US refused, and the talks completely collapsed. So the U.S. is really, basically, an outlaw nation in this area.
And you can see this because — because of U.S. foot dragging, a number of European countries are now going it alone. Holland just finished a plan to cut its emissions by 80% in the next forty years. Britain has committed to 60% cuts in fifty years. Germany's looking at 50% cuts. It's important to understand that while the Kyoto goals are quite low, 7% reductions for the U.S., the science is very clear that globally we have to reduce our emissions by 70% in order to avoid really catastrophic consequences.
AMY GOODMAN: In terms of understanding how New Jersey Governor Christine Todd Whitman will stand when it comes to the rest of the nation — here's she's going from a state stage, Jeffrey Tittel, to a national stage — what do you expect from her?
JEFFREY TITTEL: Governor Whitman has said that she's frustrated with environmentalists, because they just really don't understand that business creates jobs and has clout, and environmental groups and community groups don't. And she wants to work with groups that have clout. I mean, that's been her kind of philosophy.
So I think on a national level, you know, Governor Whitman is going to be just like in New Jersey. When she came into office, she called her administration open for business. After she got rid of the different environmental programs, she replaced it with an office of business ombudsman whose jobs was to push out permits for developers, created the office dispute resolution, which was to try to get rid of violations or other kinds of penalties to polluters. And I think that's how she's going to be on the national stage.
What's, I think, very kind of also part of her persona is that she's going to also talk green and do a lot of nice kind of warm and fuzzy events. In New Jersey, the day that she took mercury off the list of carcinogenic chemicals and actually proposed a rule back in '96, which would have quadrupled the amount of toxins in our waterways, she was hailing this rule as an environmental breakthrough, and it was during a canoe trip with schoolchildren. And so, what you're going to see out of Governor Whitman on the national level with the EPA is a very, very business-friendly, very pro-polluter agenda. At the same time, she's going to talk green and do nice events with school kids and things like that, showing— you know, trying to put out, a kind of a green veneer, or what we call green scamming. And I think that's where you'll see the EPA going under Christie Whitman.
AMY GOODMAN: Ross Gelbspan, what about the future for alternative energy strategies, just going to a bigger stage now, not only Christine Todd Whitman, but you've got the oilmen, the oiligarchy that grows every day, including National Security Advisor on the board of Chevron, Condoleezza Rice, but, George Bush, of course, and Dick Cheney? What about the future of alternative energy in the Bush administration?
ROSS GELBSPAN: Well, what's really interesting about this, Amy, is this: I think a lot of the oil companies are getting it about climate change. Not all of them. But British Petroleum, for instance, is putting huge resources into solar energy. They're now advertising themselves as beyond petroleum. Shell just created a new $500 million core company in renewables. Texaco is putting big bucks into clean energy. Ford and DaimlerChrysler have just put a billion dollars into fuel-cell cars. So while Bush will clearly be taking his lead from the oil industry, I think the posture of that industry itself is changing.
And I think, it's very telling that his Treasury Secretary, Paul O'Neill, who is the president or the CEO of Alcoa, was quite concerned about global warming, had some secret, private meetings with Clinton about it and himself had pushed for a carbon tax on oil to reduce emissions some years ago.
So I think the key to the whole thing is this: an energy transition globally, which is what nature requires and in a pretty short time, would make huge amounts of money for these companies if they became aggressive developers of fuel cells and wind farms and solar systems, and so forth.
I think the more enlightened members of the oil company community, with the major exception of ExxonMobil, which is really the big holdout right now, see that, and they're beginning to try to position themselves to be prominent players in a new energy economy. And that gives me a little bit of hope for a Bush administration, just on this area, not on the more general environmental — a lot of the other environmental areas that the New Jersey people are talking about.
AMY GOODMAN: Well, I want to thank you both very much for being with us, Ross Gelbspan, author of The Heat Is On: The Climate Crisis, the Cover-Up, the Prescription, and Jeffrey Tittel, director of New Jersey Sierra Club.