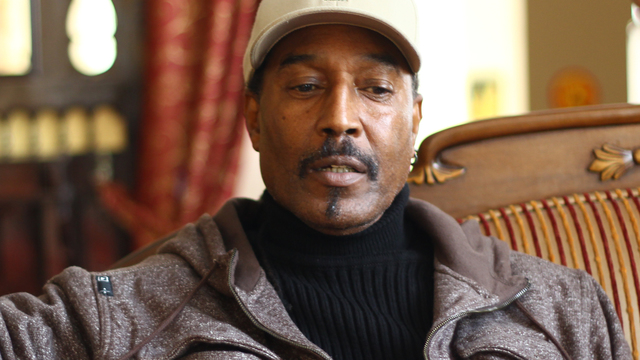 Media Options
In part two of an in-depth interview with Dhoruba Bin Wahad we learn his incredible story. On the 19th of May, 1971, two New York City police officers were wounded in a burst of machine gunfire while standing guard outside the home of the Manhattan district attorney, Frank Hogan. Two years later, after three trials, Black Panther member Wahad was convicted of the crime by a jury that deliberated for less than an hour. FBI records show that prosecutors withheld crucial evidence from the defense. The most critical item withheld was a tape recorded anonymous call saying Wahad did not do the shooting, made by Pauline Joseph, a prosecution witness who had implicated Wahad. He was released in 1990 and was about to tell his story in a courtroom this week, but at the last minute, the city settled. As a result of Wahad's federal lawsuit, which argued that he was a victim of an FBI-police smear campaign to smear the black power movement, the FBI released over 300,000 pages of secret documents about COINTELPRO. [includes rush transcript]
---
Transcript
This is a rush transcript. Copy may not be in its final form.
AMY GOODMAN: On May 19, 1971, two New York City police officers were wounded in a burst of machinegun fire while standing guard outside the Manhattan DA's office. Two years later, after three trials, a Black Panther leader, Dhoruba Bin Wahad, was convicted of the crime by a jury that deliberated for less than one hour. He was sentenced to twenty-five years to life.
As a result of Dhoruba Bin Wahad's federal lawsuit against the FBI in the city, saying that he had been framed by an FBI-police smear campaign, the agency released over 300,000 pages of secret documents about the Counter Intelligence Program.
This week, Dhoruba Bin Wahad was going to trial in his civil lawsuit against the police and the FBI. But at the last minute, on the eve of jury selection, the city caved and settled for about $490,000.
We began this conversation yesterday on Democracy Now! Today Dhoruba Bin Wahad is in with us to finish it up.
Dhoruba Bin Wahad, for twenty-five years, you waited to tell your story. You almost had the chance this week in a courtroom in New York, as you attempted to force onto the witness stand New York City police officers who arrested you and the authorities who had you convicted and kept you in prison for nineteen years. Well, you're not going to tell it in a courtroom, but tell it here.
DHORUBA BIN WAHAD: Well, I don't think we've got enough time to tell it here. But it's very difficult to — as I said yesterday, I made — I may have misled people to think that my attorneys at the time, during this — my appeal and my 440 — mainly my 440 and this suit — was Mary Johnson Lowe. That's not what I meant. Mary Johnson Lowe was the judge, the federal judge, who preserved my case, who kept my case alive for a very long time, because she felt that the government and the state were being dishonest in their responses to our interrogatories and our requests for documents. She proved to be right and we proved to be right and the FBI eventually turned over 400,000 pages of documents in discovery in this suit. Those documents were the ones that immediately led to my — overturning my state conviction.
Now, in relationship to the suit, of course, I wanted, Amy, to — excuse me. I wanted to use the courtroom as a forum to expose to a whole — to an entire generation of young people in this country and in this city, in particular, the basis and the roots of racial profiling in this city as we know it today. Of course, we know racial profiling has its roots in slavery. It has its roots in the slave system, in the chattel slave system. But it has undergone an evolution, as America has undergone evolution to deal with this ever-developing population, this ever-diverse population.
So, the Black Panther Party in this city was a target, was a significant target of the law enforcement agencies and prosecutorial agencies in this city. And they cooperated extensively with the FBI and with other federal law enforcement agencies in order to destroy the effectiveness of organizations like the Black Panther Party on the community level, on the grassroots level.
And to do that, an important component of their strategy, an important tactic of their strategy, was criminalization, demonization. Of course, we know they still do that today. You know, the media still demonizes dissent in this country, marginalizes it, criminalizes it in many ways. The culture of dissent, in other words, those things that come out of marginalized cultures, oppressed cultures, they tend to trivialize it, criminalize it or otherwise put it in some category where the mainstream population would find it somewhat alien or strange.
And this is what they did with the Black Panther Party. There was a concerted — I mean, this is documented. There was a concerted media, government and law enforcement blitz against the Black Panther Party. I don't mean that, you know, the law enforcement went after the Black Panther Party and the media just reported the news as they saw it. The media was active participants in setting up people in the party, which brings us to the crucial question today, which we were just discussing with Professor Howard Zinn: what is the role of media in democracy today, given the level of technology in the modern nation-state? The Americans have — America has to rethink democracy in dynamic terms that they haven't contemplated before.
And so, it's very important — it was very important to me at this point in our history to try to tell this story. Now, Amy, it's very difficult, as all of us here know and many people in the listening audience who are activists know, it's very difficult to bring forward and to bring forward a political analysis of a period of time, to bring forward a grassroots or a people's version of a historical event that has been demonized and criminalized by the media.
And, you know, the shooting of policemen in any society is a very serious offense, because the police are the first armed agents of the state. But the fact of the matter is that is what they are. They are agents of the state. And the state, as we were just discussing, is owned lock, stock, and barrel by corporations, the rich and the elite in this country. The state — the people do not control state policies, the state legislatures, the states' political systems. We know that now. A lot of people are seeing that for the first time.
But we knew that back in the '60s. So when they came after organizations like the Black Panther Party in this city, they found a ready acceptance for their program and their agenda from certain segments in this city, namely different communities in Bensonhurst, out in Brooklyn, the same communities that were maligned recently in the Park Slope brouhaha, the [inaudible] case, the Louima case. All these communities in this city were at one time targeted under COINTELPRO, and the local law enforcement agencies carried out these programs.
So I just want to say that trying to tell this story in the court is extremely difficult, because what they do is they hamstring you with rules, so that you can't say this, or if you say that, you have to say it in a certain context., and if you don't say it in the certain context, then you're going to be penalized. So it was very difficult to deal with that in the courtroom, but we felt that we would prevail.
JUAN GONZALEZ: Well, interestingly enough, the city officials, just as the federal government in a previous trial, or in a previous suit of yours, basically chose to settle, while at the same time claiming that they were still convinced that you were guilty, even though your conviction had been overturned, but that they were just doing the cost-effective approach. What's your response to their statements?
DHORUBA BIN WAHAD: Well, you know, this case has been pending since 1975. It was one of the longest pending cases in the Southern District of New York. And if they really were considering cost effectiveness, if it was really the taxpayers' dollars [inaudible] concerned with, they would have settled this case years ago. The only reason they settled at this particular moment, because we were on the eve of trial and the judge told them to the — words to the effect that although my rulings seem to gut the plaintiff's case, his ability to present his case, that they should not — that is the defense, the city should not look at those rulings as — and think that they, you know, it protects them, because their greatest burden is to overcome the fact that I was released from state prison and that there was a finding in a court of law that the evidence that was in my — that was withheld could've changed the opinion of a jury. So that there was a major obstacle that they would have to overcome. And they knew that they couldn't overcome that obstacle unless they could prejudice the jury.
AMY GOODMAN: Among the most important bits of evidence that the prosecution withheld from you and your defense lawyers was that there was this anonymous recorded conversation —- rather a message of a woman who said you were not involved with the shooting of the police officers. She ended up being a key prosecution witness -—
DHORUBA BIN WAHAD: Yeah.
AMY GOODMAN: —- who implicated you. And they never said that they actually had this tape-recorded, previous -—
DHORUBA BIN WAHAD: That's true.
AMY GOODMAN: — voice recording that said — where she said you weren't involved.
DHORUBA BIN WAHAD: And, in fact, when we discovered the voice recording, we discovered it in a news magazine article called, "Target Blue," written by a former police commissioner for public relations named Daley. And if — you would have to understand — we have to really understand — I know we're running out of time — but a lot of listeners have to understand that in 1971, New York was in a serious crisis. The police department — there was a freeze on hiring by the police department. The PBA was trying to carry out a campaign to open up the ranks of the police department. So they were antagonizing the black community. There was a high level of murders of police of minority youth during '69 to '71. And the mayor's office, Mayor Lindsay, was under considerable pressure by the Latino and black communities in this city for better healthcare, better public safety, and all of these things.
So when the Panther 21 were acquitted, it was a major blow to the Manhattan District Attorney's Office. And the way they got back out of that, the way they got to vindicate themselves, was to frame me and manufacture this evidence with Pauline Joseph.
AMY GOODMAN: Well, on that note, we have to wrap up. Also in the evidence was a letter between J. Edgar Hoover, a memo, and President Richard Nixon, who was involved in your case.
DHORUBA BIN WAHAD: Yes. President Richard Nixon was the one that mobilized the FBI to start a program called "Newkill," which was the follow-up to the Counter Intelligence Program. When the Counter Intelligence Program was discovered in 1974 to '75, Newkill was initiated in 1971, long before COINTELPRO went out. So it was under the auspices of Richard Nixon.
AMY GOODMAN: Well, this is a conversation to continue. Dhoruba Bin Wahad, former Black Panther, settled a lawsuit with the New York City Police and FBI for close to half a million dollars this week.