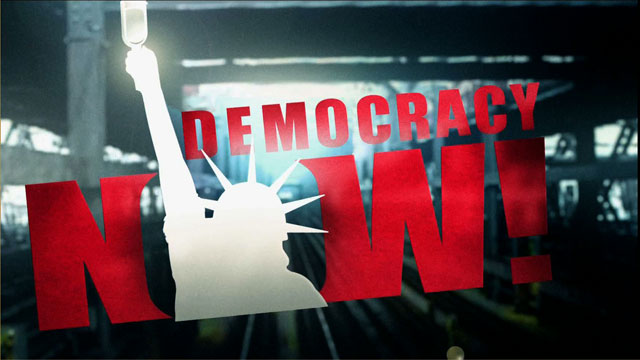 Media Options
Vladimir Putin sailed to victory in Russia's presidential election on a tide of biased media coverage, a European monitoring group said today. Putin, who had been Russia's acting president since the beginning of the year, won the election with about 52 percent of the vote, ahead of Communist candidate Gennady Zyuganov, who received just under 30 percent. [includes rush transcript]
Analysts from the European Institute for the Media (EIM), partly funded by the European Union, told a news conference that television news coverage had devoted nearly half the time spent on all 11 candidates to showing Putin, mostly in a good light. Putin himself conceded his rivals had been shut out.
Meanwhile, Russian warplanes resumed their bombing of guerilla targets in Chechnya. Much of Chechnya, including the capital Grozny, is in ruins after months of heavy aerial and artillery bombardment by Russian forces.
Guests:
David Kotz, Professor of Economics, U. Mass Amherst, and co-author, ??Revolution from Above: The Demise of the Soviet System (Rutledge, 1997).
Alexander Buzgalin, Professor of Political Economics, Moscow State University. He is also editor of the magazine Alternatives, and is a member of the Association of Scientists and Scholars for Democracy and Socialism.
??
??
??
????
??
---
Transcript
This is a rush transcript. Copy may not be in its final form.
AMY GOODMAN: We move now to an international story: elections that took place in Russia this weekend. Vladimir Putin sailed to victory in the presidential election on a tide of biased media coverage, according to a European monitoring group.
Putin, who has been Russia's acting president since the beginning of the year, won yesterday's election with just over half of the vote, way ahead of the communist candidate, Gennady Zyuganov, who polled just under 30%.
Analysts from the European Institute for the Media, partly funded by the European Union, told a news conference television news coverage had devoted nearly half the time spent on all eleven candidates to showing Putin in a good light. The group singled out partly state-owned television stations for being biased in favor of the incumbent and not living up to the ethical standards in providing full free and fair coverage of all the candidates. Putin himself conceded his key rivals had been shut out.
Meanwhile, President-Elect Putin today hailed rebel Chechnya's participation in Russia's weekend presidential election, but war planes resumed their bombing of guerrilla targets in the southern mountains.
Interfax News Agency quoted the military in Chechnya as saying fixed-wing and helicopter gun ships flew more than ninety sorties over the last twenty-four hours hitting Chechen positions in the mountains and chasing groups of rebels onto the plains. Much of Chechnya, including the capital of Grozny, is in ruins after months of heavy aerial bombardment by the Russian forces.
We go now to Moscow to Alexander Buzgalin, professor of political economics at Moscow State University, also the editor of the magazine Alternatives. And he is a member of the Association of Scientists and Scholars for Democracy and Socialism.
Welcome to Democracy Now!, Alexander Buzgalin.
ALEXANDER BUZGALIN: Hello?
AMY GOODMAN: It's good to have you with us. Can you comment on the results of the election?
ALEXANDER BUZGALIN: First of all, this is all so very predictable, because we have now mainly, as in the past, a very big influence of so-called party of power. People are trying to trust power, or at least they want to have some positive changes from the party of power. And the most important aspect, Putin is trying to realize the dream of conformists, of so-called ordinary Russians. He wants to put together from one side a [inaudible] model of the [inaudible], maybe sometimes even chauvinist model of the [inaudible], which was proclaimed [inaudible] by opposition from one side, and from other side, he's [inaudible] recommended by Yeltsin.
So people are waiting that there will be no radical changes. In Russia, everybody is afraid of radical changes after ten years of terrible tales, after the so-called market reforms. That's why Putin realized his dream to have taken from power from one hand and not to have radical changes or a distribution of power, and so on, from other hand.
But, also, I want to stress that these elections are partly created by administrative, bureaucratic apparatus of Russian state, because typically in the regions, governments, or wise governments [inaudible] supporters of Putin, they organized Putin's electoral campaign. Nearly all mass media, mainly state in our country they're supporters of Putin, and every thirty minutes, every fifteen minutes, he was on TV and all news, only positive commands, a lot of organized shows. I can say even our mass media created to show how good guy is Putin, and so on and so forth. So it was predicted result of elections.
AMY GOODMAN: Can you tell us, Mr. Buzgalin, about Vladimir Putin's background, former KGB agent, and what that means for the people of Russia?
ALEXANDER BUZGALIN: So, in Russia we have big contradictions, as far as the relation to KGB is concerned, because from one hand, of course, KGB is a symbol of authoritarian regime, and the majority of intelligentsia, and many ordinary people who hate this authoritarian, totalitarian power which we had in past. But from other hand, people are so tired from the kills, which we have and which we had during these ten years, that they have hopes that KGB officer can be honest, can be direct, can realize [inaudible] power.
You must understand the basis for these elections. Terrible economic crisis during more than ten years. Decline of production, nearly 50%. Decline of real incomes, especially after financial crisis in '98. Disorganization, corruption, criminal atmosphere. That's why, for many people, good democracy is associated not with real power of the people, respect of human rights, and so on, but with kills and disorganization.
Also, I want to say that after these re-elections or — how to say? Elections, or so-called elections of Putin, in Russia, we have an anecdote. What is democracy in Russia? Democracy is the right of Yeltsin to elect a new president. So this is the more or less reality now.
AMY GOODMAN: Professor Buzgalin of Moscow State University, speaking to us from Moscow.
We are also on the line with Professor David Kotz, an economist from the University of Massachusetts, co-author of Revolution From Above: The Demise of the Soviet System. Putin says he backs market reforms, but also wants a strong state to ensure that laws are obeyed. David Kotz, you have been looking at, in particular, the IMF and how it relates to Russia and the economy that Alexander Buzgalin has just been describing. Can you comment on that? Professor Kotz?
We've just lost him, so let me ask that question of Professor Buzgalin.
ALEXANDER BUZGALIN: Yes, I can maybe comment a little bit, because Putin really didn't proclaim any concrete economic program. He's trying to play a role of just good manager or bureaucrat, if you want, but his advisors and his economic supporters proclaimed course which is very similar [inaudible] course, or so-called shock therapy course, which our prime minister, Yegor Gaidar, was trying to realize from '91, '92 — winter '91, '92. As a result, we had, I mentioned, terrible economic crisis.
Now it can be new attempt to realize this course. But realistically thinking, it's impossible to realize again in our country shock therapy, or, in other words, free market reforms — reforms creating free market in our economy. We have really all monopolized the economy. These huge structural contradictions is very big enterprises, these very big, paternalistic illusions and hopes of population, and so on. In this situation, simple market liberal reforms could lead only to the terrible social disaster: poverty of the majority of the people, from one hand, and prosperity for oligarchs, because they deal free competition where, from one side, we have oppressed small business, oppressed by criminals, by bureaucrats, and so on, and from other side, huge client corporative groups, maybe I can say even dinosaurs of Russian capitalism. Generally speaking, I can say in Russia we have Jurassic Park of capitalism. So free competition between these dinosaurs and small people, ordinary people participating in business is miracle, is joke — or terrible joke and anecdote, because it's impossible to have such competition. It will be indirect and direct oppression.
That's why we need to have state which will regulate the economy in favor of real production, real growth, education, high-tech, and so on. But without this regulation, we cannot survive. We cannot reproduce our economy on the modern basis. That's my opinion, and I'm very afraid that attempts to realize again shock therapy will lead to new shock, but without any therapy at all.
AMY GOODMAN: Professor Alexander Buzgalin of Moscow State University in Moscow.
We are rejoined by David Kotz, economist at the University of Massachusetts-Amherst. There are going to be major protests in Washington, Professor Kotz, on April 16th and 17th, to prevent the opening of the annual World Bank and IMF meetings. Your focus has been the IMF. From your perspective, here in the United States, what has the IMF done to Russia?
DAVID KOTZ: Well, the IMF has been the main conduit for Western economic advice to Russia, and it's been more than advice, it's been insistence. The IMF, from 1991 to 1992, has insisted that if Russia wants to get IMF loans, it must follow what Professor Buzgalin has called shock therapy policies, which have been destroying the Russian economy throughout the '90s. The IMF continues to take that position. I'm afraid the IMF's advice has been a greater destroyer of other economies than all the cruise missiles that have been lobbed against industrial installations in certain countries during this decade.
AMY GOODMAN: Can you talk about alternatives — if you were in charge of the IMF, what you would do? Would you close it down, first of all?
DAVID KOTZ: Well, admitting that this is not a likely prospect — I was not on the list of potential IMF heads — but if this somehow happens, if one assumes that the IMF could follow radically different policies, then extending loans to countries that are having difficulty paying their bills and paying their debts is a positive role for such an institution to play, but it should be done without demanding that the country follow policies in its economy that are made in Washington.
Countries should be given the right to develop their own economic policies based on the views of the various constituencies in that country, and the IMF should have the role of making loans when a country is in difficulty. I think that would be a much better kind of international financial institution than what we've seen.
AMY GOODMAN: Do you think that the kind of protests that are expected with thousands of people in Washington on April 16th and April 17th, spearheaded by groups like the Fifty Years is Enough Campaign, have an effect on the IMF, the International Monetary Fund?
DAVID KOTZ: Well, not in the short run. I think this is a highly concentrated financial, political power institution. But over time, protests, such as the one in Seattle and now this upcoming one in Washington, if it can affect the member countries of the IMF, then it can generate political pressure for a change in the IMF's role. And more and more people have become aware of the harmful effect that the IMF has, not just in Russia, but in much of the world, so there is the possibility of having some impact on the IMF's behavior.
AMY GOODMAN: Professor Alexander Buzgalin, in Moscow, let me ask about Chechnya, as we wrap up the discussion. You have Vladimir Putin, one of his first moves, when he was made president by Yeltsin before the election, was to go to Chechnya and give awards — I think they were knives — to the Russian soldiers in Chechnya. How is the — how is Putin now dealing with Chechnya, and your response overall, the population feeling about what's going on, the total destruction of Chechnya?
ALEXANDER BUZGALIN: So really Chechen war is terrible and bloody adventure, and it is second adventure, it is second war.
By the way, I want to comment one very important detail — or maybe so-called detail. Putin proclaimed, during this electoral campaign, that his goal is dictatorship of law. But how can it be if war in Chechnya really started without any legal opportunities, without any legalization of this action. It's even impossible, according to Russian constitution, to have war against one of the territories of Russian Federation, if Putin thinks that Chechnya is part of the Russia. It's legally even impossible to have such war. And in any case, war can be started only by permission of parliament, and it's necessary to have very complicated procedure. We had nothing like that. Putin started so-called anti-terrorist police operation, but this is operation which second time organized, which continues nearly half a year, which led to the killing of thousands of people. Victims in Russia, together, killed and wounded are more than 6,000 people, but I don't know how much thousand people killed in Chechnya, especially civil population. So it's terrible catastrophe.
But it's necessary to understand that in Russia, a lot of people — not majority, not everybody —- but a lot of people were waiting this war, because Russians, they're waiting, where it's possible to have a victory. People just so tired from suppression of national feelings, especially after, by the way, bombardment of Yugoslavia -—
AMY GOODMAN: We have ten seconds.
ALEXANDER BUZGALIN: — by NATO. It was very provoked anti-NATO ideas, and these anti-NATO ideas finally were channelized to war against Chechnya. It's complicated to explain during one minute, but for majority of Russians, this Putin operation — or better to say bloody war against Chechen people — were associated with NATO operation in Yugoslavia.
AMY GOODMAN: Alexander Buzgalin, we're going to have to leave it at that, professor of political economics, Moscow State University; and David Kotz, professor of economics at U. Mass-Amherst, University of Massachusetts. That does it for today's program, as we report on the election yesterday of Vladimir Putin as president of Russia.