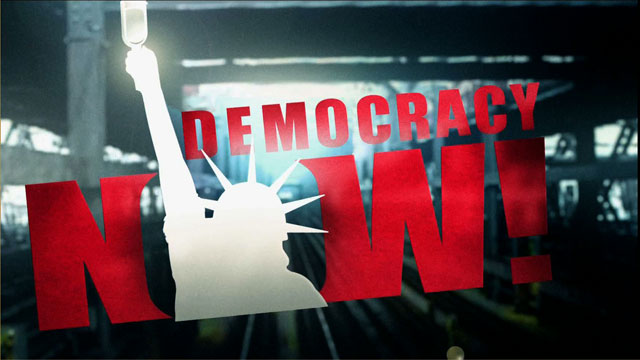 Media Options
George W. Bush and Al Gore, their eyes on their parties' presidential nominations, campaigned hard as a multi-state poll on Friday found them both headed for crushing "Super Tuesday'' victories. [includes rush transcript]
The poll suggested that the spirited battles for both the Republican and Democratic nominations may effectively end next Tuesday, setting the stage for a presidential election between Vice President Gore and Bush, the governor of Texas.
It found Bush leading McCain in seven of the eight states surveyed, including California, New York and Ohio, the three biggest prizes.
This past Wednesday on Democracy Now!, Juan Gonzalez discussed how Latinos have become a powerful voting block in U.S. elections, as he talked about his new book Harvest of Empire: A History of Latinos in America. Today we continue looking at Latinos in the US, and also go back in history to the time that they arrived.
Guest:
Juan Gonzalez, Co-Host of Democracy Now! and author of Harvest of Empire: A History of Latinos in America, published by Viking Books.
---
Transcript
This is a rush transcript. Copy may not be in its final form.
AMY GOODMAN:
George Bush and Al Gore, their eyes on their parties' presidential nominations, campaigned hard as a multi-state poll today found them both headed for crushing Super Tuesday victories. The poll was conducted by John Zogby. It suggests that the battles for both the Republican and Democratic nominations may effectively end next Tuesday, setting the stage for a presidential election between Vice President Gore and Texas Governor George W. Bush. The poll found Bush leading McCain in seven of the eight states surveyed, including California, New York and Ohio, the three biggest prizes. It also found Bush had a chance of narrowly defeating McCain in the open ballot in California, as well as thrashing him among Republicans.
Well, on Wednesday we started a conversation with Juan, Juan Gonzalez, co-host of Democracy Now!, but also a columnist with the New York Daily News and author of a new book on Latinos in the United States, about the growing Latino voting power here. Juan's book is called Harvest of Empire: A History of Latinos in America, looking at how people came to the United States and specifically arguing that massive Latino immigration is the inevitable consequence of our nation's age-old policy of domination toward Latin America.


We talked about, Juan, voting blocs in New York and California on Wednesday, but I wanted to go deeper back into history about how Latinos came here. In your book, Harvest of Empire, you start off by talking about roots. You start off actually centuries ago, talking about the colonization of Latin America.


JUAN GONZALEZ:
Yeah. Well, I have an initial chapter basically that deals with both the colonization of North America and Latin America and what was different about the Anglo-Saxon colonial experience versus the Spanish colonial experience, both in terms of the kinds of native societies upon which the settlers implanted their own settler societies, as well as the Africans that were brought and enslaved in both major colonial areas, and sort of like, well, how the societies developed. And that's basically sort of trying to get into what are the characteristics of the Anglo-Saxon sort of experience in the western hemisphere versus the Latin American experience, sort of, I guess in the womb, as I refer to it.
But then, in the — I go on to talk a little bit about the territorial expansion of the United States, because once you get past the thirteen colonies and then the Louisiana Purchase, then much of the subsequent territorial expansion of the United States occurred over lands that were already populated by people of Hispanic descent or mestizo or mixed race descent throughout the Southwest and Florida, and basically how the territorial expansion of the United States was, from that point on, sort of predicated on its ability to conquer its Latin American neighbors and then, beyond that, after the Spanish-American War, which was I guess the final — the final grabbing of actual territory by the United States, what happened in the early twentieth century to sort of lay the basis for what is today this enormous Latino presence in the country.


And I think in one of the chapters — if I can find the spot, I'll — this is sort of like the thesis of a lot of the book, but then I go into detail in each of the different Latino groups, and I say, as we shall see, a series of military occupations early in the century — this is US occupations of Latin America — sometimes brief, sometimes lasting decades, but always for the most spurious of reasons, allowed US banks and corporations to gain control over key industries in every country.


Latin American ventures sprang up on Wall Street overnight. As sugar, fruit, railroad, mining, gas and electric company executives raced south on the heels of the Marines. Thanks to the aid of pliant local elites and of US diplomats or military commanders who often ended up as partners or managers of the new firms, the newcomers quickly corralled lucrative concessions, while the host countries fell deeper into debt and dependence.


Whenever conflict erupted with a recalcitrant nationalist leader, the foreign company simply called on Washington to intervene. The pretext was usually saving US citizens or preventing anarchy near our borders. To justify those interventions, our diplomats told people back home the Latin Americans were incapable of responsible government.


Journalists, novelists and film producers reinforced that message. They fashioned and perpetuated the image of El Jefe, the swarthy, ruthless dictator with slick black hair, scarcely literate, broken English accent, dark sunglasses and sadistic personality, who ruled by fiat over a corrupt banana republic. Yet even as they propagated that image, our bankers and politicians kept peddling unsound loans at usurious rates to those very dictators. Critical details of how those dictators rose to power and terrorized their people with Washington's help, or how their regimes provided a friendly business climate for North American firms, remained hidden deep in diplomatic correspondences.


As US-owned plantations spread rapidly into Mexico, Cuba, Puerto Rico, the Dominican Republic, Honduras and Guatemala, millions of peasants were forced from their lands. Some were even displaced from their native countries when some of these same firms initiated cross-border labor recruitment efforts to meet their shifting labor needs of their far-flung subsidiaries. At first, the migratory labor stream flowed largely between the subject countries. West Indians, for instance, were recruited to build the Panama Canal, Haitians to cut sugar in the Dominican Republic, Puerto Ricans for the cane fields of Hawaii. But beginning with World War II, which shut down the supply of European labor, North American industrialists initiated massive contracting of Latin Americans for the domestic labor front. Thus began a migration process whose long-term results would transform twentieth century America.


And then I try to go through country to country, in the Caribbean rim, showing exactly what were the firms that went down there, how they recruited their workers, where they took them from, and how the different Latino communities began to develop throughout, starting in the early twentieth century, but especially after World War II, because really the mushrooming Latino presence in the country, in terms of qualitative numbers, occurred — has occurred since World War II.


AMY GOODMAN:
Who was Juan Seguin?
JUAN GONZALEZ:
Well, Juan Seguin was a rich landowner in south Texas, actually around the San Antonio area. His family had been in the south Texas area since the 1700s, and a very prominent family in San Antonio, and actually Seguin was a federalist at the time. This was when Texas was still part of Mexico. And he actually fought with Davy Crockett and Sam Houston and all of the other Anglo Texans who had settled in Texas, in the Texas war of independence against General Santana, who was then the leader of the Mexican government, because as a federalist, as opposed to a centralist, he wanted to have more autonomy for Texas. And actually, Seguin escaped the massacre at the Alamo because he was sent out with a message to Sam Houston and so therefore was not killed when General Santana's troops surrounded and executed all of the — most of the Americans who fought at the Alamo.
He then later became a mayor of San Antonio. He was elected a senator of the Texas Republic, but within a few years he realized that the Anglos with whom he had fought for greater autonomy and independence for Texas did not care about any of the Mexicans who were living on the land, and so he was eventually chased, in 1842, he was chased at gunpoint by illegal squatters, Anglo squatters who had come into Texas. His land was taken from him. He was chased from San Antonio, even though he was the mayor at the time, and had to flee to Mexico to survive. Juan Seguin became the last Mexican mayor of San Antonio until Henry Cisneros was elected, I think it was 150 years later, in 1982, the mayor of San Antonio.


And Seguin is sort of a — I sort of use Seguin as a sort of a symbol of the patrimony of Latinos in politics in the United States, that is a somewhat different patrimony from the one that we are accustomed to thinking of in terms of the founding fathers, because he represents a continued presence of Latinos in some sections of the United States long before those sections became American territory, and points to why, for instance, when you go throughout south Texas — and I always talk, whenever I speak, I always recommend anyone who wants to get a fuller sense of the United States of America needs to go to south Texas, because south Texas, once you get below San Antonio and you head down into towns like Corpus Christi and Brownsville and McAllen and Eagle Pass and the whole border area of south Texas, it's a territory of the United States, a huge territory, larger than either the states of Connecticut and New Jersey combined, that has always been 80 to 90 percent Mexican, has always spoken Spanish, and has remained virtually unchanged except for its economic development, but its population has remained virtually unchanged since before it came into the United States.


AMY GOODMAN:
And how do you see that playing into national politics today? We have a candidate for president, George W. Bush, who is the governor of Texas, who is continually touted as a Republican who has large Latino support in his state.
JUAN GONZALEZ:
Yeah, I think that — well, see, the problem is no politician in Texas can get very far without attempting to build Latino support. I mean, you've got the reality that 25 percent of Texas's population is Latino. And, as I said, the entire southern half of the state, once you get below San Antonio, is overwhelmingly Latino. So you find many politicians. It used to be Democrats. Lyndon Johnson, Lloyd Bentsen, all of them had huge following among Mexican Americans because of the old Jim Wells machine, the Democratic Party machine in south Texas.
But increasingly, the modern Republicans of Texas have realized that you cannot really succeed in Texas for long as a politician, especially statewide, unless you make incursions into the Latino vote. That's something that is increasingly seen now in California and, of course, Texas and California being the big states with the largest Latino population, both over 25 to 30 percent, the reality is that this is — they are the future of the rest of the country. And so, Bush just saw it sooner than a lot of other Republican politicians, and so he has made a concerted effort to try to reach out to the Latino community. But so many of his policies, of course, run contrary to the interests of that community, that I think in the long term that he's not really looking to get a majority vote, he's just looking to get a substantial minority vote.


AMY GOODMAN:
Juan, as we just have a few minutes, and then you're headed to San Francisco on Monday, and you'll be in San Antonio on Tuesday, Houston on Wednesday, we'll be talking to you in these different places. Of course, the Super Tuesday primary Tuesday — California, New York and other states — and the following Tuesday, March 14th, in Texas and Florida. You also weave into this story your own family and the examples of that as Latinos in the United States. Of course, you're Puerto Rican.
JUAN GONZALEZ:
Yeah. Well, I use — I have several chapters on different nationalities. In every chapter I sort of single in on one particular family or group of individuals to sort of tell the migration story through the experiences with those individuals, and in the Puerto Rican section, I figured, hey, I may as well use my own family, because it is sort of a paradigm for what — for what happened in the Latino — in the Puerto Rican migration experience, because my parents came here right after World War II, when the largest group of Puerto Ricans came. So I attempt to tell the story of the Puerto Rican migration through that of my own family, because what I try to do is show how each group built its own communities, its own institutions, what cities the migrants went to, what hostility they encountered, how they overcame it, and so I attempt to do that in terms of Puerto Ricans in New York City.
AMY GOODMAN:
You talk about Cubans, Puerto Ricans, the largest groups that came into the United States. Now, of course, Puerto Rico is part of the United States, but did you see — does your family see, when they come to the mainland, as coming to another country?
JUAN GONZALEZ:
Well, that's the interesting part about the Puerto Rican experience, and that's why I call it "citizens, yet foreigners," because the reality is that Puerto Ricans are at once citizens of the United States and yet foreigners to the United States in that they do come from a different country. And so it is — that's the amazing dual personality, dual reality, that Puerto Ricans have. And so I try to explain a little bit of that. Most Americans look at Puerto Ricans as foreigners, even though Puerto Ricans have been trained in school to see themselves as American citizens.
AMY GOODMAN:
Last comment on your investigation of Latinos in America, your book Harvest of Empire, what surprised you most or what you learned in investigating for this book.
JUAN GONZALEZ:
I think what surprised me most was the consistency of the basic problem throughout all of the different Latino nations in terms of how people came here. And I was a lot more surprised, as I delved deeper and deeper into the research, at how many Americans, especially businessmen, had traveled to Latin America in the nineteenth century, established huge fortunes, and in essence controlled some of those countries far more in terms of numbers than I had ever imagined. For instance, there were thousands of people, of Americans, living in Nicaragua in the 1850s during the reign of William Walker as the president of Nicaragua, and they went there and took over the whole country.
AMY GOODMAN:
Well, we will continue this conversation as we weave it through election year 2000. Juan's book is Harvest of Empire: A History of Latinos in America. It's published by Viking. And again, he will be in San Francisco on Monday, in Texas on Tuesday and Wednesday, and we'll be talking to him there.
JUAN GONZALEZ:
And Los Angeles next Friday, right?
AMY GOODMAN:
Los Angeles on Thursday and Friday?
JUAN GONZALEZ:
I'm sorry, Thursday and Friday, right.
AMY GOODMAN:
And we'll have on our website where Juan will be, and that's www.democracynow.org or pacifica.org.