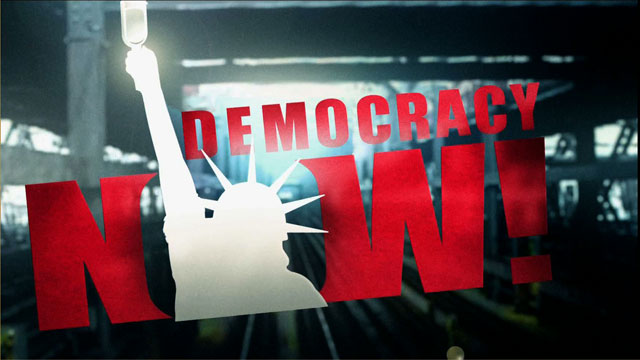 Media Options
Thousands of protesters gathered yesterday in Washington, D.C. at the Justice Department to demand that the federal government prosecute the four white New York police officers who killed Amadou Diallo last year in a hail of forty-one bullets. Harlem Representative Charlie Rangel and the Reverend Al Sharpton met with Assistant Attorney General Eric Holder, who told them that he is looking into whether the department will bring civil rights charges against the officers. [includes rush transcript]
Meanwhile, the Los Angeles Times reports today that Immigration and Naturalization Service agents working with Los Angeles Police Department detectives explicitly recommended deporting suspected gang members against whom criminal cases could not be made, according to federal documents. According to the report, dissident INS agents say the heavy reliance on deportations led to numerous abuses of immigrants' civil rights, as well as to violations of a twenty-one-year-old city policy that bars LAPD officers from initiating a police action to determine whether people are legally in the United States.
This comes in the thick of a scandal that has spread from the department's Rampart anti-gang division to the department as a whole. Civil rights activists are meeting today with Justice Department officials in Los Angeles to demand that the federal government step in to prosecute officers in the killing of Margaret Laverne Mitchell, a fifty-four-year-old homeless grandmother who was killed on May 20th, 1999, by an LAPD officer.
Tape:
Protesters at yesterday's rally at the Justice Department.
Guest:
Earl Ofari Hutchinson, from the National Alliance for Action.
---
Transcript
This is a rush transcript. Copy may not be in its final form.
AMY GOODMAN: But there are very serious issues that we have to deal with, and it's important I think that this is also taking placing in an election year, because it forces elected officials to be accountable to people in a way that they are usually not. I mean, you not only have politicians who want to be president, people like Bill Bradley who is not in office right now, but you have politicians who are in office and don't just make promises but can do something now, like Vice President Al Gore.


Well, today we're going to look — continue to look at the Amadou Diallo case. But it is not just a case that is causing furor in New York. Thousands of people went down to Washington yesterday and demanded of Eric Holder, number two man in the Justice Department, that federal charges be brought against the four police officers.

Now we understand that today, a group of people are going to be challenging the Justice Department, as well, but this time in Los Angeles. And we're joined right now by Earl Ofari Hutchison, who is the director of National Alliance for Positive Action, who is pressing for prosecution by the Justice Department not only in the Amadou Diallo shooting but also in another case in Los Angeles, the Margaret Laverne Mitchell case.

We welcome you to Democracy Now!, Earl Ofari Hutchison.


EARL OFARI HUTCHISON:
Well, it's always a pleasure, Amy and Juan.
JUAN GONZALEZ:
Well, tell us about the Margaret Laverne Mitchell case and why you felt it necessary now to go to the Justice Department.
EARL OFARI HUTCHISON:
Well, actually, this is our third meeting with the Justice Department in this case. The Margaret Laverne Mitchell shooting by an LAPD officer occurred last May, so it's now almost eight, nine months old. Essentially she was a middle-aged, homeless, emotionally disturbed African American woman that lived on the streets in Los Angeles, central section of LA, and the altercation in which she lost her life occurred over a shopping cart. Apparently the LAPD got it in their mind, following the New York model, that they were going to do a quality control number in the city, and that meant that pandering, loitering, hanging around on corners, and even pushing shopping carts down the street, which literally thousands of people do, that they were going to put a stop to that.
So they accosted her, and the altercation occurred, and the officer shot her. He claimed at the time that she lunged at him with a screwdriver. Well, there were witnesses that came forth, independent — they had no axes to grind whatsoever — and essentially they disputed the police version. They said they never saw a screwdriver, they never saw this little, frail, 104-pound woman lunge at these two officers. So essentially, this went on. There were a number of demonstrations, there were a number of protests, candlelight vigils, walks, marches, protesting the shooting, and other shootings in the city. She wasn't the only one. But as a result of that, an interesting thing happened. We began meeting with the Justice Department, because they responded right away and said that they were going to essentially conduct their usual probe and investigation and so forth, although they made it clear it was going to take many, many months.


Now, in the meantime, we also went to the Police Commission, which supposedly is the civilian oversight agency over the operations and policies and procedures of the police department, LAPD. Now the Police Commission, never in the history of this Police Commission, going back fifty years, never had they ruled or overruled a chief when he has ruled that a shooting is in policy. And almost always, in 99 percent of the cases, the police chief always rules that any shooting, no matter what the circumstance, no matter how outrageous, that they're always in policy. Well, what happened as a result of community pressure, result of the meetings, and result of just keeping the screws on and keeping the heat on, and also bringing those witnesses forth, the Inspector General on the Police Commission finally showed some guts for a change, overruled Police Chief Parks, and said the shooting was out of policy. In other words, it was murder. So, what happened is that has given us even more ammunition.


Now, that happened about a month ago. That's given us more ammunition to go back to the Justice Department once again to essentially say, OK, you've got this, the coroner has ruled the shooting of Margaret Laverne Mitchell a homicide, officially, you've got the Police Commission and the Inspector General's report ruling it out of policy, we know that the LA County District Attorney Gil Garcetti has already made it clear he's not going to do anything, he's not going to prosecute the officer involved in the shooting, so really the ball is in your court. What are you going to do about it? You made us a lot of promises eight months ago that you were going to take this case all the way, and if there were in fact clear violations there, essentially you were going to press a civil rights case against this officer. So, now it's time to show and tell.


JUAN GONZALEZ:
Well, Earl, you're also raising the Amadou Diallo case. How closely was the Diallo case watched on Court TV or followed by people in the Los Angeles area?
EARL OFARI HUTCHISON:
You know, Juan, I have to be honest with you. My sense — and again, this is not scientific, it's just impressions and anecdotal and just talking with other people — not very well watched, not very well followed. There were a few people, the kind of veteran trial watchers and certainly some political activists that paid attention to it.
You know, even myself, I have to confess, you know, I was in and out with it. But the sense I got was toward the end, just talking with people, that — the feedback I got and from my sense at the end following the trial — that the prosecutor essentially was dumping the case and that the judge, if there was any doubt about it, put the nail in the coffin with this ridiculous four-hour instruction, which practically commanded the jurors, even if they had an independent thought on that jury, practically commanded them to acquit the officers. So I knew that at that point in time, the fix was in, the deal was in, that the four officers were going to walk. And I think that was the sense from people that were following it toward the end.


AMY GOODMAN:
So you're going to be holding a news conference today in front of the Federal Building in downtown Los Angeles?
EARL OFARI HUTCHISON:
Yes.
AMY GOODMAN:
And will you be going inside?
EARL OFARI HUTCHISON:
Oh, yes. As a matter of fact, we're going to have a very extensive meeting, and we are told that the US attorney, Alejandro Mayorkas, in this area will present us at that time with a bill of goods. By that, I mean essentially what progress, if any, the FBI has made. He assigned seven officers to the investigation. What they found, what the determination is, and apparently there's going to be another US assistant attorney there that's been monitoring the case, and essentially if there is a prosecution, she would have to make the recommendation based on testimony from the witnesses and the evidence and whatever the FBI has gathered as a result of their probe.
AMY GOODMAN:
And, Earl Ofari Hutchison, before we leave you, the latest in the Ramparts scandal. Going to the web and checking for us, the Los Angeles Times, we're looking at the case, the continued investigation of the INS, the INS and the relationship with the Los Angeles Police Department, that when the LAPD couldn't come up with cases against gang members, what they did instead was deal with the INS and get INS agents to arrest them and have them deported.
EARL OFARI HUTCHISON:
And, by the way, that's key — that was the result of some testimony from officers, Perez and some of the others, but this has been going on for quite a while. The LAPD denies it. The district attorney denies there's any collusion there. But I have to tell you, this has been something that has been documented going back four, five, six — or at least alleged going back five or six years. There were other divisions, the 77th Street station, which is located in an area with a heavily Latino and particularly immigrant population, also the Newton Street station, the same thing, heavily Latino immigrant population, and essentially complaints have been lodged over the years about this cozy sweetheart relationship between the LAPD and the Immigration and Naturalization Service. So, yes, it came out with Ramparts, but I have to tell you, this is something that's been ongoing, and these charges have been made repeatedly in the past, and, as you can probably guess, they've also been repeatedly ignored in the past.
AMY GOODMAN:
Do you feel that there is a sea change going on right now in terms of dealing with police brutality, not only in Los Angeles, but around the country? Or do you think that this is going to be a wave that's going to be put out?
EARL OFARI HUTCHISON:
Well, I'd like to say, and like to think, anyway, that there is a sea change, but let me just say in L.A., I think here's the problem, and probably it's the same in other cities, too. Remember, it's a two-tiered system. You have the activists, you have the politically and socially conscious people who've been aware of these problems for, you know, eons of time, and that are in the streets, that are doing things with various activities, certainly to highlight the problem and dramatize the problem and keep the pressure on.
The problem that's coming in is that you've got these elected officials, they're literally near paralysis. They won't do anything, they won't say anything, except go to the barricades and go to the wall defending the police. Even in LA, for example, the City Council, I mean, they've been pounding on the City Council, they've been pounding on the Police Commission. Do something. Say something. They've been pounding on the LA County Board of Supervisors. Speak out. This is the time to do it. There's a wedge, there's an opening.


What has happened here, even as late as two days ago, after Bernard Parks released his Board of Inquiry report, which was a pretty scathing indictment of his own department, even then, by an eight-to-three vote, the LA City Council still refused to adhere to a request that has been on the board for many, many weeks now, to have an independent civilian monitoring agency or commission come in to see that these recommendations for reform and change are implemented. If not, it's just another report, like, you know, dozens of reports that will be out there, get a little publicity for a while, and then be swept into the dust bin. So, the problem is these do-nothing, moribund, near-paralysis elected officials that are scared to death and gutless to take a position, you know, about police misconduct and abuse, and until you can shake them, until the voters really wake up and the general public not only moves from disgust, passive disgust, to active outrage, then you're not going to have any change.


AMY GOODMAN:
Well, Earl Ofari Hutchison, we want to thank you very much for being with us, director of the National Alliance for Positive Action, will be outside the Federal Building in downtown Los Angeles today, as well as inside meeting with Justice Department officials over the Diallo killing, as well as the case of Margaret Laverne Mitchell. We thank you for being with us.