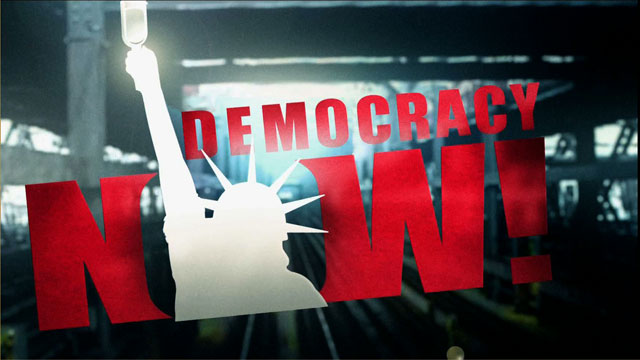 Media Options
Seize the Day is a group of grassroots activists in Britain that combines protest and music. They are working against biotechnology companies such as Monsanto, who produce genetically engineered food. Members of the band have been arrested for their protest actions, which have included occupying Monsanto headquarters, pulling genetically modified foods from supermarket shelves, and pulling up genetically engineered crops from the field. [includes rush transcript]
Guests:
Shannon Smy and Theo Simon, lead vocalists for the UK-based grassroots band Seize the Day. They performed at the Ellipse in Washington this weekend during the first day of protests against the World Bank and IMF.
Related links:
---
Transcript
This is a rush transcript. Copy may not be in its final form.
AMY GOODMAN:
Seize the Day, they're the group that sang yesterday at the first day of the protests of the IMF and the World Bank, and we're joined by the group right now, Shannon Smy and Theo Simon. Well, if we were in Britain right now, we could be sued for playing that song on a radio station. "Food and Health and Hope," that's the theme of what? Monsanto?
THEO SIMON:
That's Monsanto's corporate slogan: "Food and Health and Hope." They've actually patented that slogan. We made that song and released it on the internet on April the 1st last year in the hopes that they'd sue us, so that we could take it to court, and we could show that everything we say in that song is true about that corporation's history.
AMY GOODMAN:
Well, first of all, I think that you should — everyone should get a copy of that song and send it to The New Yorker for the profile they did on the CEO of Monsanto last week. I think what you did in the song should have been included instead. Seize the Day, a grassroots activist band whose music is inspired by the action they and others are taking to change the world. In fact, they are serious activists in Britain. Can you tell us, Shannon Smy, what you have done in Britain about biotechnology?
SHANNON SMY:
Well, obviously, I started by informing myself of the issues, and the more I found out, the more concerned I became, and it got to the point when no one could convince me of the safety of these foods, and I realized that the PR companies for the biotech giants were basically telling us or telling them that, whatever they did, they shouldn't talk about the issues of health or the environment with any of us, because they would lose. We would all know that what they were saying wasn't true. So, myself and four others went to the roof of a PR company in Britain, Monsanto's PR company, and took our clothes off and held up a banner saying, "End the Genetics Cover Up," which got lots of media coverage.

And then I got involved in a labelling campaign started by Greenpeace and Friends of the Earth, and we went into supermarkets around the country and put on our own stickers saying this food contains genetically modified food, because we can't get labelling. We have now, but your country still doesn't have it.
AMY GOODMAN:
Meaning that the food would say it's genetically modified.
SHANNON SMY:
Yeah, it does in Europe now, but it still doesn't in America. And I was arrested for doing that. And after a six-month legal battle, I actually won. They had arrested me for intent to cause anxiety or alarm, and I —
AMY GOODMAN:
Intent to cause anxiety?
SHANNON SMY:
Yeah. Well, I think, obviously, that genetically modified foods, the whole issue around them, is making me very anxious.
AMY GOODMAN:
Did you also take food off the shelf from grocery stores?
SHANNON SMY:
Yes, and a little bit later along the line another small group of us decided that we were going to go in and get the genetically modified foods off the shelves, accountably. We told the supermarket we were doing it. We handed in a list of everything we were taking, and we took it down to the police station and said, "This food is contaminated. We think it's bad for our health. We think it's dangerous. We think it's dangerous for the environment. Please do something about it." They refused to take it. And then we eventually took it to the Ministry of Agriculture, Fisheries and Foods in London, and they eventually took it, although they didn't want to. And two days later, the supermarket that we'd taken it out of went GE-free in their own brand.
AMY GOODMAN:
Meaning genetically engineered food free.
SHANNON SMY:
Yeah. They took it out of their own brand two days after that action. They didn't want everyone going into their supermarkets and taking their foods off the shelf, I guess.
AMY GOODMAN:
Shannon Smy, she's one of the group, Seize the Day. Again, they played yesterday on the Ellipse in Washington, D.C. Theo Simon, you're the other part of this group, this singing duo and your back up band. Can you talk about your work in Britain?
THEO SIMON:
Yeah, I got involved the same time as Shannon, and we — there was about sixty activists who met together in Britain and decided about three years ago that we needed to do something to get these issues thought about. And at the time, it seemed like an uphill struggle, and we knew we were going to have to work hard.
We first occupied Monsanto's headquarters in Britain for a day to try and highlight what was going on. And then we realized that we actually had to deal with the plant, with the crops, which were being planted in Britain. In Britain, they don't have commercial planting of genetically engineered crops like you do here, but they have what they call test sites, and those sites are getting bigger and bigger each year, until one day they're going to say it's OK to plant commercially. So, in order to prevent those sites spreading their pollen, which is genetically mutated, spreading that pollen to other plants and therefore causing genetic pollution of all the plants in Britain, we decided we had to pull up those crops.


So what we did was, in one community where genetically engineered maize had been planted next to an organic farm where sweet corn was being grown, that farmer was going to lose his livelihood, because his crop would no longer be classified as organic if it had GM pollen in it. So the community tried to take it to court. The farmer went to court. He tried to stop it being planted. We couldn't stop it. So in the end, the people of that community went out, and we pulled up that crop. And about fifty people went. We pulled up the entire crop, and then twelve of us were arrested.


Eventually, when it came to trial in Britain, the day of the trial, there was such support for the people who pulled up that crop that the Prosecution Service announced that it wouldn't be in the public interest to carry on with the trial, because they knew that if it went before a jury in Britain at that time, they would have lost, and people would have been outraged to hear more about GM crops. So they effectively have denied us the opportunity so far to put this technology on trial.


AMY GOODMAN:
Now, we weren't going to play the whole song "Food and Health and Hope," but then we couldn't resist, and we weren't going to play a second song, but I just have to hear it, so let's go to "Transgenic Honey." This is Seize the Day.
[Seize the Day's "Transgenic Honey"]


AMY GOODMAN:
"Transgenic Honey" by Seize the Day. We're joined by two of the singers, Shannon Smy and Theo Simon from Britain. They were at the IMF/World Bank rally — the anti-International Monetary Fund and -World Bank rally yesterday on the Ellipse. Theo Simon, what's the connection?
THEO SIMON:
The connection is, first of all, the globalization of the market, of capital now is also the globalization of corporate control of the food supply. And the role the IMF plays in that is as an active promoter of that. They are currently setting up a network of so-called independent research centers across the world, which they say are going to help the poor. And those research centers are dedicated to and funded for the purpose of developing biotechnology and persuading and cajoling farmers in the third world, under things like structural re-adjustment programs, to embrace biotech seeds, to take on genetically engineered food and crops.
Now, what that means is that those farmers then become under the control of the corporations who patent and control those seeds and control all the inputs. It's part of the whole process of eradicating independent agriculture on this planet here in America, over in India, in Britain and across the world. And it's part of that same nexus of support for the corporations, which is coming from groups like the IMF, coming from the US government, who currently are planning to spend $5 billion on promoting biotech in the world.


And it's interesting, you know, the IMF claim that they're helping the world's poor. Between 1993 and 1995, the US Treasury estimates that they channelled $5 billion to US firms, and that included Cargill, the big seed and food corporation who actually had made $56 billion in '96. So they didn't need aid. They weren't a poor company. The IMF are here to encourage and support the globalization of corporate power.


AMY GOODMAN:
Shannon Smy, with you taking off genetically engineered food from the shelves, what's your answer to those who say this has been going on for thousands of years, kind of cross-breeding, the making of products like yogurt? And explain why they say that is genetic engineering.
SHANNON SMY:
It's exactly what I thought it — that's what I was told, when I first found out about genetic engineering: this is just exactly the same as what we've been doing for thousands of years. And everything that I've found out has shown me that we have never crossed species barriers before. We're putting bits of bacteria — well, I'm not, but they are — are putting bits of bacteria from one species, and they're taking it, and they're putting it into tomatoes, and we have no idea what the consequences of those actions are going to be.
AMY GOODMAN:
We're talking to Shannon Smy and Theo Simon, Seize the Day. Is it true that you could be sued in Britain if this were played on the radio? Do you get much play?
THEO SIMON:
We don't — we've had little bits of play, but they have to edit out anything which mentions — which alleges that Monsanto's products have caused world — have caused cancer throughout the planet, not only through Agent Orange, through dioxins, through PCBs and, I have to warn American listeners and consumers, through aspartame, which is here so popular, which came from the Pentagon's chemical warfare program and has been shown to cause tumors and so on. So there's any number of things. But if you're listening, Monsanto, we would love to be sued. We really would.
SHANNON SMY:
I personally wouldn't. It's his mission, not mine.
AMY GOODMAN:
Well, if people want to get a hold of Seize the Day, "Food and Health and Hope," where can they call or go on the web?
SHANNON SMY:
They need to contact us via our website, which is www.seizetheday.org.
AMY GOODMAN:
That's www.seizetheday.org. And if you need more information?
SHANNON SMY:
If you want to find out more about this campaign, then www.purefood.org is a really good place to start.
AMY GOODMAN:
Thank you very much, Shannon Smy and Theo Simon, as we go out with your headliner, "Food and Health and Hope." And we'll be back tomorrow with more sounds of the streets of the Mobilization for Global Justice.