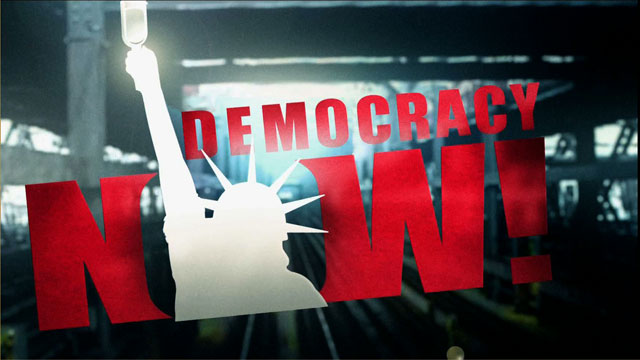 Media Options
Thousands of protesters paralyzed the streets of Washington, D.C. over the weekend in an effort to shut down the meetings of the International Monetary Fund (IMF) and World Bank. The IMF convened yesterday, with protesters attempting to block the finance ministers and other delegates from entering. People in the streets were confronted by police in riot gear, and some 600 people were arrested. The World Bank is scheduled to meet today, with more protests and civil disobedience arrests expected. [includes rush transcript]
The IMF admitted that there is a problem in their approach, acknowledging a widespread concern that "the benefits the world economy is deriving from freer trade, and more integrated and deeper international capital markets are not reaching everyone," particularly developing nations. However, the world financial body offered no solutions, other than some reforms in the IMF's internal operations. These changes include more private sector involvement in international bailouts, a crackdown on financial misreporting of nations such as Russia, and more disclosure about the financial state of member countries.
The Federal Office of Personnel Management said today that only essential personnel should report to work inside the protest zone. Many federal offices, like the Treasury Department, are in that area.
Guest:
Zack Wolfe, legal observer from the National Lawyers Guild. Reporting from the streets of Washington.
Related link:
---
Transcript
This is a rush transcript. Copy may not be in its final form.
AMY GOODMAN:
Washington has braced for another day of anti-corporate globalization protests outside the IMF and the World Bank. Before we move on with the show to bring you the events of the last few days, where thousands paralyzed Washington, D.C., we go to the streets of the nation's capital with Zack Wolfe, who is a legal observer, standing on K Street. But this is a different K Street than we're used to.
Welcome to Democracy Now! Zack Wolfe.


ZACK WOLFE:
Thank you. Actually, a correction: I am no longer standing on K Street, because I have been ordered to leave. There are some people being arrested. I explained that I work for legal counsel for them, and I asked where they were being taken, and all he would say, over and over again, was "Get away. Get away."
AMY GOODMAN:
Where are you?
ZACK WOLFE:
So they're being denied legal counsel, as well.
AMY GOODMAN:
Where are you?
ZACK WOLFE:
I'm on K Street, moving toward 17th.
AMY GOODMAN:
And can you tell us what the scene is, how many people are there, what are they calling for, how close are you to the World Bank?
ZACK WOLFE:
Well, we're a few blocks away from the World Bank now. There were probably a few hundred people marching along here. We've been marching for most of the morning, and everything was fine, and there were no police lines set up, and then suddenly a police line went up, and it was impossible for people to leave the corner. Some people on two of the corners got arrested, presumably for being behind the police line, but the police line didn't go up until they were trapped behind four police lines. Those of us who were lucky enough to be on the west side — or, excuse me, on the east side of 18th Street are being allowed to disperse.
AMY GOODMAN:
We're talking to Zack Wolfe, on a cell phone, who is in downtown Washington, D.C. on the second day of massive protests, yesterday to stop the meeting of the International Monetary Fund, today to stop the meeting of the World Bank. Zack, you've been watching these protests over the last few days, what have you observed, if you can keep talking as you're being moved?
ZACK WOLFE:
Right, well, the most troubling thing is really just the level of violence and force the police have been using. I experienced tear gas this morning, for people who were being completely peaceful. I saw folks yesterday getting yanked up off the ground, who were just sitting there. They weren't chained to anything, they weren't destroying any property, they were just sitting in the road, singing and chanting, and the police came up and grabbed them and either threw them to the ground or, if they managed to have maintained their balance, another police officer hit them with a baton until they hit the ground. Two people, at least, had to be taken away in an ambulance. One was very severe. There was blood all over the pavement. It was just the most horrible thing I had ever seen.
AMY GOODMAN:
And this was when?
ZACK WOLFE:
This was yesterday at about noon.
AMY GOODMAN:
We also understand that an AP reporter was clubbed by police, is that right?
ZACK WOLFE:
That's who I saw, right.
AMY GOODMAN:
That is a reporter.
ZACK WOLFE:
Right. The police were just indiscriminately grabbing people and hitting people. You know, there's no concern for whether or not the person is doing anything they shouldn't be. You know, here's someone who was just standing there trying to get a picture. He obviously wasn't engaging in violence, and they responded very violently against him.
AMY GOODMAN:
Have the protesters today succeeded in stopping people who were trying to get into the World Bank meeting?
ZACK WOLFE:
I'm not really sure that they were even trying to today. They didn't start as early as they did yesterday. I think, really, this whole thing is about trying to get their message across. You know, folks are carrying banners, and they're chanting slogans and trying to get people to understand that there has been no violence whatsoever here, except by the police. This has been a completely nonviolent demonstration.
AMY GOODMAN:
Zack Wolfe, I should tell our listeners, rest assured, we're going to be dealing with the issues of what brought people to Washington for this entire program. We go to the streets first, because that's what's happening now, as we speak with Zack Wolfe, a legal observer. I understand that just before these protests began this weekend, that the police raided the Convergence Center. Can you explain what that is and what they did?
ZACK WOLFE:
Well, they had the Fire Department come through first, supposedly for a fire inspection, and they didn't like — I believe the basis was they didn't like the way some of the propane was being used for cooking, so at that point they called in the police, and the police seized control of the facility altogether.

In that facility were puppets and banners and literature, including literature that was explaining the nonviolence guidelines and instructing people not to engage in violence. There were all kinds of medical supplies, which, unfortunatetly, have been really needed over the past couple of days, and those were all taken by police or seized within the building, and folks were not allowed to get — late on in the afternoon they were able to take out about half the puppets.
We went to court, filed a complaint with a US district judge and had a court hearing scheduled for yesterday morning. As soon as the D.C. government learned of this, they said that they wanted to settle with us, that they would let us in at 7:00 to get all that stuff out, so we cancelled our hearing, and then they only let us remove a few things.


AMY GOODMAN:
Zack Wolfe, we have to go. I want to thank you for being with us. We will call you back to touch base through the show to see what is happening as protesters remain in the streets. Zack Wolfe, a legal observer for the Mobilization for Social Justice, where thousands paralyzed the streets of Washington, D.C. yesterday, as well as today. Police in preparation for these protests against the World Bank and the International Monetary Fund.