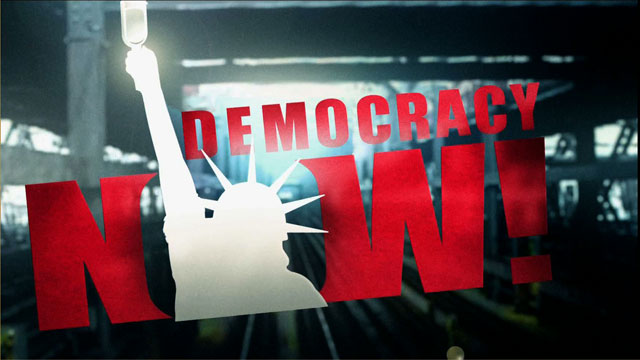 Media Options
As the corporate media and public radio and television bring us hourly reports on how the Dow is rallying, we look at the rallies outside the annual shareholders meetings at some of the country's most powerful corporations. This Wednesday there were protests outside of Chevron's annual shareholders meeting in San Ramon, California. Yesterday, pharmaceutical giant Pfeizer held its meeting in New York, and today it's Occidental Petroleum in Los Angeles. [includes rush transcript]
Guests:
Zackie Achmat, South African AIDS activist who is HIV positive. He is a former anti-apartheid activist, and a founding member of South Africa's National Coalition for Gay and Lesbian Equality (NCGLE). He was a founder and remains an executive member of the Treatment Action Campaign in South Africa.
Danny Kennedy, Director of Project Underground.
Related links:
"":http://www.durban2000march.org.cnchost.com
---
Transcript
This is a rush transcript. Copy may not be in its final form.
AMY GOODMAN: As the corporate media and pubic radio and television bring us almost hourly reports on how the Dow is rallying, we look at the rallies outside the annual shareholders' meetings at some of the country's most powerful corporations this week. On Wednesday, there were protests outside of Chevron's annual shareholder meeting in San Ramon, California. Yesterday it was the pharmaceutical giant Pfizer, with its meetings in New York. And today it's Occidental Petroleum in Los Angeles.
We're joined right now by two people involved in these protests. Zackie Achmat was outside of Pfizer Corporation annual meeting yesterday in New York. He is a South African AIDS activist who is HIV-positive himself. Welcome to Democracy Now!, Zackie.
ZACKIE ACHMAT: Hi, Amy, and sorry for yesterday, but my apologies. We were — actually I was part of the group of Act Up and International Gay and Lesbian Human Rights Commission, activists who managed to penetrate, with invitations given by sympathetic shareholders, to draw attention to the continuing profiteering by Pfizer, who produces the drug called fluconazole or its brand name Diflucan. And in South Africa, people die because they cannot afford the $12 or $70 a day — US dollars that is — to treat opportunistic infections such as Cryptococcal meningitis, and what you call the other one, systemic thrush.
And what happened, what we drew attention to over the last few months internationally with Doctors Without Borders is the fact that we could get the generic equivalent of that drug, fluconazole, for thirty-eight US cents from Thailand, and it's a good quality generic. It's just as — it's very well tolerated in the same way as the brand name it's on. And we felt that it is unfair and wrong. We don't mind Pfizer making as much profit as it wants to from Viagra, but, of course, the question is not Viagra. The question is people's lives, people with HIV and people with AIDS, and also women who suffer from serious vaginal candidiasis, in this instance.
JUAN GONZALEZ: Well, what has the impact been of the attempts by Vice President Gore to deflect criticism of him? Have the Clinton administration's attempt to — their claim to try to reduce the costs of AIDS drugs had any impact on this so far?
ZACKIE ACHMAT: Well, the most important thing is, apparently we have been removed — South Africa, that is, has been removed from the watch list of countries who undermine intellectual property rights. But, in effect, I don't believe, and those of us in the International Treatment Access Movement don't believe that the pressure from pharmaceuticals and the pressure from the US government has stopped on South Africa or any other government, such as India, Thailand, Canada, who wish to produce generic drugs to make drugs accessible, not only for HIV and AIDS, but for many of the neglected diseases, such as TB, malaria, and so on.
And so, what we would like to see in the United States, in particular — the International Confederation of Free Trade Unions, the AFL-CIO, supported at the latest worldwide conference the reduction of drug prices for HIV and AIDS, specifically, and called on governments to use compulsory licensing and parallel importing to make generics available.
AMY GOODMAN: Zackie Achmat, a South African AIDS activist, HIV-positive himself. He was in the studio with us on Wednesday, then out on the street outside the Pfizer shareholder meeting yesterday, has vowed himself not to take AIDS drugs, the latest AIDS cocktails, until all in South Africa who are poor and who need those drugs are able to have access to them, as well.
We're also joined on the telephone by Danny Kennedy, director of Project Underground, based in Berkeley, California, who was at the Chevron annual shareholders' meeting in San Ramon, California on Wednesday. What happened there, Danny Kennedy?
DANNY KENNEDY: Well, Amy, we took a busload of people down from here in the East Bay area to San Ramon, which is a funny little suburban enclave that Chevron protects itself in with tree-lined avenues and a big corporate campus, and we had a good show out of folk with guerrilla theater puppets and the kind of creative rally that you saw at the convergence in D.C. on April 16. And we were educating shareholders about their problems here in the Bay Area with pollution and dioxin contamination in the Bay, but also about their crimes around the world, particularly the human rights abuses that you've talked much about on this program in Nigeria that Chevron is responsible for.
And it was really an opening shot in a multi-year campaign that we have to demand that Chevron meet the demands of the Ijaw community in Nigeria. So it was a very good start for that, and we had an enjoyable day all around and got lots of local coverage and raised a lot of awareness in Chevron's hometown about the problems with the company and the liabilities that its shareholders face.
AMY GOODMAN: We're talking to Danny Kennedy, the activist involved with Project Underground, that looks at oil corporations around the world. It's based in Berkeley. He and a number of other people were in San Ramon, California on Wednesday, Northern California, just above Berkeley and San Francisco, as they protested at Chevron's annual shareholders' meeting.
I remember being at that meeting last year and got to ask Ken Derr a question — the CEO of Chevron — I asked this following Chevron's role in the killing of two Nigerian activists in Nigeria. They were protesting Chevron's oil spills and lack of compensation to communities. "If you would tell the Nigerian military not to shoot protesters on Chevron's sites." And he said, "Absolutely not." Did anyone get to ask a question this year?
DANNY KENNEDY: Yeah, there were several people inside, and Henry Clark of the West County Toxics Coalition, who was officially there representing shareholders and speaking to a dioxin-related resolution, also talked about the Nigerian human rights issues that you raised last year, Amy. And he got a similar sort of silence around those questions of human rights abuse and negligence by Chevron in Nigeria.
But the shareholders and the management, of course, were forced to respond to the question of dioxin contamination in the Bay. There was also resolutions around the potential drilling in the Arctic National Wildlife Refuge, which the Gwich'in peoples of Alaska are opposed to, because it's the home of their subsistence caribou herd.
And also, there was a resolution around global warming, which management had to actually respond to more vociferously, because it garnered the most of the shareholder support with, I think, 9% voting in support of it. It was basically to document the liabilities created by Chevron's contribution to global warming.
So, you know, all up there was somewhat of a shareholder revolt going on inside, and these difficult questions being raised from the floor. You know, new CEO in town now for Chevron, but same old culture of sticking your head in the sand and not talking about the particularly hard issues like the killings in Nigeria.
JUAN GONZALEZ: And, Danny Kennedy, what about the Occidental shareholders' meeting, which is occurring today. What do you expect there?
DANNY KENNEDY: Well, that's coming up, as you say, in just a couple of hours, and we're expecting an even bigger kind of revolt from the floor there. Last year, management suffered a 15% setback, which in the world of shareholder resolutions is, you know, ignominious. It's very unusual for management to tell shareholders not to support a radical resolution and then to get 15% of them actually voting for it. But that was the case with the resolution that demanded that management account for the liabilities and risks it was exposing its investors to by pursuing the Samore block in Colombia, which is the controversial concession that they want to drill on on U'wa territory, which we and many other groups and the U'wa themselves have been opposing for many years now.
And now, a year later, Occidental is still no closer to actually being able to drill on U'wa land. There's four-and-a-half thousand people arrayed against them physically, literally standing on the blockades on a road in rural Colombia to stop them from doing that. They've got a court decision against them now in the Colombian Supreme Court. They've had, you know, incredible PR backlash against them over the last year that we've organized here and adverse publicity.
And so, we believe that this time more shareholders will be concerned about managers' hotheaded pursuit of that particular deposit. And we're also demanding now, given that they've had a year to work it out, people actually start to divest from Occidental, because it's just a no-brainer. It's not a smart company, and it's not looking like it's going to improve.
AMY GOODMAN: Well, I want to thank you for being with us, Danny Kennedy, director of Project Underground in Berkeley. The website is www.moles.org. Zackie Achmat of the South Africa's Coalition for Gay and Lesbian Equality. By the way, the International AIDS Conference is taking place in Durban this summer, and I think you can go to www.Durban2000.org for more information.