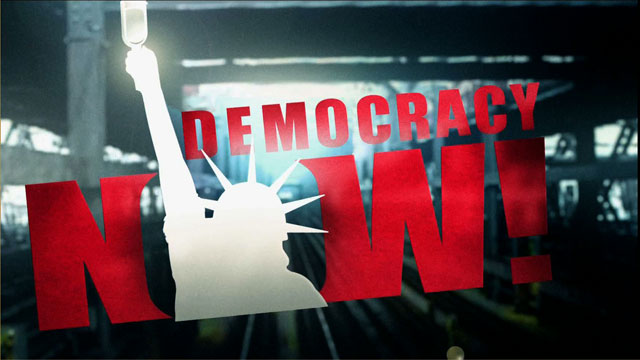 Media Options
Just this past Friday, a few days after a US federal judge ruled that Cuban shipwreck survivor Elian Gonzalez should be returned to his father in Cuba, Democracy Now! producer Maria Carrion had the opportunity to travel to the town of Cardenas, where Elian is from. She filed the following story.
Located in the province of Matanzas, about 100 miles east of Havana and just a few miles from the tourist Mecca of Varadero, Cardenas is a sleepy town, where horse drawn carts, Chinese bicycles and 1950's American cars are the main form of transportation. Its central attraction is a round domed marketplace in the town's main square, surrounded by a coffee shop, a fast food restaurant and a barbershop.
The city was founded in 1828, and much of the early population was comprised of refugees who fled Haiti following the revolution. It developed as a prosperous sugar-producing town. In 1850 it tried to liberate itself from Spanish rule, becoming the first town to fly the Cuban flag. It has since proudly called itself "the flag city."
Cardenas today lives from several processing plants and an offshore oil rig, and some of its population commutes to Varadero to work in much-coveted tourist jobs, which pay in dollars. Aside from the produce and meat markets selling food in Cuban pesos, Cardenas now also has several dollar stores, which Cubans refer to as "shoppings."
I arrived early in the morning and headed for the town square. Cardenas was in full swing — horse-drawn buggies carrying people to their jobs and hauling produce, and the market's loudspeakers announcing the day's prices. I expected to encounter a journalist or two at the very least. Instead, I seemed to be the only person from out of town, and people gazed at me with intense curiosity. My first stop was the Barberia, the town barbershop, a huge place that seemed to be a main gathering spot for the men of Cardenas. I also visited the pharmacy, above which lives Elian's family, as well as the fast-food restaurant and Elian's primary school, a freshly painted pastel-pink building a few blocks from the town square. There, I interviewed some of Elian's classmates.
Tape:
Voices From Cardenas, interviews with the residents of Elian Gonzalez's town conducted by Democracy Now! producer Maria Carrion.
---