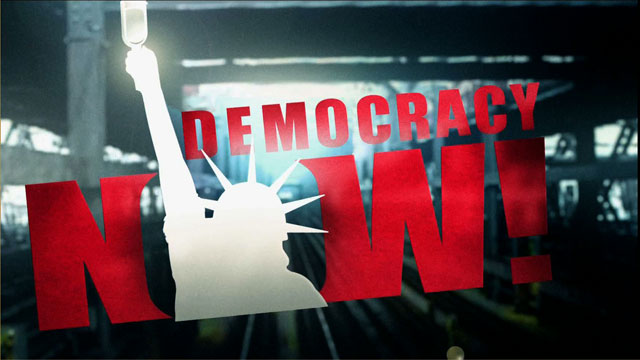 Media Options
Now, we move on to the use of DNA that could potentially violate the rights of citizens. Civil Liberties advocates are expressing concern over the government's plans to create a federal DNA database. The DNA would be taken from people suspected of violating the law, arrested but not convicted of a crime. [includes rush transcript]
New York City's mayor and police commissioner have expressed an interest in forcibly taking DNA from everyone arrested.
Guest:
Barry Steinhardt, Associate Director of the ACLU. He testified before Congress on the creation of a federal database that would use DNA from people suspected of violating the law.
---
Transcript
This is a rush transcript. Copy may not be in its final form.
JUAN GONZALEZ:
Well, Eric Freedman, in about the ten minutes that we have left, I'd like to bring in another issue, which is the whole issue of the federal government's attempt now to create a DNA database and the concerns that this has raised among some civil libertarian groups. And we're joined by Barry Steinhardt, who is the associate director of the ACLU, on this issue. First, I'd like to ask Barry Scheck, what's your sense about this basically expansion of the work that you've done, but now raising some civil liberties issues in terms of the creation of a federal DNA database?
BARRY SCHECK:
Well, we've had that for quite some time. We have it in the state of New York, and you should know that Peter Neufeld and I are commissioners of forensic science in the state of New York, and we help regulate the databanks.
I think databanks are very useful in both exonerating the innocent and identifying the guilty, but we have to be cognizant of some serious civil liberties issues that are raised by them. For example, one issue is, once you have the statute in the state that says you can collect samples from, let's say, convicted sex offenders and murderers to put into the databank, they don't — once they extract the DNA and they put the profile into the computer, right, they don't need to keep those blood samples around, because even though some statutes are limited to just identification purposes, some states' statutes are not, and even if it's — they have a statute, someday a legislator may say, "You know, let's go find a violence gene, or let's go find the rape gene or whatever it is, and let's go get those wonderful samples we have lying around the lab." So within a period of time, those samples should be destroyed. So that's one issue.


A second issue is taking DNA from everybody at arrest. At this point, for practical purposes, even the FBI and others are opposed to that, and I also would add that I think that there's some good civil liberties reasons to be opposed to taking it from everybody at arrest, as opposed to people that are convicted of felonies or serious felonies.


And finally, I think the big danger really lies in the fact that we have a number of state laboratories and local laboratories that are collecting samples from individuals for, quote, "elimination purposes," you know, like elimination fingerprints. If you're at a crime scene, they'll collect that. You collect elimination DNA samples, but, say, even in a rape case, you'll take it from the husband to make sure that the semen isn't, you know, his from prior consensual sex. What do they do with those elimination samples?


Unfortunately, even though we have federal law that prevent — make them — you know, can't use those in the federal databank, states have been collecting their own, quote, "usual suspect databanks," and we need to stop that and restrict it. And those are growing every day and, I think, present a civil liberties threat.


JUAN GONZALEZ:
Barry Steinhardt from the ACLU, welcome to Democracy Now! Could you respond to Barry Scheck? Are those your primary concerns? Do you have others about the federal DNA database?
BARRY STEINHARDT:
Well, no. Barry has identified most of our primary concerns. We do disagree with Barry on the underlying constitutionality of collecting for samples people who merely belong to a class, but that issue has largely, to our regret, been settled by the courts. So I think Barry has identified really the current issues.

I testified a few weeks ago before the House Judiciary Committee, actually along with the director of the Innocence Project, and I urged that if they are going to provide further funding for processing of DNA samples, that, in fact, they condition that on several things: first, that the samples be destroyed after a reasonable period of time and after the identification information is entered into the database; secondly, that they condition it on the states agreeing to strip away those procedural bars that prevent persons who have been convicted from introducing new DNA evidence and having new DNA tests or having DNA tests done; and third, that they require the states to adopt the kinds of limitations on the use of those samples that now don't exist. New York is rare among the states, in fact, in having strict statutory limitations on what can be done with those DNA samples. There are states like Massachusetts, for example, which say that they can be used for, quote, "any humanitarian purpose" or for any purpose which would qualify them for federal funding.
That's really — that is — although it's one end of the extreme, the general rule is simply fairly open-ended allowance for any law enforcement purpose, and we do need to be worried about the possibility that they'll be used for other purposes and that new tests will be performed. You know, the proponents of DNA data banking now are resisting the notion of destroying the samples, and what they are saying is, well, the tests that we do now, yes, we agree they are perfectly adequate and scientifically balanced, and the tests are done properly for the purpose of identification, but we may have some future use for these samples or a new test may come along. In fact, we know the Justice Department has begun to let contracts out to researchers looking for other possible uses. For example, identification by race for those samples, and we're not very far from the point in which there will be calls for looking for the violence gene or looking for other behavioral characteristics in those DNA samples.


AMY GOODMAN:
I want to thank you all for being with us. A very important discussion today, and by the way, I want to say in these next few weeks we're going to be taking up the case of Shaka Sankofa, who is on death row, Gary Graham, in Texas, slated to die on June 22nd. There will be a big news conference in Houston on Monday dealing with that case. People like Danny Glover and Hurricane Carter have been working very doggedly on that case.
Barry Scheck has been with us, attorney and co-founder of the Innocence Project; Jim Dwyer, two-time Pulitzer Prize-winning reporter with the New York Daily News. They, together with Peter Neufeld, have written the new book, Actual Innocence: Five Days to Execution and Other Dispatches from the Wrongly Convicted. It's published by Doubleday. Also, Barry Steinhardt, associate director of the ACLU, and Eric Freedman, professor at Hofstra University, attorney for Earl Washington, Jr., and expert on the death penalty. Thank you all for being with us.