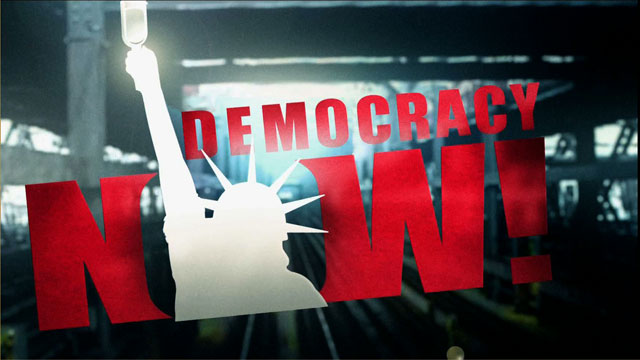 Media Options
The National Association of Broadcasters (NAB) is having their annual convention in San Francisco. You might ask how this affects your life. Well, media companies are some of the largest contributors to political campaigns. [includes rush transcript]
Whichever major party candidate becomes the next President, they will have received more than one million dollars from the industry. John McCain is the largest recipient of media company money in Congress. He received close to $7 million. Trent Lott is college classmates with the President of NAB. And NAB is one of the highest contributors to political campaigns.
Since 1993 through the middle of this year, media corporations have given $75 million in campaign contributions to candidates for federal office. Al Gore has so far taken $1.16 million with George Bush close behind at $1.07 million. The media corporations that lavish the big bucks at major candidates include Time Warner and Walt Disney Co.
But it is not just these large sums of money that connect media corporations and presidential candidates. Since 1997, media corporations have taken 118 members of congress and their senior staff on 315 trips to meet with lobbyists and CEO's to discuss legislation and policy preferences of the industry. The top three sponsors of the all-expenses paid trips were News Corporation, the National Association of Broadcasters and the National Cable Television Association. And, as if to cover all bases, the media industry also took FCC employees on 1460 all expense paid trips at a cost of over $1.5 million.
Broadcaster's power not only comes from their money but also from the fact that they determine who gets on the news.
Guest:
Chuck Lewis, with the Center for Public Integrity
---
Transcript
This is a rush transcript. Copy may not be in its final form.
AMY GOODMAN:
Well, the National Association of Broadcasters is having their annual convention in San Francisco. And you're saying, "What do I care?" Well, the next President of the United States will have received more than a million dollars from media companies.

Activists around the country are gathered to protest at the NAB meeting, because NAB is leading the charge against low-power FM radio stations, and NAB has tremendous power. Since 1993 through the middle of this year, media companies have given $75 million in campaign contributions. Among the largest corporations that lavish big bucks on the major candidates are Time Warner and Walt Disney.

And today, we're turning to Chuck Lewis, who is head of the Center for Public Integrity, who did a big study with the Columbia Journalism Review of media money and the power of the National Association of Broadcasters. Welcome to Democracy Now!
CHUCK LEWIS:
Thanks.
AMY GOODMAN:
So, tell us why this group is so significant and could well affect people's lives.
CHUCK LEWIS:
Well, they have Capitol Hill wired. Well, the most powerful special interests today in the United States — and we've been tracking these special interests, as you know, for about a decade — is the media, because not only do they give tens of millions of dollars — or as you just noted, $75 million, to be exact, just in the last three or four years, and the leading person, the leading entity is the National Association of Broadcasters — not only do they give tons of money and hire hundreds of lobbyists collectively, they control whether or not politicians will ever be seen or heard from in this country. And that's power.
And so, if you look at legislation over the years, there — very frequently nothing ever is ever passed or comes out that will hurt the media in any way, and they usually get what they want. I mean, there's no clearer or more famous or infamous example of this than the digital spectrum giveaway a few years ago, where they basically got a $70 billion government-owned, public-interest-owned access to airwaves that they could make huge sums of money from, and they got it for free. And the media didn't cover it. It was basically ignored by the national news media, which of course was going to benefit from this giveaway.


AMY GOODMAN:
You know, it's interesting, Chuck, because I was at the White House then, going to the press briefings, and I questioned Mike McCurry about this and asked about this giveaway to the corporations, that they get what's worth, well, tens of millions of — what is it? Billions of dollars?
CHUCK LEWIS:
Billions, yes.
AMY GOODMAN:
Billions of dollars for free.
CHUCK LEWIS: Right.


AMY GOODMAN: There, let's just say, was not much follow-up questioning from the representatives of the corporate media, who were getting this boondoggle.


CHUCK LEWIS:
No, exactly. And that's the same issue that we found in this. We did a five-month investigation with half-a-dozen people. We found that frequently corporations don't want to discuss what they're doing. Now, there are a lot of — for example, just a quick example, it's not just TV and broadcasters; family-owned newspapers fighting the so-called "death tax" on the states — the Copley newspaper chain and Cox Enterprises and Morris Communications and others — paid a million dollars, and they tried to make sure that that legislation, that law became history and toast. And basically what happened is, they wrote editorials to their readers saying this is a terrible law, never once revealing that they were spending a million dollars to kill it themselves. I mean, that's the kind of stuff that's going on, where they have a powerful economic interest, and they're not acknowledging it or covering it. And it's — you know it's just frustrating.
And the best example of all, and the one that we led with in the Columbia Journalism Review, is the free air time for politicians. As you know, today, politics is not covered very much. The last three months of the '98 gubernatorial race in California, one-third of one percent of all the news on the airwaves out there, only one-third of one percent was actually political news covering the race. Meanwhile, broadcasters are going to make this year nationwide $600 million from political ads. It's the third leading source of revenue for their local stations. And so, what's happening is they're not covering news, but they're making huge sums of money, unprecedented sums of money, from TV ads.


And why does this matter? Well, five media corporations and the National Association of Broadcasters spent $11 million to kill campaign finance laws, legislation that was proposed that would give free air time, mandate free air time, to cover politics. So, this is an example that affects our daily life. That means you'll never see much about the candidates in any news programs, and it means that if you're a candidate running for office, you have no choice but to spend, raise tons of money, which of course some people are not able to do for various reasons. You have to be a millionaire or be able to raise these huge sums of money, because paid media is the only way you're going to get before the voters. And, of course, the broadcasters well understand this and are, as Paul Taylor, the head of a group called the Alliance for Better Campaigns, calls it "profiteering from democracy." It's really quite, quite stunning. And all of what we're discussing hardly at all is covered by the national news media today.


AMY GOODMAN: You open your piece called "Media Money" in the Columbia Journalism Review saying how in his 1998 State of the Union address, President Clinton said, "I will formally request that the Federal Communications Commission act to provide free or reduced-cost television time for candidates." Days later, powerful broadcast corporations and their Capitol Hill allies managed to halt this historic initiative in the Senate, and people may be surprised by this, Senator John McCain of Arizona, yes, the man called campaign finance himself, the Commerce Committee chair, led the charge to legislatively block the FCC's free airtime initiative. McCain gets more money than any other senator from the telecommunications industry?


CHUCK LEWIS:
That's right, roughly $600 or $700 thousand over the years. But the rest of that story, it's really quite telling. So here's the President of the United States, the first time in US history, saying that he's going to ask the Federal Communications Commission to actually mandate, provide a system, to have free or reduced television time for candidates. Days later, it's dead as a doornail.

And we interviewed Reed Hundt, the former head of the FCC, who said that the agency and the White House got rolled — quote/unquote, "rolled like a pancake." And William Kennard, the head of the FCC, who succeeded Hundt, it was humiliated. Basically he was told, in no uncertain terms, not only by McCain and another Democrat, John Dingell, but about roughly seventeen Republicans, including the leading names in the House of Representatives, that, in essence, "You'd better back off from this proposal, or we're cutting your budget." Well, if you're the head of a regulatory agency, that is the scariest — those are the scariest words you will ever hear, ever want to hear. That's your worst nightmare. And so, they shelved the whole proposal, and that's how policy works. It doesn't — if it doesn't become part of the agenda — in the case of this agency, it doesn't enter the, quote/unquote, "fool-making process," then it doesn't happen, and the status quo continues. And that's how lobbying, of course, works.
All of these media entities spent $111 million since 1996 to do just these kinds of things. And all of them affect our daily lives. Virtually all of them are not going to be reported anywhere in your newspapers or on your commercial television stations.


AMY GOODMAN:
We're talking to Chuck Lewis, executive director of the Center for Public Integrity, longtime investigative journalist. OK, how do these media corporations win friends and influence people?
CHUCK LEWIS:
Well, some of this is just amazing. They took members of Congress in the last four years on 315 trips all over the world, and no one took more trips or was taken on more trips than Billy Tauzin, who is a chairman of the subcommittee that regulates broadcasters. Tauzin was taken — he and his staff were taken on forty trips, or one out of every eight trips that members of Congress and staff were given, trips to places like Paris, you name it. And so, anyway, that's one way they did it.
The other thing which we were quite taken aback by, we thought, just for curiosity's sake, we would check to see if the Federal Communications Commission's staff — I mean, this is the regulator that regulates this industry. We discovered that there were 1,400 trips that staffers at the Federal Communications Commission were taken on. The regulators themselves were traveling around the world on the nickel, not just broadcasters, but the entire media corporation industry. So trips are one way. Of course lobbyists is another way.


Another way is hiring former FCC people, and, you know, our study, which is called "Off The Record" and is available off of our website at publicintegrity.org, or you can get a paper copy from our offices here in Washington. We talk about the number of people who used to work at the FCC who now work for the media corporations — of course, a well-known problem in Washington, the so-called revolving door.


But everything you've ever heard about any other industry — the tobacco industry, the chemical companies, you name it — the media corporations do the precise same things. They also employ the biggest name lobby firms, law firms, on both the Democratic and Republican side. They have the brother of the Chief of Staff to President of the United States, named Podesta, podesta.com. That firm is retained by a number of the media giants. And so is Haley Barbour, the former chairman of the Republican Party. And I could go on and on. But all the big names, all the blue-chip names are all employed helping the media one way or another make billions of dollars. And sometimes it really truly is at our expense.


AMY GOODMAN:
Chuck Lewis, looking at your report, Time Warner is number one media giant, spent more than $4 million lobbying last year, then Walt Disney. You've got AT&T, Viacom, Seagrams, Comcast. I got familiar with Comcast because it was the name of the convention center for the Democratic Convention in Los Angeles. And then, of course, DreamWorks and Rupert Murdoch.

And you say that the National Association of Broadcasters is among the top three sponsors of the all-expense paid jaunts. They're meeting in San Francisco. What do you think, that — I mean, it's a joke to say that the corporate media should be looking at, right now, in San Francisco. But maybe you can introduce us to our next segment, where we're going to have media activists who are furious that NAB has led the charge against increasing competition and allowing low-power FM stations around the country. What does that have to do with campaign contributions?
CHUCK LEWIS:
Well, the head of the National Association of Broadcasters is a close personal friend and former college roommate of Senate Majority Leader Trent Lott, and —
AMY GOODMAN:
This is Eddie Fritts?
CHUCK LEWIS:
Eddie Fritts. And the NAB is extraordinarily well wired on Capitol Hill. And, you know, that is —- it is the broadcasters' trade association and is one the most powerful in the city, as I said before, not only because of the money and the lobbying, but because of the power of the message being controlled out there. So -—
AMY GOODMAN:
You also point out twenty registered lobbyists at NAB, seven of them come from the congressional staffs, FCC, Federal Trade Commission. Until recently, Mississippi — Louisiana Congressman Billy Tauzin, his daughter, Kimberley Tauzin, was one of them.
CHUCK LEWIS:
Right, worked for the NAB, right. No, exactly. I mean, so talk about an incestuous mess here between this particular industry association and the Hill, I mean it's — these guys are in up to their neck on the Hill with the broadcast industry's people. And so, the idea that these powerful broadcasters are not going to get their way on any issue, you should all — everyone should disabuse themselves of that notion. Generally speaking, it doesn't happen. There's very few examples where the broadcast industry has, you know, been assessed for some basic problem and not seen something coming and, you know, had a problem in Washington they couldn't solve.
And so, that might be the backdrop to what's going on in San Francisco on that specific issue. But the bottom line is, this an extraordinarily powerful industry, extraordinarily well connected, and has one advantage over all the thousands of other special interests: they control who gets on the airwaves. And there's no better example of raw power in this country than that for a politician.


AMY GOODMAN:
I want to thank you very much for being with us, Chuck Lewis, Executive Director of the Center for Public Integrity. It's based in Washington. Website publicintegrity.org. And phone number?
CHUCK LEWIS:
Yeah, (202) 466-1300.
AMY GOODMAN:
That's (202) 466-1300 for the stats. I want to say the corporate media should give a call. There's some remarkable stories here. I won't hold my breath. You're listening to Pacifica Radio's Democracy Now! When we come back, we're going to talk about the issue that's going to bring many out to the streets outside the National Association of Broadcasters annual conference in San Francisco starting today.