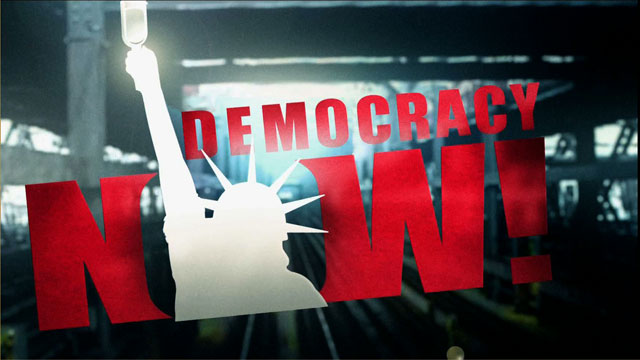 Media Options
Last night in Belgrade there was a massive rally where more than 150,000 people jammed the streets to hear opposition Presidential candidate Vojislav Kostunica deliver his final public speech before voters head to the polls this weekend. As we've said before on Democracy Now, many foreign journalists are being denied visas to cover these elections, but DN correspondent Jeremy Scahill is in the capital city Belgrade and files this report on last night's demonstration. [includes rush transcript]
Guest:
Jeremy Scahill, Democracy Now! correspondent.
---
Transcript
This is a rush transcript. Copy may not be in its final form.
AMY GOODMAN: Last night in Belgrade, Yugoslavia, a massive rally. More than 150,000 people jammed the streets to hear opposition presidential candidate, Vojislav Kostunica, deliver his final public speech before voters go to the polls on Sunday.

As we've said before on Democracy Now!, most foreign journalists are being denied visas to cover this election. But Democracy Now! correspondent, Jeremy Scahill, is in the capital city of Belgrade and files this report.


JEREMY SCAHILL: The last public rally of the Democratic Opposition of Serbia before Sunday's elections lasted just over an hour. Tens of thousands of people packed the streets of the capital city singing this song, which has become the anthem of the opposition: "Save Serbia from asylum, Kostunica." Many times throughout the night the crowd chanted, "He's finished. He's finished," referring to Slobodan Milosevic.


Vojislav Kostunica wove his way through the crowd, shaking hands and greeting his supporters before taking to the stage for what many here say was one of the biggest nights of his political career. Kostunica told the crowd he's a man of the people, one of them. He said he's not trying to change the world, but to create what he called a normal life for the people of Yugoslavia.



Perhaps the sharpest moment of the night came when Kostunica invoked the wars of the past ten years in the country. He spoke specifically of the more than 250,000 Serbs expelled from the Kriena region of Croatia in August 1995 by the US-trained and -backed Croatian military in attacks the New York Times called the single largest ethnic cleansing of the war. He continued his nationalist attacks on the Milosevic regime, saying his more than ten years in power had brought the eyes of the world on Yugoslavia for the wrong reasons.



VOJISLAV KOSTUNICA: [translated] These things brought us wars in which we were not, quote/unquote, "engaged," but in which coffins kept coming to this country. These things brought us refugees, first from west to east, and now from south to north, from Kriena to Serbia, then from Kosovo to Serbia. This regime created the border between the Serbs of Serbia and the Serbs of Bosnia on the River Drina.


These things have brought us isolation, sanctions. They brought long lines, anxiousness, insecurity. They brought uncertainty into our lives. These things brought us the capitulation to NATO after last year's bombing that was proclaimed a victory by the Milosevic regime. These things brought us to the situation today in Kosovo, where we have foreign troops and a foreign communist regime.


And now, those who enabled foreign troops to be in Kosovo say that they will be those who will chase that army from Kosovo. Those who brought them to Kosovo will not take them out. All of those things, that misery, that suffering in our lives that concentrated especially in the last ten years, they made all of Serbia and this great gathering in Belgrade finally wish for some peace and tranquility.



JEREMY SCAHILL: Over the past two days, Slobodan Milosevic has given more public speeches than many observers remember seeing for a long time. He traveled to Yugoslavia's junior republic Montenegro yesterday, where the government of Milo Djukanovic has allied itself closely with the United States and Western Europe. Milosevic told the crowd of more than 20,000 people he would resist efforts by the US and other countries to try to further divide Yugoslavia by encouraging Montenegro to break from the federation. Last night, at a rally in Belgrade, Milosevic accused the opposition here of being NATO colonizers who are provoking crime and terrorism in Yugoslavia.


At all events here in Belgrade, one thing is abundantly clear, and that is the absence of large numbers of foreign journalists. Many have been denied visas to cover the elections. But for Democracy Now! I'm Jeremy Scahill in Belgrade, Yugoslavia.