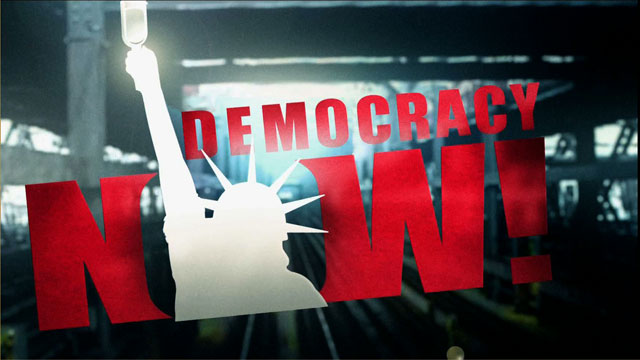 Media Options
One of the sources of inspiration to activist artists in the United States and elsewhere can be found South of theborder.
The image of the masked Zapatista, which has come to symbolize the faceless, voiceless and universal human being whostands against oppression, the brilliant colors of the Zapatista muralists and painters, and the vibrant poetry oftheir spokesperson, Subcomandante Marcos, have made their way into protests and organizing all over the world.
Today we are joined by Mexican painter and muralist Antonio Ramirez. Antonio Ramirez and his wife, Domitila Dominquez(or Domi), are the co-illustrators of the book, ??Questions and Swords: Folktales of the Zapatista Revolution, Astold by Subcomandante Marcos, published this year by Cinco Puntos Press in El Paso, TX.
At the age of 17, Antonio Ramirez left his home in Mexico City and traveled to the village of Arroyo Leon insoutheastern Mexico, where he taught children and adults to read and write. He met Domi in a nearby indigenousMazatecan community. The two began traveling where they could find work, hiring out in factories and workshops, anddoing their art at night.
In 1985, Antonio and Domi helped to found the Colectivo Callejero, "the streetwise collective." The group isdedicated to expressing through art the political thought of the left in Mexico. When NAFTA took effect on January1, 1994 and the Zapatistas rose up in armed rebellion, Collective Callejero identified themselves with the Indianrebels' struggle and have been working with the Zapatistas ever since. Domi served as an advisor to Zapatistasduring the San Andreas accords. She then illustrated 'The Story of Colors,' a folktale by Subcomandante Marcos. Asmall, Texas-based publisher, Cinco Puntos Press, obtained a $15,000 grant from the National Endowment for the Artsto translate the book into English. Less than a day after a reporter brought the grant to the attention of NEAchairman William Ivey, Ivey canceled the grant.
The book had passed through a year-long review process; but Ivey rejected the grant because he was worried that someof the money might reach the Zapatistas.
Last year, Antonio completed a mural titled "The Dream and Nightmare of Power." Measuring 135 square meters, themural pays homage to the Zapatista movement in Chipas.
Last week, the Grady Alexis Gallery in the El Taller Latino Americano, a community center in New York, opened a jointexhibition of Antonio and Domi's work.
Guest:
Antonio Ramirez, artist and activist from Guadalajara, (in Southern Mexico).
Translator:
Benji Rosen, with El Taller Latino Americano.
Related link:
??
??
??
????
??
---