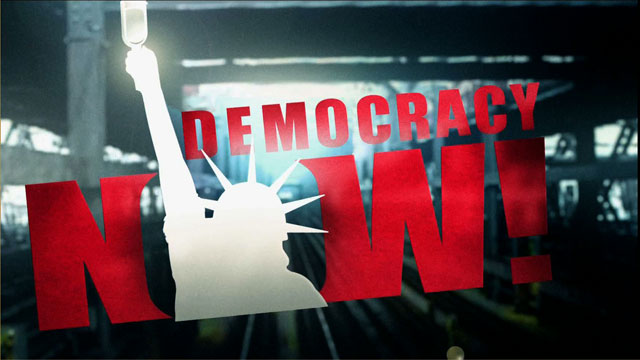 Media Options
Journalist Robert Knight was at the United Nations Plaza when the World Trade Center was hit and saw the second plane that struck the South Tower. [includes rush transcript]
Guest:
Robert Knight, award-winning journalist formerly of WBAI in New York.
---
Transcript
This is a rush transcript. Copy may not be in its final form.
AMY GOODMAN: You're listening to Democracy Now! in Exile, broadcasting blocks from what was the World Trade Center in Manhattan. At this point, it is not clear how many people were killed in the—what looks like a suicide attack yesterday: two commercial airliners commandeered and driven into—flown into the Twin Towers of the World Trade Center, a third commercial jetliner ramming into the Pentagon, and a fourth crashing in rural Pennsylvania. At this point, what is known is the number of people who regularly are in the World Trade Center. Fifty thousand people work in the complex, overall, each day; about 150,000 people go there, whether they're commuters, because it's a transportation hub of trains and subways, or people working, or tourists who come to the World Trade Centers because it is a landmark. In Washington, D.C., the Pentagon, the estimates are about 800 people killed. It is known that more than—close to 400 firemen and policemen are now missing, those who went to serve as rescue and help people at the World Trade Center.
Robert Knight was watching from—the first plane flying into the Trade Center from an area right around the United Nations, which, like all federal buildings, was evacuated yesterday. Robert Knight, an award-winning reporter, my colleague at what was WBAI.
Robert, can you talk about your experience of yesterday?
ROBERT KNIGHT: It began approximately a quarter to 9:00 p.m.—9:00 a.m. Eastern Daylight Time, when I looked out my window and, in an highly elevated location on the edge of the East River, with a line of sight panorama that extends from the United Nations, the 59th Street Bridge to the north, to the west the Empire State Building, and all the way south to where the World Trade Towers used to dominate the skyline. At about a quarter to, between a quarter to and 10 minutes before 9:00, my reverie was disturbed by a plane that flew by. It caught my attention immediately, the same way that the lack of sound of a frozen Niagara Falls might. It flew by too close. It was too low. Airliners generally fly over the Hudson River. This one was going southbound, right down the spine of Manhattan. It made me perk up and look. And it would be only a couple of minutes later that such a commercial airliner would have crashed into the northern tower of the World Trade Center. It's quite eerie, as you know, Amy. We've spent the day reporting yesterday and continue.
I also have a view of the FDR Drive that was shut down to normal traffic; only emergency police and ambulance vehicles have been shuttling up and down. All through the day, there were far too few ambulances for the numbers of people, thousands of people, who will have been in the region that was struck by this absolute disaster. There are now—there's now a new phenomenon. Yesterday I was watching the police cars and buses that were recruited into service for the extraction. Now there are olive drab vehicles. Part of the some 2,000 or more National Guard troops who have at last arrived in the city to assist with the search-and-rescue operation, along with a half dozen teams from FEMA that have come in, the so-called urban search-and-rescue squads.
And the southbound view that I'm looking at right now continues to be dominated by what seems like a diabolically eternal cloud that replaces the height of the former World Trade Towers. One of the odd things, Amy, is the lack of things. There are no flights taking place, no helicopters, no planes stacked up at LaGuardia. There are very few, if any, boats on the East River. It's the things that are odd which really, in a way—in addition to the thought of the many souls that have been lost—it's the things like the sunset. Yesterday, looking out to the west, the sky had a hazy yellow translucence that was caused, no doubt, by that cloud from the fires at World Trade that put so much particulates in the air that the colors became odd. At sunset, they became a strange purple and pink color, dark pink and purple colors, just as the skies did when Mount St. Helens filled the atmosphere with dust and volcanic particles.
AMY GOODMAN: Well, Robert, I want to thank you very much for joining us, and certainly everyone who comes out of southern Manhattan, near the World Trade Center, is covered with that, what can only be described as, well, volcanic ash.
ROBERT KNIGHT: Amy, did you know that it is so severe that the International Space Station cosmonauts looked down and saw it from 240 miles up?
AMY GOODMAN: Robert Knight, speaking to us from an area around the United Nations, as he looks out over the East River. And just as that sunset was taking place, Donald Rumsfeld and the military command were holding a news conference at the Pentagon.