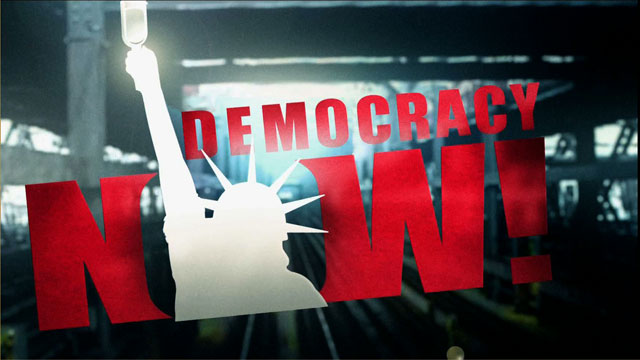 Media Options
In the immediate wake of the attacks on the World Trade Center and Pentagon, U.S. officials immediately speculated that Osama bin Laden was likely to be found responsible. A CNN anchor said, "Whenever something like this happens, you have to look to the Middle East." Amidst this climate of official and media speculation, Muslim and Arab-American organizations have immediately reported harassing and threatening emails and phone calls directed against Muslims and Arab Americans all over the country, responses similar to those seen during the Gulf War and after the Oklahoma City bombing. [includes rush transcript]
Meanwhile, the major networks, including CNN, scrambled to find prominent current and former government officials to fill the space in their nonstop coverage. The voices heard—and not heard—on the airwaves and the networks give an early indication of how these events will be framed and of the U.S. government's likely response to the attacks on the World Trade Center and the Pentagon.
Guests:
Ali Abunimah, vice president of the Arab American Action Network.
Norman Solomon, media critic.
Related links:
---
Transcript
This is a rush transcript. Copy may not be in its final form.
AMY GOODMAN: We're joined by Ali Abunimah, vice president of the Arab American Action Network. He's in Chicago, though his family is in New York.
Welcome to the program.
ALI ABUNIMAH: Thank you, Amy.
AMY GOODMAN: It's good to have you with us. Can you talk about where your family lives here in New York?
ALI ABUNIMAH: Yeah, they lived in Tribeca, a short distance from the World Trade Center towers, and I had some very worrying moments, an hour at least, yesterday morning when I saw the building collapse onto their neighborhood, not knowing where they are. I consider myself to be extremely fortunate that I know they're safe. They are in a hotel. They can't get back to their home at this point, but they're in a hotel inside the evacuated zone, and they're safe. And my thoughts now are just with the many, many thousands of people who don't know where their loved ones are, who are still hoping and praying that they won't hear the worst news. And the hardest—the hardest thing, I think, is yet to come, Amy, when all of those missing people start to have names and faces, and we're in for some very, very tough times ahead.
AMY GOODMAN: I have to ask you about the coverage that we've been seeing over the last 24 hours and what kind of reaction you're getting as vice president of the Arab American Action Network. What's coming in to you right now, as discussions of who did this, is it Osama Bin Laden, etc., are being speculated on in the media?
ALI ABUNIMAH: Well, we've had the worst possible reaction, Amy, and we've had the best possible reaction. The worst we've had is in terms of individuals calling us, emailing us, you know, really expressing the worst possible hatred against our community, against all Arabs indiscriminately. People have sent us emails calling for us to be exterminated. Someone wrote that she would not rest at night until she knew that every man, woman and child Arab had been wiped off the face of the earth. And other such messages. But we also received many, many messages from ordinary American people that we don't know, who just wrote and called to say, "We know that your community should not be scapegoated and targeted. Please don't think that all Americans think this way. And you are part of this country, and we all stand together." So that's been very encouraging, as well.
As far as the media goes, I think it's been mixed. On the one hand, you see a lot of the speculation. I mean, most of the major media seemed to have convicted Osama bin Laden, even though there's still not one piece of hard evidence. And it's still pretty incredible to me that any known group, especially a bunch of people who—a man, a guy who essentially lives in a cave, could pull off something this sophisticated. The fact is we just don't know.
But, you know, many have taken the decision—there are some examples which I think were very encouraging. I thought ABC's Peter Jennings last night was incredibly responsible all the way through. Senator Orrin Hatch has been making some very, I think, irresponsible comments, essentially, you know, has the case tried and convicted already. And Peter Jennings' questioning of Orrin Hatch was extremely tough, extremely skeptical. When ABC News showed these pictures of some Palestinians who had apparently been celebrating, I mean, which is a pretty awful thing to do, but he put that in context, and he said that, you know, "My experience of the Middle East" — this is Peter Jennings talking — "My experience of the Middle East is that many, many Arabs and Palestinians will be shocked and horrified, and many of them have close ties to the United States. They live in the United States. Their families live in the United States. So there's no reason to believe that Palestinians and Arabs, more generally, aren't suffering just as much as we were." That was very encouraging.
I felt National Public Radio, on the other hand, was more willing to engage in this kind of speculation about Osama bin Laden, without the kinds of cautions which I think people still need, that, A, there's no evidence, and B, even if it was Osama bin Laden, this doesn't implicate, you know, a billion-and-a-half people who are Muslims around the world. And we recall after the USS Cole bombing that Palestinians immediately were blamed for this. And so far there's apparently no connection whatsoever to the Palestinian-Israeli conflict, but—and yet, that kind of speculation has been all over the place.
AMY GOODMAN: We're also joined on the phone by Norman Solomon, media critic, on the West Coast, in the Bay Area.
Welcome to Democracy Now! in Exile, Norman.
NORMAN SOLOMON: Hi.
AMY GOODMAN: Your reaction, as you've been observing, nonstop, I assume, the television networks and cable coverage of the—well, what is the worst terrorist attack on U.S. soil in history?
NORMAN SOLOMON: National television, I think, has been at its best and worst. I mean, just starting with that they're not selling, they're not putting commercials on, they're not focused on anything other than something of great importance. But also, we're seeing a dissolution of any pretense, really, or at least dissolution of any reality of separation between press and state.
You know, I think Aldous Huxley put it right more than half a century ago, the biggest lies are told with silence about truth. And we've had a lot of very serious silences about truth in the last 24 hours in the mass media: obliteration of basic history, the fact that Osama bin Laden was a U.S. government guy during the 1980s in Afghanistan, as he worked with guerrilla groups to oppose the Soviet occupiers. The CIA and the U.S. government loved this guy, Osama bin Laden.
We have denial of other key historical realities. And I'll give an example. Somebody who was on ABC News a lot yesterday talking with Peter Jennings was Vincent Cannistraro, and he was identified constantly yesterday on the screen as being a part of ABC News. He had that title. And yet, the viewers had no way of knowing that Vincent Cannistraro, the same person, was in charge of the CIA's work with the Contras in Nicaragua during the early 1980s. He was a high CIA official. In 1984, he moved to the U.S. National Security Council. He became a key supervisor of the mujahideen guerrillas in Afghanistan, and one can really reasonably assume from that official role that he worked closely with the buddies of Osama bin Laden. And so, you have this surreal and Orwellian breach of basic conveyance of information, so that we essentially are being given the insight of a former colleague of a terrorist telling us how bad terrorists are.
Another extreme Orwellian descent into essential disinformation came yesterday when Colin Powell issued a statement—and I'm quoting here—Colin Powell, U.S. Secretary of State, saying, quote, "People who feel that, with the destruction of buildings, with the murder of people, they can somehow achieve a political purpose," unquote. Well, of course, he was condemning those who did commit—and I think Bush is right—did commit mass murder yesterday. But the problem is that Powell's description of those people also describes himself and describes other top U.S. government officials during, for instance, the Gulf War, that catapulted Powell to great prominence, because, after all, he was the military supervisor of that war 10 years ago. And what better description than to describe top U.S. officials as, quote, "people who feel that, with the destruction of buildings, with the murder of people, they can somehow achieve a political purpose," unquote? After all, the Pentagon itself admitted—or bragged, depending on how you look at it—that 200,000 people were killed during the several weeks of the Gulf War, not to mention at least half a million children or more who've been killed by the U.S.-led sanctions since then.
So, we're really in an Orwellian zone now, in a very severe way. And what is perhaps most important, or certainly among the most important points, is that war drums are being beat now in the mass media in the form of, quote, "retaliation," unquote. We had General Shelton just saying that there's what he called "barbaric terrorism" that occurred yesterday. I agree with that. But unfortunately, the U.S. government, with the mass media, are now laying a very thick agenda out for our own forms of barbaric terrorism, which have been used before, indiscriminately, as in the case of attacking a pharmaceutical plant in Sudan, in what we were told was retaliation and what we now know was an attack on a target that had nothing to do with anything that the U.S. government said it was involved with. So, all in all, we're in a situation where the U.S. government is laying plans to, as it has before, implement terrorism itself by attacking civilians and others under the guise of retaliation.
AMY GOODMAN: Well, Norman Solomon, I want to thank you very much for being with us, as well as Ali Abunimah, activist and critic of media coverage of the Middle East, from Chicago. If people want to see your website, Ali, where can they go?
ALI ABUNIMAH: It's www.abunimah.org, and that's A-B-U-N-I-M-A-H dot O-R-G.
AMY GOODMAN: And I want to let people know that you can write to us by mail at mail@democracynow.org. You can hear our coverage at wbix.org, as well as webactive.com. Again, we are in the evacuation zone, blocks from the World Trade Center, what was the World Trade Center in Lower Manhattan. You are listening to Democracy Now! When we return, we'll talk about blowback, the costs and consequences of American empire. Stay with us.