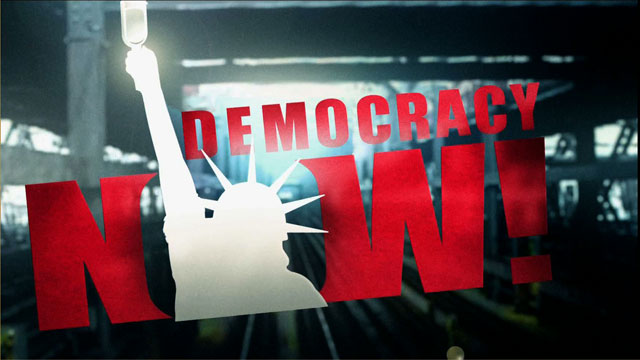 Media Options
An ugly and perhaps predictable backlash is sprouting across the nation, as federal officials point to the Middle East in their investigation of the terror attacks in New York and Washington. Meanwhile, Congress and the Bush administration continue to issue calls for vengeance and harsh military retaliation, fueling anxiety among Muslim and Arab Americans, who remember from the Persian Gulf War and the Oklahoma City bombing where such calls lead. [includes rush transcript]
Guest:
Hussein Ibish, Arab-American Anti-Discrimination Committee.
Related link:
---
Transcript
This is a rush transcript. Copy may not be in its final form.
AMY GOODMAN: The U.S.'s resolve to wreak revenge loomed large today, after hijackers armed with knives and box cutters stunned the United States by flying passenger jets into the World Trade Center and the Pentagon. President Bush spoke to several world leaders yesterday in a bid to forge an "international coalition against terror," as he put it, as rescue efforts went on through the night in the ruins of the New York City skyscraper and the Pentagon in Washington.
At least 82 bodies have been recovered from the rubble of the Twin Towers in Manhattan by early today, but Mayor Rudolph Giuliani says the eventual death toll is likely to be in the thousands. About 40,000 people had worked in the 110-story skyscrapers, icons of U.S. trade, which crumbled to the ground Tuesday after the hijackers flew a passenger airliner into each of the towers. At the Pentagon, partially demolished by a third hijacked airliner in the coordinated attacks, about 200 people are still missing in the smoking ruins.
A bipartisan resolution vowing U.S. retaliation won unanimous congressional approval in the early hours today. The House of Representatives passed the nonbinding measure by a vote of 408 to zero about 12 hours after the Senate approved it 100 to zero. Arizona Senator John McCain, veteran of the Vietnam War, said the U.S. had a message for those behind the attacks: "We're coming after you. God may have mercy on you, but we won't."
In Kabul, Arab nationalists—or rather, Arab nationals were reported to have evacuated the Afghan capital, as other residents began digging trenches in anticipation of possible U.S. retaliation. While it's not immediately clear how many Arab nationals live in Afghanistan, residents said almost all had left the capital.
As fear of an American attack mounted, the Taliban senior spokesperson called the few foreign reporters to issue a statement, which in part defended Osama bin Laden and said, "These days, Osama bin Laden's name has become very popular. And to an extent, it has become a symbol. These days, even to the common people, Osama bin Laden's name is associated with all controversial acts. Osama bin Laden does not have such capabilities. We still hope sanity prevails in the United States. We're confident that if a fair investigation is carried out by American authorities, the Taliban will not be found guilty of involvement in such cowardly acts."
The statement also said—again, this from the Taliban's senior spokesperson in Kandahar—the statement said, "Killing our leaders will not help our people any. There is no factory in Afghanistan that's worth the price of a single missile fired at us. It will simply increase the mistrust between the people in the region and the United States. Whatever else there is to say about this entreaty, one part that is indisputably true is that this landlocked, ruggedly beautiful nation is in absolute misery." Again, the statement of a Taliban senior spokesperson.
And here in the United States, as the drums of war are beaten, the attacks on Arab Americans has increased. The situation around the country has become increasingly difficult. Federal authorities say they have identified more than a dozen hijackers of Middle Eastern descent in Tuesday's attacks and gathered evidence linking them to Osama bin Laden.
In Chicago, a Molotov cocktail was tossed yesterday at an Arab-American community center. No one was injured, and there was little damage. In Huntington, New York, a 75-year-old man who was drunk tried to run over a Pakistani woman in the parking lot of a shopping mall, chased her into the store, and threatened to kill her for, quote, "destroying my country." And in a southwest suburb of Chicago, police turned back 300 marchers, some waving American flags and shouting "U.S.A.! U.S.A.!" as they tried to march on the mosque. Three demonstrators were arrested at the time. There were no injuries, and demonstrators were kept blocks from the closed Muslim worship place.
We now turn to Hussein Ibish, who is a spokesperson for the American-Arab Anti-Discrimination Committee in Washington, D.C.
Can you talk about your reaction and what is happening now to American Arabs and Muslim Americans?
HUSSEIN IBISH: We've been hearing from Arab Americans and American Muslims all over the country for the past two days, that the anxiety is mounting, the fear is mounting, because their increasing pattern of threats, of statements that people will be harmed, of attacks on individuals and institutions. Several mosques have been attacked. There was a shooting at a mosque in Texas, another attack on a mosque in Virginia. A mob tried to march on a mosque in Chicago and was restrained by police. We've had Arab-American cab drivers dragged out of their cabs and assaulted and beaten and harassed. We've had a firebombing in Chicago at an Arab-American social service center, which, you know, helps immigrant communities assimilate and find work.
We've had an extraordinary outpouring of anger and hatred directed not at the criminals, but at Americans because of their Arab ethnicity or their Muslim religious affiliation. And I think all of us who were targets, and that includes Arab Americans and American Muslims—and I should tell you that hundreds, literally, of Arab Americans worked in the World Trade Center, and we've all been targeted. I mean, I think we're all—we've all come under attack, including Arab Americans. And at a time when we're reeling, like the rest of the country, from the shock and the horror of this attack, to find ourselves also now held somehow culpable, guilt by ethnicity, by at least some of our fellow citizens, is just an additional trauma that's almost unbearable.
AMY GOODMAN: So, what are you doing about it?
HUSSEIN IBISH: Well, certainly we're monitoring the situation very closely. We're working closely with police in D.C. and around the country. And I must say, the police have responded very well. They've taken these threats very seriously. They've helped us to distinguish between those that are more serious and those that might be just people venting their rage. And they've really done their best, I think, to provide protection. And I think that their behavior has been exemplary.
Also, we are urging caution. We are asking people to be careful. We're asking them to be very aware of their circumstances, be aware of the people around them, keep a close eye, be on alert. We're asking them to use their common sense. And we're asking them to report anything suspicious or disturbing or unusual to the police and to us. And basically, that's all we can do. I mean, I think a combination of caution and common sense is often the most that many people can do to protect themselves in a dangerous situation. And we are doing that.
But we're also taking note, and we're letting everybody know that at the same time there's been a kind of outpouring of anger and hatred from some people in the United States against Arab Americans and American Muslims, there's been the opposite effect also, where a large number of people have spontaneously reached out to us and reached out to our community, let us know that they don't hold us guilty by ethnicity, who let us know that we are valued, that they know that we're in pain, they know that we are an important part of American society, and that we are not going to be blamed or victimized just because of our identity. And that outpouring of compassion has been deeply moving, deeply touching. And I, myself, experienced both a whole rash of death threats and hatred yesterday, including some callers on the air, and an outpouring of compassion from people who contacted us to let us know that—you know, that we were still valued and we were still, you know, welcome in the society. And I think that's very important.
AMY GOODMAN: You know, I first asked you, Hussein Ibish, what are you doing, but that question of what are people doing in reaching out, can you give us examples of communities, non-Arab or non-Muslim American communities that are doing that and what specifically people can do?
HUSSEIN IBISH: Yeah, sure. Well, I'll tell you that in Chicago, for example, the other ethnic groups in Chicago have banded together to hold a press conference in which they expressed their appreciation of the Arab-American community and expressed their opposition to any attacks targeting Arab Americans or any expression of hatred against Arabs or Muslims in the United States. I think that was exceptionally important, and I think it was very much appreciated. And that's a model that could be followed by people in other communities around the United States. And so, that's certainly one thing that can be done.
Also, we have received communication, and spontaneous communication, from people all over the country, people who called us, sent us email, written to us, to let us know that they don't participate in this pattern of guilt by ethnicity, who let us know that we are still valued and welcome. And I think that, you know, it's just—it can be as simple and as spontaneous as a call of—you know, which expresses hatred or hate speech, and the opposite can be done. And I certainly think that at a time when many Americans are angry and frightened and confused—and we in our community share all of those emotions—at a time like that, we can talk to our friends and neighbors and remind ourselves that in a criminal act, the guilty are the criminals, and not an ethnic group and not a religion.
It would have been absurd and incredible, and I think unthinkable in the United States, to have held Irish Americans or military veterans responsible for the acts of Timothy McVeigh, although he was an Irish American and a veteran. And it would have been unthinkable to hold Polish Americans or mathematicians responsible for the acts of Ted Kaczynski. But we, I think, need to remind ourselves that Arab Americans and Muslims also cannot be held responsible for the dastardly crime of some fanatics who happen to be of the same ethnicity and the same vague religious background.
AMY GOODMAN: We're talking to Hussein Ibish, spokesperson for the American-Arab Anti-Discrimination Committee. He's based in Washington, D.C. You mentioned at the beginning of this conversation a list of people who had been attacked, Arab Americans or American Muslims.
HUSSEIN IBISH: Yes, mm-hmm.
AMY GOODMAN: Can you go into more detail of what happened with the cab drivers, what the march was about, etc., in each of these cases?
HUSSEIN IBISH: Well, in each of these cases, many of them are still being investigated. And a lot—in a lot of cases, what we know are whatever details we have received from our people on the ground.
In the case of cab drivers, there have been different kinds of incidents. In one case that was sort of, you know, eerily reminiscent of incidents during the Gulf War, it was actually not Arab Americans, but Sikh, American Sikhs, who, you know, are from India and who wear turbans, which Arabs don't wear, but I think the Sikhs sort of fit the stereotype. And so, they've been actually, in a couple of cases, hauled out of their cabs, berated, insulted and struck, before the incident has ceased.
With the firebombing in Chicago, it was a small Molotov cocktail that was hurled at an Arab-American service organization. It didn't do much damage, but it was an ominous sign, certainly.
In the case of the shooting at the mosque in Texas, unknown persons at some distance fired several rounds from a rifle nearby an Islamic center mosque and school, shattering windows, but not doing any further damage.
So, at the moment, what we're seeing is a lot of expressions of anger and hatred, but not any injuries that are severe or not any major damage. So, in a sense, I think we can look on the bright side and say no one's been killed, that we know of, no one's been put in the hospital seriously, that we know of yet, and that we can, I think, take some comfort in the fact that many of these actions so far have been symbolic and spontaneous and contained.
My fear is that as anger—as grief gives way to anger, and as I said, we feel the anger, so we know. I mean, since we're experiencing, I think, the same emotions or very similar emotions as the rest of society, we can feel our own shock dissipating. We're getting used to the idea that this happened. Difficult as that is, we are. And our, you know, grief does give way to anger. And we feel anger rising in ourselves against the criminals who did this horrible thing. And so, I think we can—we can see that, you know, if people were angry with us before, those same people will perhaps be more angry with us tomorrow, or more people will decide that the entire Arab-American community and Muslim community should be vilified and targeted.
But I'm glad to say that I think that there is more evidence to the contrary. In my own experience, there's more evidence of compassion, of decency, and I'm very moved by it, I'm reassured by it. And I think, in the end, the decency of most Americans is going to absolutely triumph over any impulse to rage in hatred. And I'm sure that we will not be experiencing anything comparable to the fate of Japanese Americans during the Second World War or anything remotely like that.
AMY GOODMAN: Hussein Ibish, let me ask you, you're talking about people in the streets marching or saying things. Would say that they're being revved up by supposedly responsible officials on television? And what do you think about the discussion?
HUSSEIN IBISH: Well, I don't think they're being revved up by officials. I think they're being revved up by some—I think that there are some malicious commentators, especially those who are trying to whip up anger against Palestinians, in particular, and those who are trying to, I think very cynically, use this as a means of justifying any extremes that Israel has gone to, any Israeli atrocities against Palestinians, and to vilify and defend. But I think also that some statements by the Attorney General Ashcroft and the Secretary of State Powell were also helpful to the extend, and even Mayor Giuliani, none of whom, you know, have a history of being, you know, the most compassionate people in the world. But I think all of them have made statements that were—well, they could have been more forthcoming, but they were clear in saying that people should not be blamed or targeted because of their ethnicity and their religion. And I think we need more statements like that from—perhaps one from the president wouldn't hurt. And I think we're looking forward to that.
So, while there are malevolent people out there, I think particularly supporters of the Israeli right, supporters of Ariel Sharon, who are really trying to whip up anger and hatred in order really to justify any extreme actions Israeli might want to take. There are other people who are saying, "No, wait a minute. You know, the people responsible for this are a organization and a group of criminals, and, you know, not—and that this cannot be used as an excuse to pathologize a culture or defame a religion."
AMY GOODMAN: What about to bomb a country?
HUSSEIN IBISH: Well, you know, that's another matter. I think that that is being—the groundwork for that is being laid, and I think most people are prepared to see some incidents of that. Now, this becomes very complicated, because I think that, at the moment, most people are ready to see some sort of attack on Afghanistan. You know, and certainly if it's true that all of this comes out of an organization that emanates from Afghanistan, you know, it's going to be very hard to argue that the United States has options other than taking military action of some kind. On the other hand, of course, we're always constrained by international law, by the laws of war, by the various rules that nations have committed to follow. That's very important. My fear is that this can also be—you know, an argument can be made, for example, that someone like Mr. bin Laden, or even the Taliban state structure, could not have done this without the support of other countries, perhaps in the Middle East, perhaps countries that we have a vendetta against, perhaps countries that some people in the Bush administration feel they have unfinished business with. And the argument, even if it was made up out of whole cloth, even if it was, you know, utter fiction, could be made, you know, that some countries' intelligence services were involved, and that could serve as a rationale for some sort of major military action that people might have wanted to take anyway.
AMY GOODMAN: And that is Hussein Ibish, who is spokesperson for the American-Arab Anti-Discrimination Committee in Washington, D.C. The website is www.adc—Anti-Discrimination Committee—dot org, adc.org.
You are listening to Democracy Now! When we return, we'll speak with Simona Sharoni, who is a visiting professor at Evergreen State College in Washington State, as well as Kathy Kelly, founder of Voices in the Wilderness. Tomorrow her 40-day fast completes. She has been standing in front of the United Nations, until the attack this past Tuesday, with a group of other people, protesting U.S. sanctions against Iraq. You're listening to Democracy Now! in Exile, broadcasting from near Ground Zero. Stay with us.