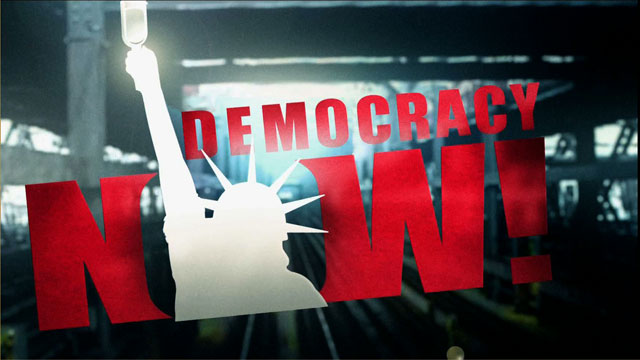 Media Options
In the midst of the rising tide of congressional and Bush administration calls for a harsh military response to the attacks on the World Trade Center and the Pentagon, there is a remarkable, hawkish unity in the views being expressed in the mainstream media. [includes rush transcript]
Former government officials such as Henry Kissinger, Richard Helms and Oliver North, themselves deeply involved in terrorist activities while they were in government, are now trotted out by the networks to offer "neutral" commentary on the U.S. government's response. Voices articulating an alternative perspective in opposition to the drumbeat of war and in favor of nonviolence have disappeared from the mainstream media almost entirely. Disappeared everywhere but from Democracy Now!
Guests:
Simona Sharoni, an Israeli feminist and peace activist, executive director of the Consortium on Peace Research, Education and Development, Sharoni has written extensively about Middle East politics and conflict resolution.
Kathy Kelly, Voices in the Wilderness, nearing the end of a 40-day fast to protest U.S. sanctions against Iraq.
David McReynolds, War Resisters League, presidential candidate of the Socialist Party in the 2000 elections.
Daniel Berrigan, Jesuit priest, poet and author of more than 50 books, longtime peace activist.
Related links:
---
Transcript
This is a rush transcript. Copy may not be in its final form.
AMY GOODMAN: This is Democracy Now! in Exile, broadcasting from Ground Zero, where search-and-rescue emergency workers continue their slow toil, as they try to make their way through the rubble of what were the towers of the World Trade Center. It's estimated that thousands of people were trapped in the towers as they collapsed, after a terrorist attack that took place on Tuesday. Two commercial airlines that were hijacked slammed into each of the towers. The explosion then caused the ultimate collapse of both buildings. At the same time, a third commercial airliner that was hijacked rammed into the Pentagon. It's estimated that now that—well, at about 200 people are still missing there. A fourth hijacked commercial airliner crashed in western Pennsylvania.
At the Pentagon, President Bush visited, in office just nine months and dealing with the worst attack on the United States since Pearl Harbor, said, "This will be a monumental struggle of good versus evil. But," he said, "good will prevail."
One of the things that links Simona Sharoni and Kathy Kelly, our next two guests, is their commitment to militant nonviolence in the face of war and preparations for war. Simona Sharoni is one of the founders of Women in Black, which is well known in Israel as a nonviolent protest group that stands and bears witness. She involved herself with advocacy work on behalf of Israeli women's peace groups, which struggle to end the Israeli occupation of the West Bank and Gaza, also contributed to solidarity work with Palestinian women in the Occupied Territories in North America. Kathy Kelly, founder of Voices in the Wilderness.
Kathy Kelly, until the last few days, you were standing daily in the midst of your 40-day fast in front of the United Nations to protest the sanctions against Iraq. Now you're in Brooklyn. It's very difficult for people to get into Manhattan. What is your response and where you think we should go at this point?
KATHY KELLY: Well, Amy, I think that it's been very important for us to quietly come together and search for the words, the best words that we can find, to try to speak to what has happened. Certainly here in Brooklyn, we're, at St. Vincent Ferrer Parish, aware of many, many families in nearby parishes—there were 30 families in one parish next to here that are now giving up on the possibility that their loved ones would return from the rubble inside the World Trade Center. And we certainly want to join in offering all manner of condolence.
And yet, at the same time, it seems that this name we have for ourselves, Voices in the Wilderness, still pertains to try to be a voice for an alternative, as our president has said we will and we must respond with overwhelming violence to what has happened. It's our strong, strong contention that, particularly at this point, what Colin Powell said should be heard, but heard with maximal understanding. Colin Powell said that the perpetrators of the barbaric crime thought that by destroying building and attacking people, they could achieve a political goal. And he went on to condemn this resoundingly. And that's certainly a truthful statement, that you cannot achieve a political goal, ultimately, by using these means. But that's a mirror that still must be held up to people in our country, hard and all as it is to look into it.
The attacks were not mindless, unprovoked, irrational acts of jealousy. It's clear, as we listen to people from many places all around the world, many of whom understand exactly what families here in New York and in Washington, D.C., are going through, because they have experienced it, but at the hands of U.S. policymakers. As we listen to those people, we have to try to understand what it is that they perceive the United States to be and why they've been at times terrified by our policies.
AMY GOODMAN: Simona Sharoni, as one of the founders of Women in Black, your response?
SIMONA SHARONI: Well, I totally agree with Kathy Kelly. And as we started seeing those horrific images two days ago and yesterday, and commentators kept saying that no one has seen pictures like this, I could not help it but go back 20 years ago to the Israeli invasion of Lebanon. And we didn't have—the media was not as omnipresent in broadcasting live from Beirut, but there were over 10,000 people that got killed in those U.S.-sponsored Israeli attacks on Lebanon during that war, and buildings were crumbling left and right, not as tall as the World Trade Center. And I think it's important, as we condemn this act and struggle to kind of be a voice in the wilderness and call for a nonviolent response, to remind people in our community to educate ourselves and others as to the effects of U.S. foreign policy. And I find that in talking to people about this and mentioning the death toll in Iraq that is mounting as we speak, and mention how many people died in Beirut—in Lebanon, in general—during the Israeli invasion, and kind of go down the list of crimes that this government has been doing, has been carrying out in the name of its citizens, and that turn us—this is what turned us into targets and basically sacrificed our innocence, and not the attack on Monday. So that's one thought that I have.
The other thought relates to how ingenious some people were in responding right away with compassion, with concern for others, and with calls urging our leaders to respond in ways that take into consideration long-term implications. And here in Olympia, Washington, there have been vigils going on since Monday. There were two community forums held under the banner of preventing racism and racist attacks on people of Middle Eastern origins, calling for a nonviolent response, as well as massive teach-ins educating people as to who would want to do this. And people took action on a personal level, just contacting business owned by Arab Americans and offering to just keep rotating there to make sure that people could go ahead and continue about their business and not be worried that someone will enter and threaten them.
AMY GOODMAN: Simona Sharoni, a visiting professor now at Evergreen State College in Washington State. Kathy Kelly with Voices in the Wilderness, she's in the 39th day of a fast against the U.N. sanctions against Iraq. Kathy, in the West Bank, there was footage shown of some Palestinians apparently celebrating. I believe this was in Nablus. Yasser Arafat and other Palestinian leaders immediately condemned the attack on the World Trade Center and the Pentagon. In Iraq, Saddam Hussein said he congratulated those responsible for the attacks. What is your response?
KATHY KELLY: I was, myself, aggrieved and very, very sad to read that, of all the countries that sent words of condolence and shock to the United States, the official position that came from Iraq was one that was a very sour commentary. I want to say that any person that I've met in Iraq—I went through the list just the other day in my head of families I know—I feel positive that their immediate and their heartfelt and their continued response would be one of sincere condolence and sorrow. And I think especially of a woman whose baby had been rushed into a hospital emergency room while we were visiting, and we went back to just check how was the baby four hours later. And we were with her when the baby in fact died. And a reporter asked her, was there anything she wanted him, as a journalist, to say? And she said, "Yes. I pray that this will never happen to a mother in your country." And I think also of a family who welcomed a newborn into their home, when Brad and I visited Iraq during the Desert Fox bombing. And they named that baby Hossan, which means "forgiveness." So I think that there are certainly many, many people in the 22 million people in Iraq who would never want to express congratulatory words at the suffering and the grief that's been visited upon families here.
I watched the footage of the children on TV the first day of coverage of the attack on America. And, you know, they showed the same seven children repeatedly throughout the day. And when you looked on the faces of two of them, there was actually some confusion and uncertainty, as they must have seen cameras focusing on them. I think it's a very unfortunate mistake to somehow characterize vast numbers of people by, you know, the immature responses of a handful. At any rate, I do think that, again, the people who can sometimes best understand what families here are experiencing right now who have lost loved ones are the ones who have been in war zones, not because they've chosen to, but because they're trapped and they're caught as innocent victims. And many of those are families in the Middle East.
AMY GOODMAN: And Simona Sharoni?
SIMONA SHARONI: Absolutely. I mean, there was very little mentioning in the mainstream media of a vigil in East Jerusalem in front of the American consulate, called by Palestinian leaders in East Jerusalem, that was actually very well attended yesterday. There was no mention at all of Palestinians donating blood. Whether it reached New York and Washington, D.C., it's not important. What is important is this act of compassion that was carried out. There were statements from cities such as Beit Sahour that have come under massive Israeli attack during the past few months, a statement that was issued by the mayor and the people of the town of sincere condolences to the victims in the United States and unequivocal condemnation of this act. And I could go down the list.
It's important that Israeli peace groups have focused on getting those statements out of the region to activists in this country and the media. As I said, the mainstream media has turned its head and is not mentioning it. And the fear is that the footage of those Palestinians cheering, the handful of them that cheered, will be used in the same way that the footage of Palestinians cheering on the rooftops when Scud missiles were fired at—in Israel, to really justify further attacks on Palestinians and kind of the political platform of the Sharon government. And thinking about someone using this despicable attack for those other horrendous political ends is very mind-boggling.
AMY GOODMAN: Simona Sharoni, you're a peace educator. You've been talking to activists around the country about what people can do, something I'm not seeing in the mainstream media, although I am seeing people like Oliver North be interviewed as an expert on terrorism. For people who are perhaps young, Oliver North, who was a lieutenant colonel deeply involved in the Iran-Contra affair and the arming of the Contra rebels against Nicaragua, mainly civilians who were killed, Nicaraguan civilians. Also seeing Henry Kissinger, who most recently—a document has come out, a number of documents, from the National Security Archives and other places, that they have gotten under the Freedom of Information Act, showing increased complicity on the part of the former secretary of state, national security adviser, in the Pinochet regime, the rise of the Pinochet regime, and the fall of Salvador Allende, the democratically elected leader. These are the people we're seeing on television, but I am not seeing much comment about what is happening around the country in terms of communities organizing actually against war, even though expressing great sympathy for this catastrophe that has taken place, this horrific act in both Washington and New York.
SIMONA SHARONI: Yeah, I mean, the Consortium on Peace Research, Education, and Development, that I work with, and the Peace Studies Association, we have issued a call to our members, that are K-through-12 peace educators, university peace studies professors and students, and peace activists, to send us reports of what they've done, but also to send comments to the media, from letters to the editor to press release and information about vigils and community forums, and simply be vigilant about it. And we're compiling a list. And I issued the call yesterday morning, and I have over 20 reports at the moment, and they're on our website, that I could give out.
So we started putting some resource packages. We have asked people that have contacts to local schools—that is, both elementary schools and high schools—either because they have a child in them or because they're teachers or they know a teacher, to ask if we would be able to get into the classrooms and help the children cope by providing some information about what has happened, what could be the sources, and what could students, kids do to avoid slipping into those calls for revenge and fear that it may happen to them again.
Surprisingly, I actually looked at what the mainstream media has done, and on the major America Online site that comes in when someone logs on, there is actually a call for parents to teach tolerance. And surprisingly—that Hussein Ibish, we should give credit where credit is due. I was pleasantly surprised to see two very good articles about how to talk to your kids about what had happened, without kind of falling into the trap of talking about bad guys and good guys, and without justifying and stooping to calls for revenge. So those are—this is a good resource for people that want to talk to their friends that don't—
AMY GOODMAN: And what is the website you're talking about?
SIMONA SHARONI: The website I'm talking about is www.evergreen.edu/user/copred/sep11.html.
AMY GOODMAN: OK, that could be a difficult one to remember, but people can go to democracynow.org.
SIMONA SHARONI: They could go to Evergreen.
AMY GOODMAN: And they can go to webactive.com, where they will be able to hear the programs that we're bringing you this week, Ground Zero Radio. And we will list that website, as well. Kathy Kelly, will you be ending your fast tomorrow?
KATHY KELLY: Yes, we're ending our fast, and yet we think it's important to continue the theme of breaking ranks, because we need to call on our friends, our family members, our co-workers, our neighbors to break ranks yet again and be a voice for peace in the midst of the cries for hatred and war. We do have Life Under Siege encampments in 28 cities, that were planned well in advance of these difficult days now, and we've asked all of the people who have planned those to respectfully create within them times of silence and perhaps candlelight vigil in memory of those who have died, but also not to give up the ground, if you will, of being able to make an assertion that this is not a time for revenge and for reprisal. And we're upset that we don't see more debate. There's almost an utter lack of debate in the mainstream media about whether or not the United States must respond with vengeful retaliation and—
AMY GOODMAN: Well, I encourage the mainstream media to go to webactive.com, as well, and see some of the alternative voices that they could be broadcasting in the media. Kathy Kelly of Voices in the Wilderness, if people want to find out more information about your group based in Chicago that has been challenging the U.S. sanctions against Iraq—the last bombing that the U.S. was involved with was this past Sunday. I remember reading it Sunday—Monday morning on this program, just as the planes were crashing into the World Trade Center. Iraq said something like eight people were killed in that latest bombing that got very little attention, as well. Your website?
KATHY KELLY: www.vitw.org. That's V-I-T-W.
AMY GOODMAN: For Voices in the Wilderness.
KATHY KELLY: Voices in the Wilderness, yes.
AMY GOODMAN: V-I-T-W dot org.
KATHY KELLY: And if people could mark their calendars for January 15th, 2002, we're joining with other groups to plan what we hope will be a massive gathering of activists for a January 14th teach-in and January 15th day of action in New York City, calling for an end to the economic sanctions against Iraq, but also wanting to embrace Martin Luther King's teachings.
AMY GOODMAN: I want to thank you both for being with us, Simona Sharoni of Women in Black, professor at Evergreen State College, which is having a peace conference in just a few weeks on October 6th, and Kathy Kelly. When we return, we'll be joined by veteran peace activist, Father Daniel Berrigan, and also a former presidential candidate, Dave McReynolds of the War Resisters League. You are listening to Democracy Now! in Exile, as we broadcast on stations around the country—Pacifica affiliates, KPFA, KFCF, which is making it possible for this broadcast to take place. And also, for the first time today, this two-hour special is being broadcast in Manhattan on Manhattan Neighborhood Network, channel 34. And if you're watching now, tell your friends, as we bring together community media. Stay with us for this one-minute break.
[break]
AMY GOODMAN: We are broadcasting from DCTV, Downtown Community Television, in Chinatown, just blocks from where the World Trade Center towers once stood. Teams of people from around the country, emergency workers, are going through the very gruesome and grueling task of tunneling through the tons of rubble at Ground Zero to try to dig up bodies, and if any—by any miracle, at this point, survivors. It's estimated that thousands of people went down in the twin attacks on the World Trade Center, as well as the attack on the Pentagon, now about 200 people missing.
The Bush administration is saying that the stunning loss of life in the attacks, and the sense expressed by President Bush that these were acts of war, have freed the administration to broaden potential retaliation beyond the low-risk, unmanned cruise missile strikes of the past. Instead, the options under consideration include more powerful, sustained attacks that accept greater risk to American forces and may include bombing attacks by manned aircraft and landing Special Forces troops on the ground. Military officers and civilian officials pointed to Bush's declaration that America would, quote, "make no distinction between the terrorists who committed these acts and those who harbor them," as a mandate to propose broad military options, perhaps carried out over days, weeks or months.
We're joined on the phone right now by Dan Berrigan, veteran peace activist, who has spent a good amount of time in jail for his protests against the U.S. military, also joined by Dave McReynolds of the War Resisters League. Dave McReynolds was the Socialist Party candidate for president in the last election.
Listening to the comments of your leaders, Dave McReynolds, what is your response?
DAVID McREYNOLDS: I'm really appalled at the lack of responsibility on the part of the talking heads that I've heard. We got where we are today because we've done the things we've done. We have retaliated. We have bombed. We've done that steadily. We're still bombing Iraq on an almost daily basis. And I don't think people in this country are aware of the degree of damage we have done over the years by these retaliations. And now people here are paying the price, absolutely innocent people.
I'm very proud of New Yorkers. For those of you who aren't in New York, I'm proud of the city and how it's held up without a hysteria. Even Giuliani, whom I normally would have nothing good to say about, I think has been exemplary in the crisis.
But I think for a nation that considers itself Christian to talk about revenge, it really needs to go back to a moral sense that "Revenge is mine, sayeth the Lord," that this is not going to solve anything.
If anything—two quick things occurred to me. One is I'm just stunned at the lack of competence of the intelligence forces that we pay billions of dollars to, that they were unable to have any hint at all of this happening before four aircraft are seized and three of them hit key targets, and we now look at a skyline that is missing the World Trade Center and a pile of rubble which has thousands of people buried in it. I still can't come to grips with that.
But the other part of this, aside from that reality, is what is going to stop the next fact from being a nuclear bomb? I mean, suppose we do all that Bush is saying we do and prove how strong we are and how much we can bomb. We got where we are today because we have been doing this. I mean, I don't think—I think the average American is busy, and you can't blame them for not following things. But it does look like the Israeli situation, where Sharon says that there won't be any discussions until there is no terrorism, and the result has been a steady escalation of terrorism since Sharon came to power, on both sides, Israeli terrorism and Palestinian.
When do we pause? When do we stop? When do we try listening to a more rational or better part of ourselves? Do we—Grace Paley said this very well earlier. Do we really want to do to Baghdad or to Kabul the kind of thing that just happened to us? Is there anyone listening who wants to bring down a building in those cities, or neighborhoods in those cities, filled with innocent people? Because that's what happened. We had a crime here, and the criminals indeed ought to be tracked down by legal means. You don't, when there's been a crime, start bombing everyone in the neighborhood from where you think the criminal came. And that's what Bush is talking about.
And I had agreed with Manning Marable's concern also, that our civil liberties are in danger from a president who has no interest in civil liberties, in the first place, and also, I might say, no experience whatever of war, or what war is about. In fact, the first shot of Bush, when he made his first statement from one of the landing points, was like a deer caught in the headlights of reality. Do we really want, as a nation, to inflict on other civilians the horror that we are living through here in New York, where we can't even find the bodies, where it will be months before we really know how many people died, where some of them were incinerated in the course of the fireball, and there will never be any evidence of them? I mean, do we want to do this? And I think that's the question Americans ought to be asking.
AMY GOODMAN: Dan Berrigan, on Tuesday at about 8:45, 9:00, where were you?
FATHER DANIEL BERRIGAN: I was actually at my desk doing some writing, catching up on some correspondence, and I really got the whole thing second- and third-hand through phone calls, because I don't think I wanted to look at those images directly. I would find them so terrorizing and so paralyzing that they would inhibit some kind of, let's say, moral clarity. And I didn't want that. So I've gone for about two days now without those images, without newspapers, and trying to understand an alternate way of being human in the midst of this atrocious inhumanity. And I think kind of getting there, getting there, very difficult to speak at all, when what David McReynolds described so vividly is happening two miles south of me.
In any case, it seems to me that we're trying to—we're trying to inch toward some public expression of grief and of alternate activity. And the Jesuits downtown at St. Francis Xavier on West 16th Street are organizing a service of prayer and of vigiling and of people being heard from, that will take place on Monday evening at 7:30. And of course everybody in the area that can get there to West 16th Street, it's just west of 5th Avenue. Everybody is invited, everybody. It will be ecumenical in spirit, and it will try to include every faith alive in the city and every person who is grieving, and who is grieving not merely for the dead, but is grieving for the blindness of our leadership.
I remember Dorothy Day saying, in her day, about those at the top, "They must be called the blindest of the blind." And we're seeing that blindness compounded today in this rush toward bloodlust and revenge, which is destroying us from within. I mean, we've had that drama of what that does and where that goes in the rubble of the World Trade Center and the incinerated people down there. And to contemplate officially the high probability of doing the same is to degrade ourselves beyond recognition, in my opinion. So, let's pick up pieces slowly and with mercy toward ourselves and find another way than Mr. Bush.
AMY GOODMAN: Well, I want to thank you both for being with us. Father Dan Berrigan, Jesuit priest, has protested for decades against U.S. militarism, in jail and out. Dave McReynolds, former presidential candidate for the Socialist Party, with the War Resisters League—both speaking to us from New York City.
And that does it for today's program, as we bring you voices of peace and hope. Tomorrow we are going to be taking an in-depth look at the Taliban.